Album reviews: Death Cab for Cutie – Thank You For Today; Animal Collective – Tangerine Reef
Death Cab rediscover their fundamental magic, while Animal Collective may have misplaced theirs
Mark Beaumont
,
Elisa Bray
Thursday 16 August 2018 15:11 Comments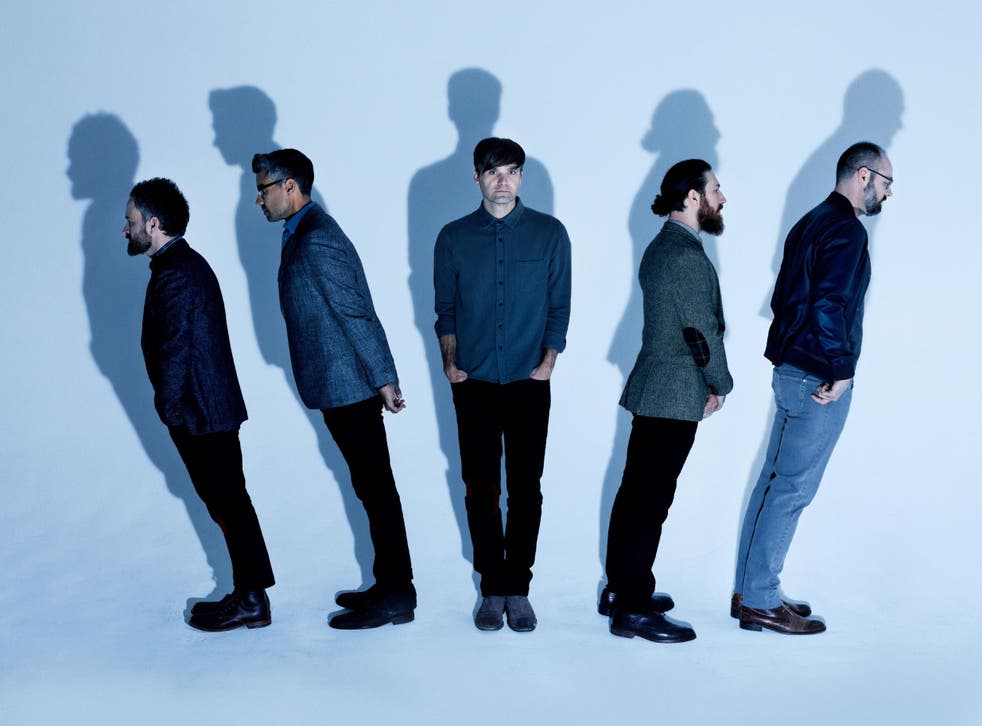 Death Cab For Cutie, Thank You For Today
★★★★☆
Death Cab For Cutie: the little Seattle indie rock band that could. With just a clutch of skittering beats, Ben Gibbard's coffee-froth vocals, a knack for forlorn drama and an underground hit about looming death called "I Will Follow You Into the Dark" – ideal for use in ads for Dignitas – they've built a cult empire. They've inspired a generation of itchy alt-rock in Vampire Weekend, Foals and The Maccabees, mastered the electro offshoot first go in The Postal Service and, with ninth album Thank You For Today, come close to perfecting their unique recipe of lovelorn airiness and pop hooks as breezy as a naked skydive.
Death Cab's signature adventurism drives space ballad "When We Drive", "Gold Rush" – a Beck-pop lament on gentrification burying memories beneath its gold brick condos – and "I Dreamt We Spoke Again", which summons The Cure, Eighties Fleetwood Mac and Lana Del Rey to help silence the ex haunting Gibbard's dreams.
But they also rediscover their fundamental magic: bittersweet reflections like "You Moved Away" and "Summer Years" recapture the amorphous pop glories of 2008's Narrow Stairs (with added dashes of Pet Shop Boy) while "Your Hurricane", "Autumn Love" and "Northern Lights" recall the euphoric melodies of 2005's breakthrough album Plans. There's even another stark, Dignitas-friendly contemplation of mortality, "Sixties & Punk". A benchmark DCFC record and, barring a surprise drop from The National, the most immersive alt-rock album you'll hear all year. Mark Beaumont
Animal Collective, Tangerine Reef
★★☆☆☆
Since Animal Collective broke through with the experimental psych-pop brilliance of their 2009 album Merriweather Post Pavilion, the Baltimore band's overflowing melting pots of inventive musical ideas have continued to divide opinion. It's hard, though, to see who could take their side with Tangerine Reef.
Apparently "Coral Porn" was a working title for this audio-visual album made as a result of a live art collaboration between the band and videographers Coral Morphologic, "celebrating the cosmic synchronicity of sex on the reef". Well, full marks for originality.
As an environmental art project raising awareness of endangered coral (it commemorates the 2018 International Year of the Reef), it is laudable. As a listening experience, it is impenetrable. Shifting shapelessly from one tune-deprived track into the next, the album lacks the band's quirky pop-minded Panda Bear.
Tangerine Reef is described as a "visual tone poem", which goes some way towards explaining the droning gurgled vocals sounding like spoken word being read underwater. Through experimental sound sculptures of disorienting free-flowing tempos, wildly contrasting pitches and timbres, Tangerine Reef gives a musical voice to these alien coral creatures and their aquatic world. If only it were a more mellifluous voice.
Strip away the warped vocals and heavy reverb to reveal occasional glimmers of beauty and unnerving dissonance, and it could be a film soundtrack – part horror, part nature documentary. But the most beautiful thing about this is by far the luminous fluorescence of the swaying coral creatures of the accompanying film. Elisa Bray
Register for free to continue reading
Registration is a free and easy way to support our truly independent journalism
By registering, you will also enjoy limited access to Premium articles, exclusive newsletters, commenting, and virtual events with our leading journalists
Already have an account? sign in
Join our new commenting forum
Join thought-provoking conversations, follow other Independent readers and see their replies