Depeche Mode review, O2 Arena, London: Gloomy electronica never felt so euphoric
The boys are on form but it's their strutting, pirouetting frontman who holds the attention in his black waistcoat, John Waters-like moustache and slicked back hair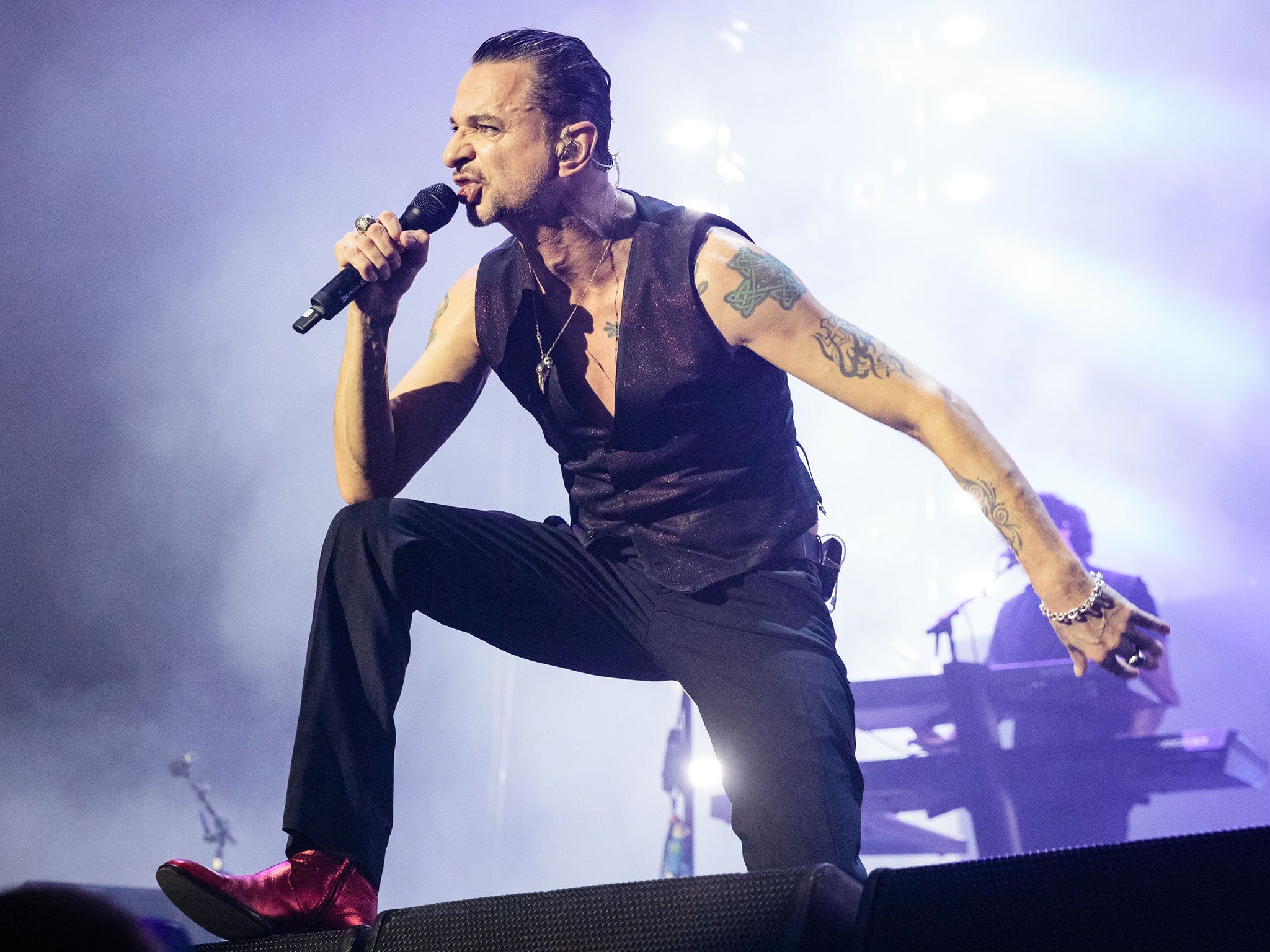 "We're going backwards to a caveman mentality," booms a wiry, wiggly Dave Gahan on opener "Going Backwards", which is not something you could ever level at Depeche Mode.
The Basildon boys are on robust form tonight, but it's their strutting, pirouetting frontman who holds the attention in his black waistcoat, John Waters-like moustache and slicked back hair. The 55-year-old Gahan still looks and sounds amazing; every inch the synth-rock god with a touch of the lounge lizard/flamenco dancer about him. Alongside Gahan, in matching black waistcoat and eyeliner, is the band's understated songwriter Martin Gore, who delivers a touching "Insight" on acoustic halfway through the set.
Depeche Mode, formed in 1980, have always felt vital – you'd never catch them on an Eighties revival tour alongside Living in a Box – and their latest album, Spirit (produced by Simian Mobile Disco's James Ford), is an angry, raw work that despairs at our leaders and desires.
Tonight, somewhat contrarily, they only play three numbers from it (including the bombastic "Where's the Revolution" and the exquisite "Cover Me"), while, confusingly, 1997's Ultra (released just after Gahan's speedball overdose; his heart stopped for two minutes) is extensively mined; they perform "Home", "Barrel of a Gun", "Insight" and "Useless" from it. Surely they could have slipped "People are People", "New Life", "Blasphemous Rumours" or student-disco favourite "Just Can't Get Enough" in there?
However, Mode's disciples are rewarded with a sensational second half to the set, in which 1983's "Everything Counts" (with the enduring lyric "The grabbing hands/ Grab all they can/ All for themselves after all/ It's a competitive world"), and the gorgeously lascivious "Stripped" and "Enjoy the Silence" are played with arm-waving arena chanting along to every word.
Gahan, for most of the two hours, lets his remarkable twirls, howls and shimmies do the talking (there's minimal chat) but before a heady four-song encore, which includes a memorably stripped-down, acoustic version of "Strangelove", "Walking in My Shoes", "A Question of Time" and their anthem "Personal Jesus", he announces: "It's karaoke time, I'd like you all to sing along." His adoring crowd had no intention of doing otherwise. Gloomy electronica never felt so euphoric.
Join our commenting forum
Join thought-provoking conversations, follow other Independent readers and see their replies