Der Ring des Nibelungen: Das Rheingold and Die Walküre, Royal Opera House, London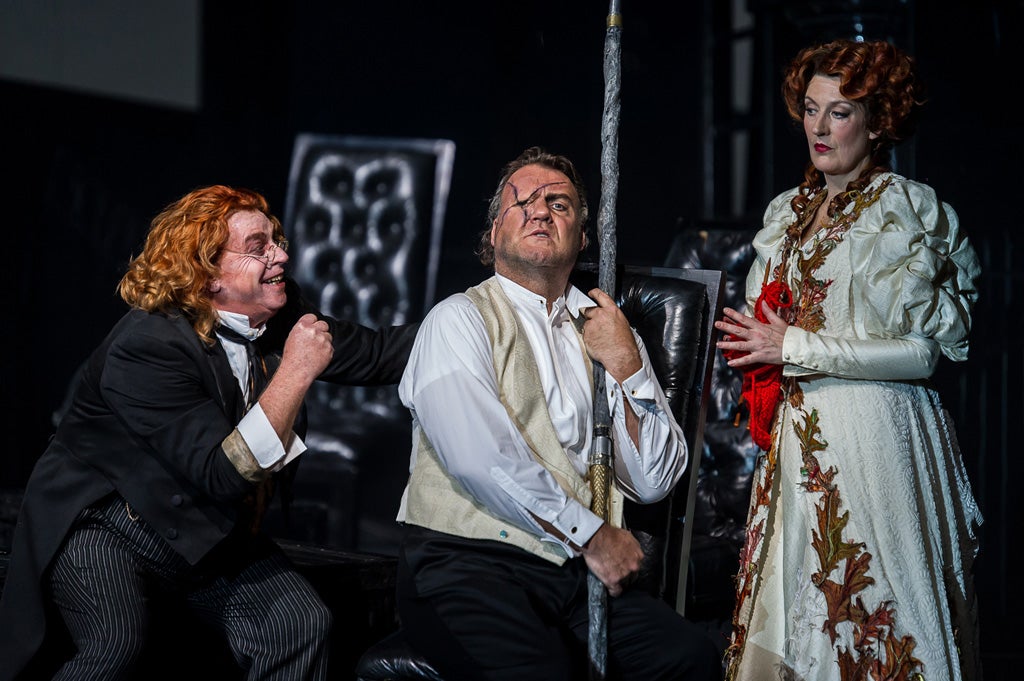 Eight years after its unveiling, Keith Warner's 'Ring' is back, and though his 'Rheingold' has been streamlined, the balance between symbolism and naturalism remains awkward (we're not meant to laugh when Alberich turns into a monster, but we do).
And the opening scene still doesn't work: it has no primeval suggestiveness, and there's a crude disjunction between the gracefully undulating helix-spiral backdrop and the tiresome St Trinians-type taunting of Alberich by the naked Rhinedaughters.
Wolfgang Koch's Alberich is a resonant presence, maybe too debonair for the demands of his gnome-like character, but as a counterweight to Bryn Terfel's Wotan, he's dominant whenever he is on stage. There's still some pretty crass sexual sadism in Alberich's underworld, but its Nazi overtones have been muted, which prevents any jarring with the period in which Wotan's glass penthouse has been set.
Terfel's singing rightly governs the pace of events. When he declares "I must have the ring", the whole world seems to pause and take account of this fateful realisation, and a similar effect occurs when he tells Alberich - whom he has stripped of all his possessions - that he must yield up that last treasure too.
These moments are underscored from the pit, where Antonio Pappano and his orchestra are on top form. The other great musical gear-change in 'Das Rheingold' - Erda's prophetic emergence from the earth - is powered by Maria Radner's compelling sound; Stig Andersen's Loge and Gerhard Siegel's Mime are vivid creations.
But if this 'Rheingold' is less than the sum of its parts, Warner's take on 'Die Walküre' is (apart from some dodgy pyrotechnics) a superbly assured conception, in which the incest which opens and closes the story - brother with sister, father with daughter - triggers the most exquisite suffering, via the agency of Sarah Connolly's coldly censorious Fricka.
Simon O'Neill's Siegmund and Eva-Maria Westbroek's Sieglinde are ideally matched for their great duet, while Susan Bullock's Brünnhilde delivers the Annunciation of Death with hypnotic power. But the dark heart of 'Die Walküre' is Wotan's suicidal monologue of despair and self-disgust, and from here on we see what a great performer Terfel has become. Violently sacrificing his son, then tenderly consigning his daughter to her prison of fire while the air fills with music of transcendent beauty, this Wotan seems to command not just the stage, but the world itself.
Join our commenting forum
Join thought-provoking conversations, follow other Independent readers and see their replies