Doves, The Roundhouse, London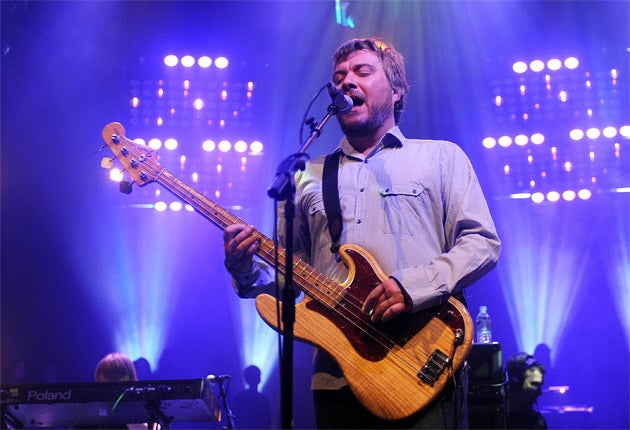 Doves released their fourth album, Kingdom of Rust, earlier this year, and it has been widely hailed their best yet. Its bittersweet lyrics and sweeping melodies, delivered in epic rock songs, are not far from their first album, Lost Souls, that won them a loyal fan base in 2000. That's not to say their music hasn't developed – it just hasn't flirted with fads.
Until now it seems. For this performance, Doves were joined by the London Bulgarian Choir, whose eerily beautiful harmonies lifted Doves' soaring music to new heights, right into the Roundhouse's exposed rafters.
Doves opened with two serviceable tracks, but things took off when the LBC joined them on "Firesuite", creating a dense, dissonant soundscape that added cinematic heft. When Doves frontman Jimi Goodwin announced "they're giving me tingles", he spoke for us all.
This is not to say Doves can't hold their own onstage: unaccompanied old favourites such as "Pounding" reached similarly euphoric heights, with drummer Andy Williams leaving no doubt as to the title's origins, while "Black and White Town" proved a straightforward sing-a-long crowd pleaser. But during thickly textured, almost oppressive tracks such as "Sea Song" and "The Greatest Denier", I couldn't help hoping that the lights were going to come up again on the LBC to add their splash of colour (and not just musically – their traditional garb also stood in bright contrast to Doves' unflashy appearance).
And when they did return, adding a haunting chorus of "ahhs" to the jangly guitar and danceable beats of "Kingdom of Rust", the result was glorious. If the combination of Mancunian rock and Bulgarian folk wasn't interesting enough, Indian classical music was also thrown in with the arrival of Baluji Shrivastav, who played dilruba, a fretted fiddle, on the lush, melancholic "Birds Flew Backwards". And then we were in "The Cedar Room", a swelling seven-and-a-half minute track from Lost Souls and still arguably their best. Both crowd and choir clapped along, with the latter's warm harmonies alongside Doves' soaring melody leaving the whole room just drenched in loveliness.
Next was an upbeat "There Goes the Fear" (perhaps the most cheerful comedown song ever); they finished on a funky percussion freak-out, complete with tambourines and cowbells. Doves blew away any glum-Northerner stereotypes: this was seriously soul-lifting stuff.
Join our commenting forum
Join thought-provoking conversations, follow other Independent readers and see their replies