Drake at the O2 Arena, London: Canadian megastar affirms his own mythology for the Boy Meets World tour
Drake threw hit after hit at a show where there were no missteps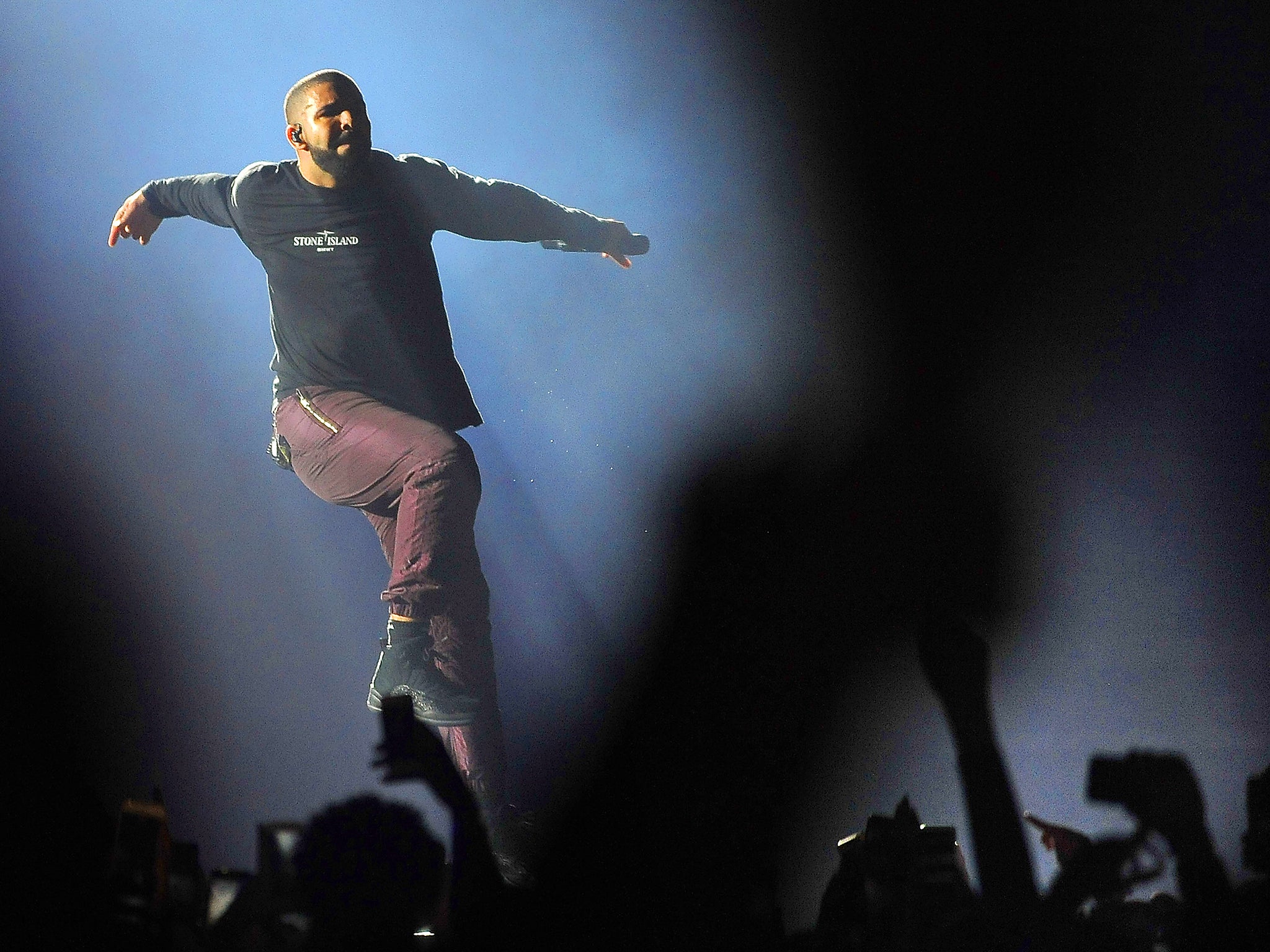 Drake is all about London tonight.
Running around the O2 Arena stage like a kid in his very own playground, he holds up a British flag and announces his love for the UK: "The people, the music, the women," to appreciative screams. "When I was working on this album I had London in mind," he says.
Call it a peace offering for his postponed 2016 Boy Meets World tour: this is one of a whopping eight sold-out nights at one of Britain's biggest music venues, and Drake isn't going to let the opportunity go to waste.
"I'm not here to talk a lot," he reassures fans, and sticks to his word for the duration of the night.
One of the most interesting artists to dominate the charts in the past five years, Drake commands a fierce presence onstage, with nothing but his band (keys and drums) pyrotechnics and some backing dancers towards the end of the show to take any pressure off.
Equally he doesn't take himself too seriously; the Canadian megastar has fun with his band, compliments female audience members on their outfits (a lot), shows fans that he appreciates them for being there as he switches effortlessly from sharp, determined flow on Nothing Was The Same's "Started from the Bottom" to a seductive croon for "Legend".
Already racing through the setlist, he suddenly switches onto a sting rendition of "6 God", "Worst Behaviour", "We Made It", "Blessed", "All Me", "No Lie", "Versace", "Pop That", "Over", "I'm On One", "Up All Night", "Miss Me" and "Successful" at an astonishing rapid-fire rate as flames shoot up from the stage.
To take things down a notch he pulls out "Hotline Bling", one of the old-model Drake tracks where it's impossible to ignore his passing-off slut-shaming for concern: "Ever since I left the city you/started wearing less and going out more."
Drake has always been an interesting figure with regards to his relationship with women – essentially his favourite subject. On so many of his tracks he takes on the role of vulnerable boy-next-door, but is simultaneously sceptical about sexually aggressive women (see: "women want to fuck like they're me and I'm them" on 2011's "Trust Issues").
He broadens the discussion of masculinity in rap but does little to challenge the blatant slut-shaming that frequents that genre and the "Every Breath You Take" vibes that haunt his particular brand of introspective hip hop.

Enjoy unlimited access to 70 million ad-free songs and podcasts with Amazon Music
Sign up now for a 30-day free trial
Sign up

Enjoy unlimited access to 70 million ad-free songs and podcasts with Amazon Music
Sign up now for a 30-day free trial
Sign up
It roots him in this obsession with "good" girls on "Hold On, We're Going Home" and his collaboration with The Game on "Good Girls Go Bad" that throws passive aggressive criticism at the women with boyfriends, the party girls, and the strippers he wants to turn into girlfriend material. Drake, the quintessential ladies' man, still doesn't want the women he fancies to act like him.
The other question hanging in the air is his relationship with UK grime. Some critics have accused him of "using" rising grime stars for his own gain, but tonight he seems genuinely content to let them take over his space. Section Boyz bound on for an energetic rendition of "Lock Arff", sadly marred by the O2's reliably terrible sound but still irrepressible, and Giggs arrives in between Drake's shouts of "Selecta".
"Work" and "Too Good", Drake's two recent collaborations with Rihanna, come one after the other. "Rihanna's the queen of everything," Drake says. "That's how you make a woman feel sexy – you play the RiRi records."
Closing the show, a giant orb of white material slowly expands and lights up like a small earth in the centre of the arena – Drake literally orbiting around his own planet – before lights transform it into a blood-red sun.
In one night Drake manages to affirm his own mythology, throwing hit after hit at a show where there were no missteps.
Join our commenting forum
Join thought-provoking conversations, follow other Independent readers and see their replies