Ed Sheeran, No 6 Collaborations Project review: Bland, sincere and hygienically prepared
It would be easier to love this record if Sheeran didn't accompany his self-deprecation with humblebrags about how 'gifted' he is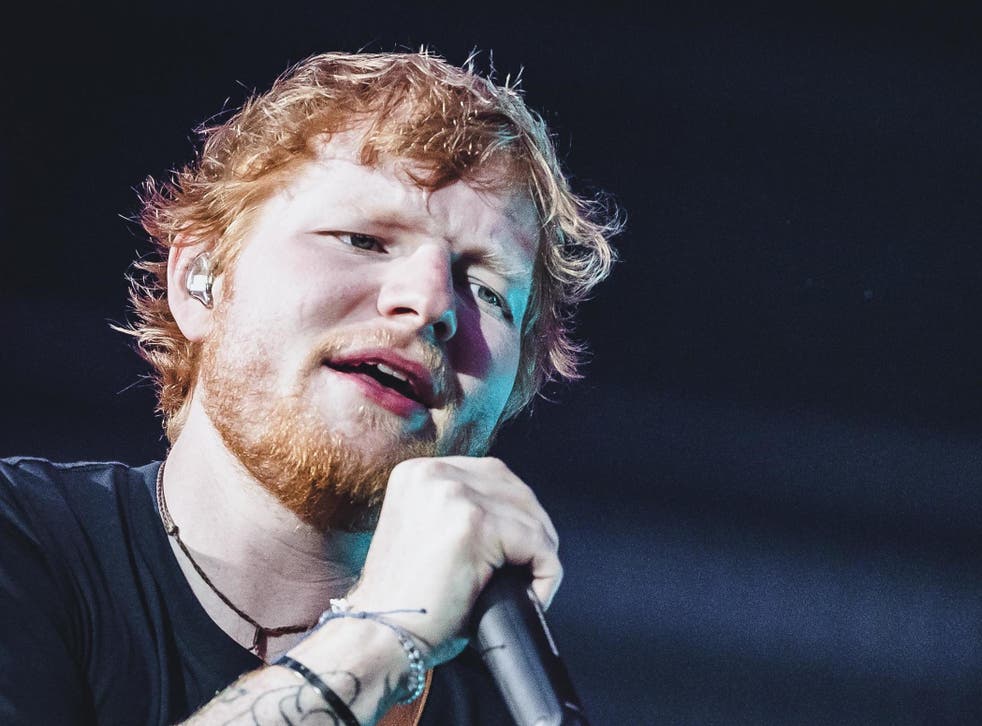 "Ten miles from Ipswich" ranks pretty highly on the list of lines I never expected to hear in a song featuring Eminem and 50 Cent. But that's where Ed Sheeran was born, and though he's been a member of pop's A team for almost a decade now, the 28-year-old strumster is determined to remind us that he's an awkward, East Anglian lad, ill at ease in the company of the stellar cast of American collaborators joining him on a fourth album that has a brazen shot at every chart-bothering genre from Latin to grime and dancehall.
"With all these people all around/ I'm crippled with anxiety," he sings with Justin Bieber, whose pretty face he accidentally hit with a golf club on a recent trip to Tokyo, on "I Don't Care". "We are not beautiful… we don't fit in," he croons with Texan everykid Khalid, on "Beautiful People". Then with YEBBA on "Best Part of Me": "My hair is thinning... I am a little insecure."
But it would be easier to love the Sheeran who says he bites his nails and tells the truth, if it wasn't part of so much humblebragging about how much money he's made and how "gifted" he is.
Although he exaggerates it here, his commercial success is astonishing. In 2018, he made more money than any pop artist has ever made in one year. The £360m takings from the Divide tour doubled his wealth to an estimated £160m.
Back on that Eminem collab, "Remember My Name" (which has a beat like a Sesame Street version of Slim Shady), Sheeran tells us that his "dreams are bigger than just being on the rich list". But he then fails to tell us what they are. Lacking the nerve for artistic experiments, he doubles down on the chorus where his ambition shrinks to "crack on and get paid". I mean, I've said exactly the same thing about a series of tedious retail jobs (I wonder if Eminem is thinking the same when he jokes that his role on the record is "in sales"). But I wouldn't expect to fill stadiums with the sentiment.
Yet, Sheeran will continue to do just that. He really does have a gift for a catchy tune and a soppy line. He knows just how to spin a couple of anchoring personal details – a lover's star sign and eye colour – into a generic love song. He uses Stormzy's energetic glottal stops to conjure the buzz of London. He can take panpipe synths and a line about margaritas and make a suburban retail park Mexican meal of them on "South of the Border", just as he made an Irish theme pub of "Galway Girl". Though his fare is bland, it is sincere and hygienically prepared. No thrills, but all affable, affordable, family-friendly fills.
The best albums of 2019 (so far)

Show all 67
I watched my kids sing and dance to this album all morning before school. They picked up the songs in seconds. It's relentlessly safe – both melodically and lyrically – with my nine-year-old only picking out "a couple of times he said the S word" and edgy-lipped rapper Cardi B sounding "so sweet" to my seven-year-old, who also informed me that Sheeran is great because he's one of only three pop stars to have a gold Blue Peter badge (the other two being Madonna and Paul McCartney). Both kids headbanged over their Weetabix to the chunky-fun rock riff of "Blow" (featuring Bruno Mars) and picked out the reference to "Uptown Funk".
I've no idea what the rest of the world will make of the references to Wetherspoons and Ipswich. I know Eminem fans make the pilgrimage to the 8 Mile Trailer Park where he was raised. Maybe Sheeran fans can come over here for a warm pint and a jaunt up the A12 to Ipswich. I think there's a Chiquito for them to stop in at along the way. Maybe the manager could print out cardboard cut-outs of all these collaborators and line them up at the salad bar, while the staff earnestly Sheeran-rap the special.
Register for free to continue reading
Registration is a free and easy way to support our truly independent journalism
By registering, you will also enjoy limited access to Premium articles, exclusive newsletters, commenting, and virtual events with our leading journalists
Already have an account? sign in
Register for free to continue reading
Registration is a free and easy way to support our truly independent journalism
By registering, you will also enjoy limited access to Premium articles, exclusive newsletters, commenting, and virtual events with our leading journalists
Already have an account? sign in
Join our new commenting forum
Join thought-provoking conversations, follow other Independent readers and see their replies