Ellie Goulding, Roundhouse, London
Emily Jupp
Thursday 27 September 2012 09:59 Comments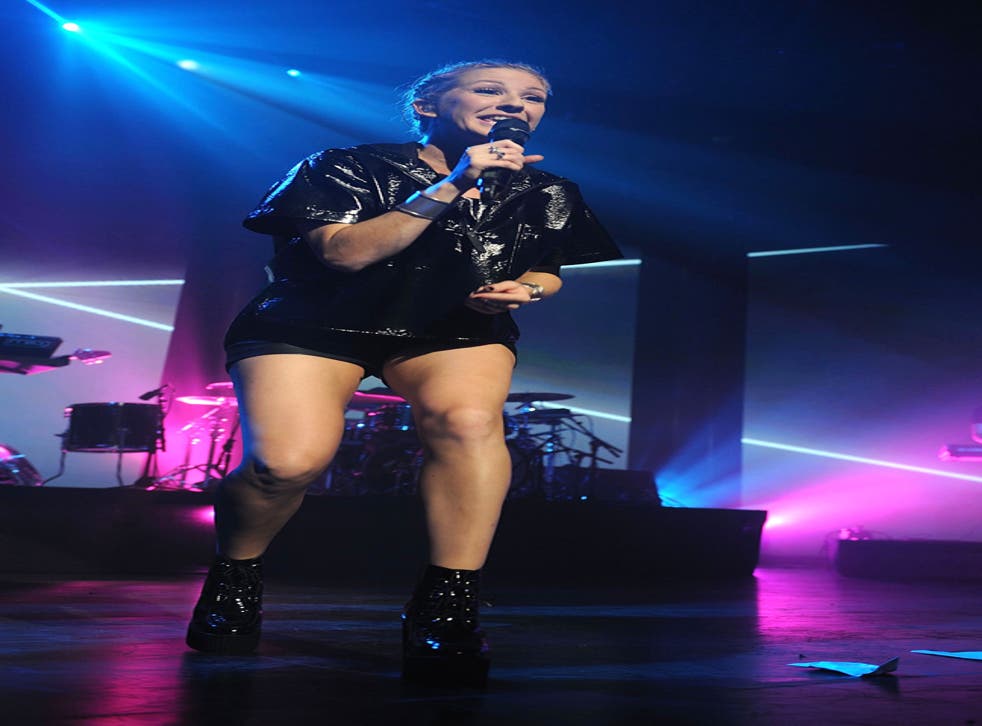 Wearing a baggy cagoule, apparently fashioned from a bin bag, paired with black pvc shorts, Ellie Goulding takes the stage in the first gig of a tour to promote her new album, Halcyon.
She's being filmed for tonight's iTunes festival gig, which might account for her initial skittishness, though nerves can't excuse the weird cagoule, which she wears initially with the hood up, reducing her to a small, gangster-shaped silhouette. Luckily she soon drops the hood to introduce tonight's slightly schizophrenic set, revealing tight white braids across her scalp, ending in childlike pigtails across her neck.
The new look is part of her new music, more elemental, tribal, with bits of trance thrown in. This is the darker, tougher, more powerful Ellie. At least that's what her wardrobe designers want you to think. "Dead in the Water" is the epitome of the new sound, it begins with an African chant, builds with sweeping synths, and then Ellie's beautiful squeaky voice laps over you like waves, by turns infantile, then husky.
Her new single "Anything Could Happen" gets an airing too, to a lukewarm reception. In a tune which commands spontaneous happiness, inspired by uplifting synths and Goulding's sweet "ooohhs", the synchronized head-banging from the band, paired with Goulding's air-punches, is just embarrassing.
Goulding's little effervescent eruptions of "la la, ooh" - particularly present in uplifting new pop song "Joy" – along with a finger snap here, a spontaneous grin there, defies this new harder-edged image. That and the skipping. "That's not like me, I don't usually skip!" she protests, before asking, like a concerned host, "is everyone alright though?"
There are moments where Goulding seems be able to relax, when she's singing the songs that she knows the crowd love; her cover of Elton John's "Your Song", filled with Goulding's characteristic soprano purrs, becomes a soulful and sophisticated interpretation, and her hit single "Starry Eyed" is bright and glittering, until she casts off the ugly cagoule to reveal a black sports bra.
It's a bit uncomfortable to watch. Even when she grinds around stage with a Jessie J-style smutty frown on, it's still easier to picture her as a Surrey housewife than a sexy vamp. Finally, she slips the cagoule back on, and seems to finally come to her senses just as the night is winding up. "It's sort of a bit sad and inappropriate if I just stand here in my bra..." then she's a pigtailed girl again, with a sweet, pure voice - and a confused identity.
Register for free to continue reading
Registration is a free and easy way to support our truly independent journalism
By registering, you will also enjoy limited access to Premium articles, exclusive newsletters, commenting, and virtual events with our leading journalists
Already have an account? sign in
Join our new commenting forum
Join thought-provoking conversations, follow other Independent readers and see their replies