Elvis Costello, Palladium, gig review: A moving tribute to his late father Ross MacManus and Allen Toussaint
The career-spanning show is Costello's first of a four-night residency at the venue
Alison King
Wednesday 11 May 2016 15:09 Comments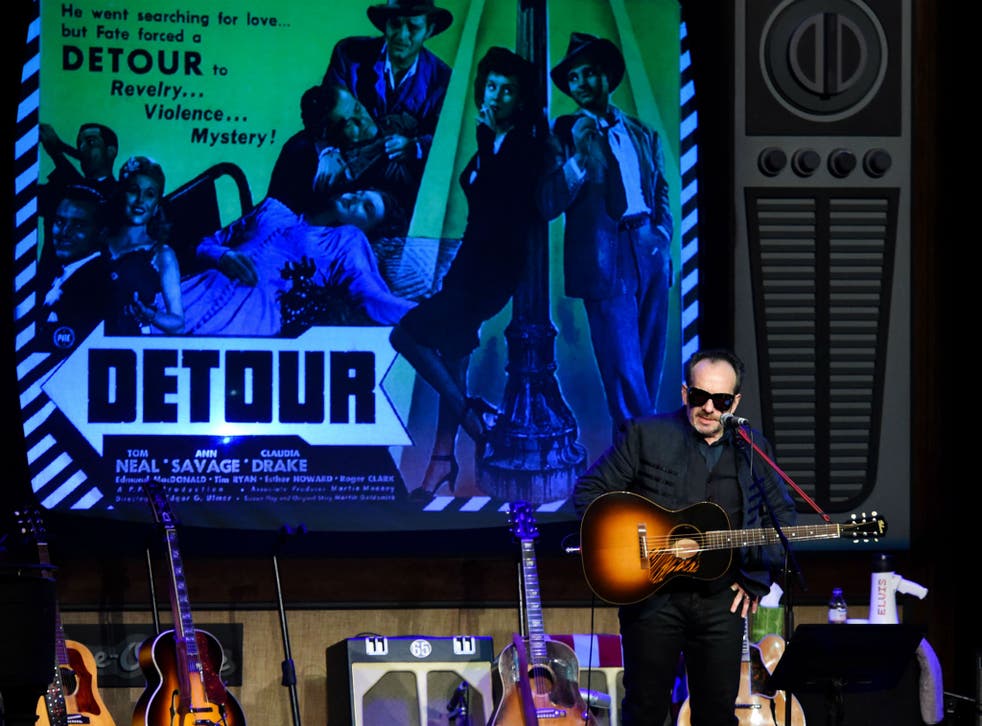 In a career-spanning show, Elvis Costello brings his solo "Detour" to the London Palladium, in the first of four nights at the grandiose venue.
Wearing a three-piece suit and trademark sunglasses, Costello arrives onstage backed by an array of guitars and a gigantic replica of the ancient Lupe-O-Tone television set - apparently similar to the one he had growing up in Liverpool in the early '60s.
This round of solo performances comes as part music concert and part conversation that ties in with his recently published autobiography 'Unfaithful Music & Disappearing Ink'. Full of anecdotes from his life that are both revealing and often very funny there are moments too of heavy reflection. For Costello, that reflection is within the stories shared about his late father Ross MacManus and the songs offered up to absent collaborators and friends like Allen Toussaint. Pictures of his childhood as well as snippets from his vast collections of lyrics and poetry flash up throughout the show as we join up the threads of his varied personal and musical history.
Moving from the piano-led version of "I Can't Stand Up For Falling Down" to a sombre "Ascension Day" and "That's Not the Part of Him You're Leaving"- there are tributes everywhere you look.
A scattering of new songs like "A Face In the Crowd" (a reference to the 1957 film of the same name) comes as rumours circulate among fans that Costello is writing a musical version of the film, followed by "Vitajex" and a touching duet with Rebecca Lovell on "Burn The Paper Down to Ash."
Songs from his glory days with the Attractions are still fan favourites: "Accidents Will Happen", "Oliver's Army" and "Shipbuilding" still pack a punk punch and he is joined by Larkin Poe- sisters Rebecca and Megan Lovell on "Pads, Paws and Claws" as well as "Love Field" for the first encore.
Standing inside the giant television to provide the quick fire hits "Pump It Up" and "Alison,"
Costello is back with Larkin Poe for the blues-rock energy of "A Good Year For The Roses" and ends with the immortal "(What's So Funny 'Bout) Peace, Love and Understanding".
This intimate show is just as nostalgic for the audience who grew up with these songs as it is for Costello. Providing a moving tribute to those that have passed away, Costello continues to be a remarkable and emotionally engaging musician, poet and storyteller.

Register for free to continue reading
Registration is a free and easy way to support our truly independent journalism
By registering, you will also enjoy limited access to Premium articles, exclusive newsletters, commenting, and virtual events with our leading journalists
Already have an account? sign in
Join our new commenting forum
Join thought-provoking conversations, follow other Independent readers and see their replies