End of the Road Festival, Dorset, review: A much-awaited Vampire Weekend show reminds us of their outstanding back catalogue
There's something for everybody at the festival regularly voted Britain's greatest small summer gathering
Rob Merrick
Friday 07 September 2018 09:25 Comments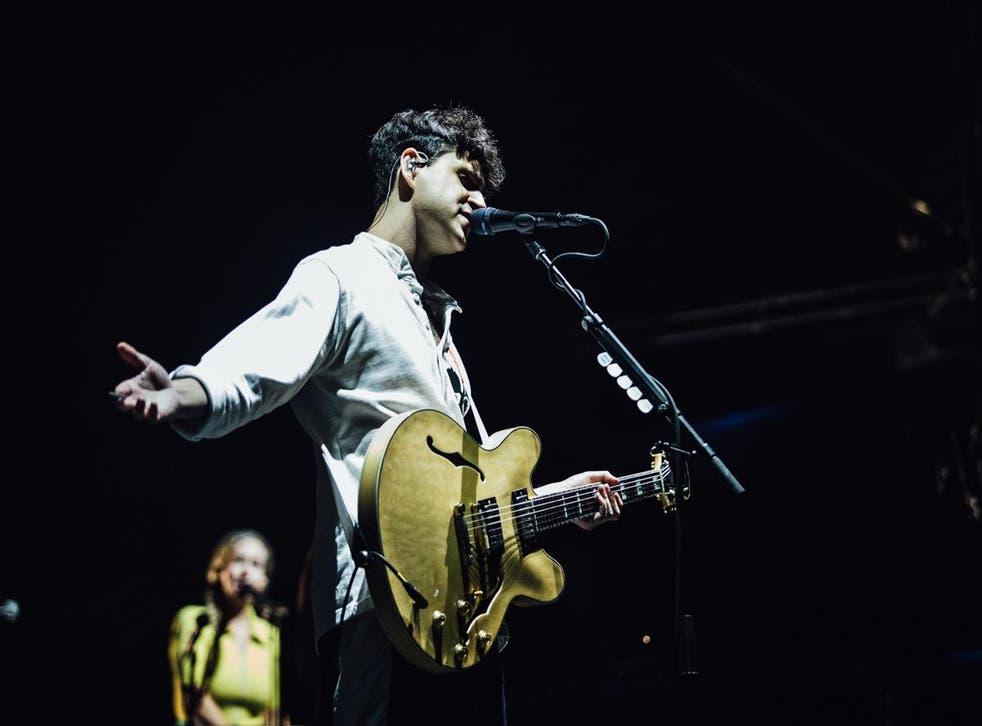 The long-awaited return of Vampire Weekend, playing their first UK gig for four years, is a coup for End of the Road Festival.
It also proves an opportunity for fans to enquire after the Africa-influenced band's mysteriously delayed fourth album. "It's done," frontman Ezra Koenig pleads, "we'll talk about it later!" We never do, and nothing is heard from that "done" fourth LP, but the band remind an adoring crowd of their outstanding back catalogue with frenzied performances of "Diane Young", "Walcott" and "A-Punk". New guitarist Brian Jones helps deliver a superb "New Dorp, New York", Koenig's funky side project with SBTRKT.
There's something for everybody at the festival regularly voted Britain's greatest small summer gathering: Australian punks Amyl and The Sniffers, angry post-punks Protomartyr, electronic producer James Holden, and the lush, Celtic pop of Gwenno. "Eus Keus", a song based on a 17th century Cornish chant, exalting pagan gods to deliver bountiful cheese on our heads, is Gwenno's glorious and rousing set closer. Syria's Omar Souleyman has the crowd dancing all the way back to the beer tent.
If there's one recurring criticism of End of the Road, it's the dominance of pain-wracked, guitar-plucking folkies - of which there are many on show. But the hugely impressive Haley Heynderickx, with her Joan Baez-quality voice floating over acoustic guitar that varies from gentle to frenzied on personal tracks such as "Worth It" is a highlight. Back-from-the-dead balladeer Josh T Pearson, whose last LP was 2011's acclaimed Last of the Country Gentlemen, makes a welcome comeback with his gloomy "I'm So Miserable Without You, It's As If You Never Left".
The Piano Stage, complete with comfy chair, pictures and piano, is a delightful secret so well hidden in the woods that many fans possibly never find it – but those who do are in for a treat.
It is around those keyboards that some of the weekend's best moments take place, including intimate sets with Wilco frontman Jeff Tweedy and Gruff Rhys, of Super Furry Animals, in front of only 150-odd lucky people. Tweedy in particular lights up the early evening with the fantastic minor chords of Wilco classics "I Am Trying To Break Your Heart" and "Jesus, Etc". It's thrilling to be just a few feet away. Late at night, the hushed setting is taken over by amateur pianists.
One minor disappointment is The Low Anthem, who have swapped gorgeous acoustic melodies for dense, strings-led jams. The audience swoon over St Vincent's electronics from last year's Masseduction LP, delivered with a full band and light show. Her harsh synths make for a repetitious show that comes to life at the close with the light relief of "New York" and "Severed Crossed Fingers", when she steps alone to the front of the stage.
The only threat to End of the Road's unique charms is its growing size. Catch it before it gets too big.
Register for free to continue reading
Registration is a free and easy way to support our truly independent journalism
By registering, you will also enjoy limited access to Premium articles, exclusive newsletters, commenting, and virtual events with our leading journalists
Already have an account? sign in
Register for free to continue reading
Registration is a free and easy way to support our truly independent journalism
By registering, you will also enjoy limited access to Premium articles, exclusive newsletters, commenting, and virtual events with our leading journalists
Already have an account? sign in
Join our new commenting forum
Join thought-provoking conversations, follow other Independent readers and see their replies