Enter Shikari, Alexandra Palace, gig review: Rabble rousers deliver an awe-inspiring live arena spectacular
St. Albans genre-mashers think outside the box and push the boundaries of live music entertainment…again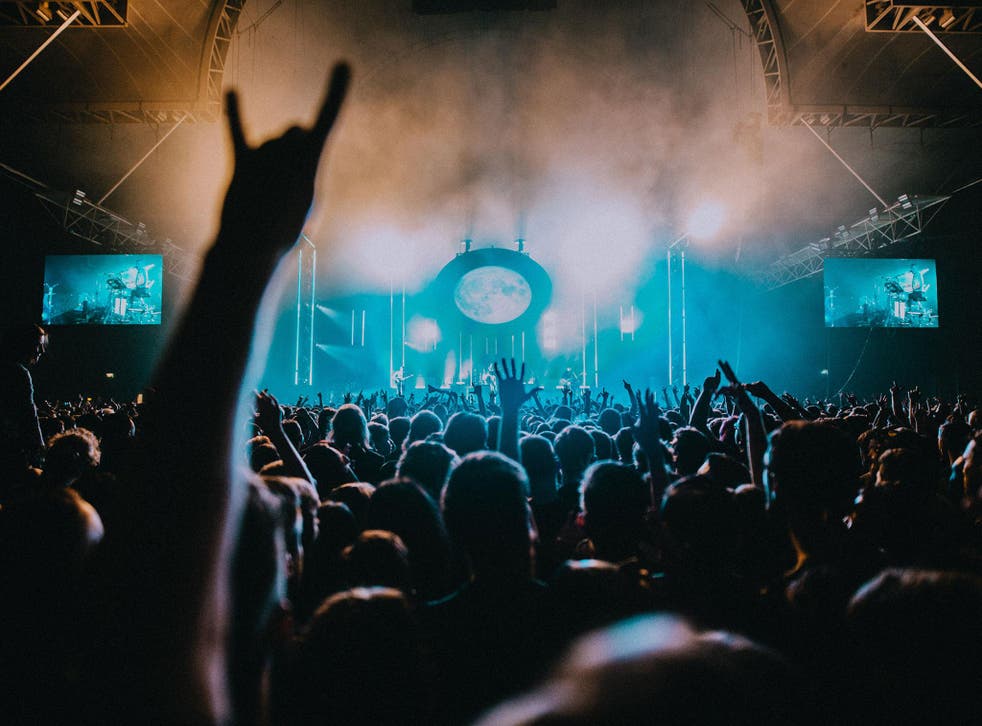 Common wisdom dictates that small intimate gigs, where sweat drips from the walls, pints are less than a fiver and a band can see the whites of its audience's eyes are superior to large arena or stadium shows. Generally, this aphorism is true; it's much easier to feel as if you're part of something when you experience it in a more enclosed space with a few hundred people as opposed to a cavernous concrete shed plastered with corporate sponsoring and 10,000 or more other punters. But some bands have ideas and aspirations that are simply too big for clubs and academy venues to contain.
In the short time that they have been playing arena venues, Enter Shikari have proved that their vision cannot be constrained to a small venue. Their latest album The Spark has adopted a less frenetic, more accessible song-orientated approach; not a rebuttal of their previous work but a clear indication that they're striving to try something new, to reach people through soaring sing-alongs rather than confound them with idiosyncratic twists and changes of pace. After the mind-bending spectacle of their debut appearance in this venue in February 2016, expectations are sky high for what they do next and fingers are crossed in the hope that the band can pull off such an extraordinary feat once again.
To say this evening's show has a concept would perhaps be a tad grandstanding but it certainly adopts the anachronistic aeronautical theme that surrounds The Spark. Even before Shikari play a note, the sound of spluttering aircraft engulfs the auditorium whilst air traffic control chatter counts us down towards the band's entrance. It immediately conjures parallels with the immersive promenade theatre that companies such as Punchdrunk or Shunt are famed for and whilst we're not quite in the realms of those world-building architects, it does wonderfully evoke a sense of time and place, a concept that is usually alien to most arena rock shows. The thematic through-line doesn't feel quite as prevalent or all-encompassing as it was for Shikari's first stint at Alexandra Palace 21 months ago (during The Mindsweep tour) but there are still several stylistic touches throughout that are several shades above what most bands of their size would attempt.
The band kick off proceedings with 'The Sights', which acts as a sort of soft-tempered prelude of what is to come (vague lyrical allusions to boldly going into the great unknown continue the aeronautical theme). There's a notable shift in the air when the utterly sublime barrage of riffs and electronica that ushers in 'Solidarity' follows. It's the first really pronounced use of quadrophonic sound within the show, another element where Shikari are pushing limits beyond those content to wheel out identikit arena production.
The use of surround sound might seem a gimmick to the cynics but just like so much technology, it's not the tech itself but the way that it's used that really makes the difference. The rear speakers are used sparingly (some might say too sparingly) but effectively and at key points throughout tonight's 1 hour and 40 minute multimedia extravaganza. Hearing electronic pulses move and vibrate around you enhances the experience exponentially and is all the more reason to venture out into the freezing cold and see music performed live rather than sit at home nonchalantly flicking through a Spotify account. Once you experience sound enveloping you from four different directions in a live concert environment, it's difficult to contemplate going back to the prehistoric stereo fronted format. It's baffling to think that a primarily auditory medium is only just beginning to catch up with cinema multiplexes which have adopted the technology as far back as the 1950s.
Ever since their formation at school, Enter Shikari have been smashing down genre-boundaries and fusing styles into a harmonious cocktail, a product of the young teens varied and eclectic listening habits. At one point this evening, the band smoothly transition from savage metal riffing (Arguing With Thermometers) to a beautifully affecting solo piano ballad (Airfield) via grime-inflected skittering beats (Rabble Rousers) as if it were the most natural progression in the world. Like all great art, it's an emotional rollercoaster; at a Shikari show, shapes are thrown, tears are shed, strangers are hugged, lyrics are screamed and jaws are dropped.
During the very best songs this evening, all five of moments are likely to occur, with the aforementioned 'Airfield' being one such highlight. Predominantly performed solo by frontman Rou Reynolds on a grand piano in the center of the arena floor, it's a strikingly fragile riposte to mental health issues which resonates with a new found power through the unity of thousands defiantly singing 'You're down on your luck but that don't mean you're out'. On the opposite end of the spectrum, 'Zzzonked' sounds like Aphex Twin ushering in the apocalypse and ends the main set with a frenzied electronic assault that threatens to raze the foundations of this historic 19th century building to the ground.
There are minor concerns as to how Enter Shikari's new material (periodically) doesn't yet hit with the precision or force of their more familiar songs but it seems frivolous to focus on that when we're dealing with a band who are redefining the approach to live music entertainment. Enter Shikari are setting a new standard for arena concerts, not through commerce but through ideas and imagination. The true innovators are those that can do so much with so little and in that respect, the boys from St. Albans are at the top of their field. The bar has been raised and one hopes where Shikari lead, others will follow.
Register for free to continue reading
Registration is a free and easy way to support our truly independent journalism
By registering, you will also enjoy limited access to Premium articles, exclusive newsletters, commenting, and virtual events with our leading journalists
Already have an account? sign in
Register for free to continue reading
Registration is a free and easy way to support our truly independent journalism
By registering, you will also enjoy limited access to Premium articles, exclusive newsletters, commenting, and virtual events with our leading journalists
Already have an account? sign in
Join our new commenting forum
Join thought-provoking conversations, follow other Independent readers and see their replies