Florence + the Machine review, O2 Arena London: Powerful and breathtaking
 She sustains beautifully, but is also capable of flitting between an ethereal whisper, a powerful shout and a dark, breathy timbre: hearing her sing is like watching an Olympic gymnast perform their most complex routine
Roisin O'Connor
Music Correspondent
Thursday 22 November 2018 13:42 Comments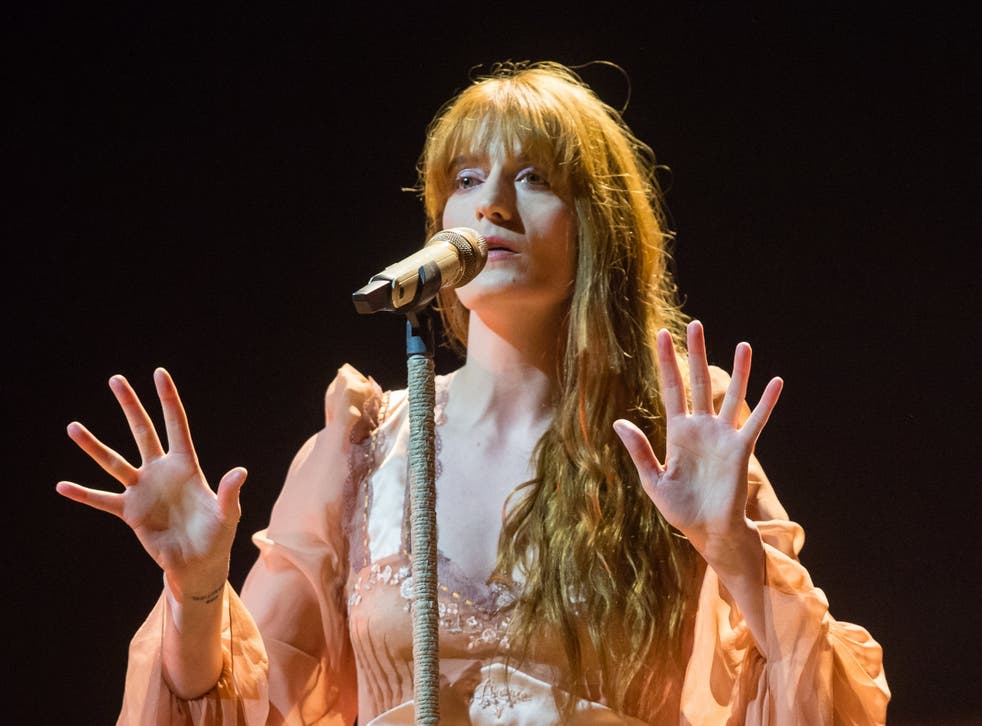 With its slatted wood backdrop and deep orange lighting casting ominous shadows, the stage for Florence + the Machine's stage looks positively Martian. Indeed, you half expect Welch to descend from a UFO for her grand entrance. When she does emerge at London's O2 Arena, once her band members have taken their places, there's still something alien about the way she floats silently to the mic and raises her pale, slender arms in greeting.
Florence + the Machine's fourth album, 2018's High as Hope, showed the 32-year-old Welch taking more of a stripped-down approach to her music, and restraining her powerful voice where before she'd been more inclined to belt it out as much as possible. Welch, who emerged onto London's gig circuit in 2008, has one of the best voices in the business. She sustains beautifully, but is also capable of flitting between an ethereal whisper, a powerful shout and a dark, breathy timbre: hearing her sing is like watching an Olympic gymnast perform their most complex routine.
At her live show, it's all about the theatrics, and she shows extraordinary stamina, appearing to gain a deeper warmth and strength as the night goes on. The opening lines from "Hunger" off High as Hope are as affecting as ever – "At 17 I started to starve myself/ I thought that love was a kind of emptiness" – but live you really see how the song builds in momentum to a rousing chorus, as Welch stretches out a hand to her violinist to signal those first, yearning notes.
It's quite something to watch her skipping and twirling her way across the stage in bare feet in a diaphanous gown of pale pink, with her vivid red hair flying behind her. In his wildest dreams, Dante Rossetti couldn't have conjured up such a pre-Raphaelite vision as Welch. There's a childlike innocence to the show in how it encourages you to use your imagination: giant folds of white material billow from the ceiling, evoking memories of a parent hanging washing on the line, or the sails of ships.
When Welch speaks, it's a surprise to hear how shy she sounds, and how overwhelmed she is at the size of the venue: "This is my hometown!" she cries joyfully, before divulging some sparse details of her teenage exploits ahead of "South London Forever". After asking fans (very politely) to put away their phones, Welch encourages them to use their torches for "Cosmic Love" from Florence + the Machine's debut album Between Two Lungs – a song she wrote at a studio in Crystal Palace.
Suddenly she jumps down into the audience and begins to run a circuit – still barefoot – around the first half of the venue, stopping halfway to plunge into a crowd of shrieking fans. Lights from their phones blink and flash as she sings: "The stars, the moon, they have all been blown out/ You left me in the dark." It's breathtaking.
Register for free to continue reading
Registration is a free and easy way to support our truly independent journalism
By registering, you will also enjoy limited access to Premium articles, exclusive newsletters, commenting, and virtual events with our leading journalists
Already have an account? sign in
Join our new commenting forum
Join thought-provoking conversations, follow other Independent readers and see their replies