Flow Festival 2019 review: Sustainability ethos helps propel bustling festival full of excited acts
The festival takes its sustainability ethos to the next level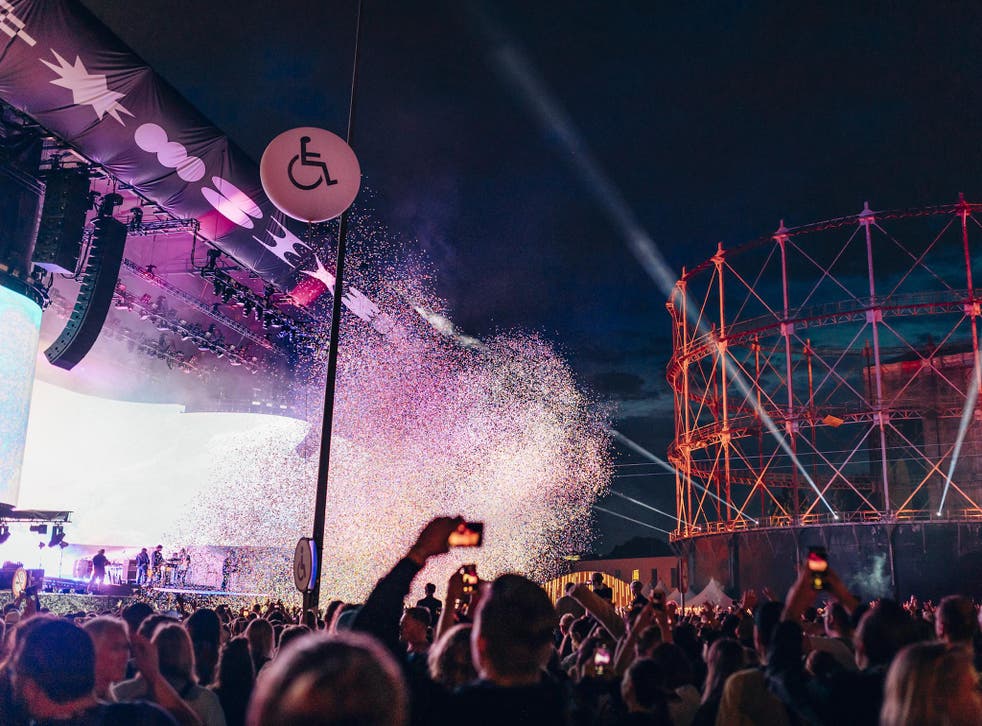 At Flow Festival in Helsinki, the water stations are surrounded by mint shrubs to add to your reusable bottle. The cutlery is biodegradable. The food options include vegan burgers, jackfruit curries and kombucha.
Flow claims to be one of the world's first carbon neutral festivals – a tough gig in an industry based around flying in international artists. All carbon emissions are offset and this year artists have the option of a sustainability rider, where they can choose sustainable ground transportation, or against single-use plastic bottles.
Jazz features prominently on the line-up. Nubya Garcia, the British tenor saxophonist, introduces "Pace" by explaining that it is about escaping from the hell of a London commute. She's come to the right place: adjacent to the balloon stage, people pour from bottles of Lanson champagne. One of the food options reads: "12g of caviar, served on the back of your hand (€22)". People eat plant-based food from recycled cardboard plates while they wait for Pharoah Sanders, the legendary tenor saxophonist and contemporary of John Coltrane, who hobbles to the circular stage with the help of a walking stick and two bouncers, then dances unaided as soon as his band kick off.
Flow Festival is one of three festivals over the same weekend in Scandinavia. The bill is peppered with Finnish acts like Alma and Chisu, who draw huge mainstage crowds, but it shares a lot of its international line up with Oya Festival in Norway and its cousin Way Out West in Sweden. You can tell from the slightly weary demeanour of some of the acts that they are on this festival carousel: "I'm Earl Sweatshirt and this is my jacket," the Odd Future alumnus declares about his long silver waterproof on the main stage on Friday. "I've never worn a jacket this length before and I'm really into it." Shame he doesn't feel the same about the music, taking a break mid-set to chat to his DJ and then flat-out refusing to play his last song.
The 12 best European music festivals for 2019

Show all 12
Later, Erykah Badu whiles away a good half an hour of her time backstage, then emerges looking like Old Greg in a wig made of bottle-tops and purple lipstick to play a note-perfect, but truncated show. "Where was the rest of it?" people murmur, short-changed, after the last strains of "Bag Lady".
Mitski can barely contain her excitement on Sunday: "I woke up this morning feeling terribly depressed," she says towards the beginning of an hour in which she dances, stoney-faced, around a table. "Is this how it is every day for you guys?" The American sad-pop export is hurtling towards the end of her tour in September, after which she has vowed to stop performing to restore her sense of self – perhaps not a moment too soon. Meanwhile Slowthai, the sole British grime artist on the bill, quickly strips to his little pants and goads the crowd to run anticlockwise in a circle like a children's party entertainer that has run out of ideas – a trick he repeats at Oya festival in Norway a day later.
We are deep into festival season now, and the best big acts on the bill deliver their lines with the swagger of the actors in a Broadway show entering its 51st unbroken run. The cornerless psychedelia of Tame Impala has turned into a kaleidoscope of magnolia, so well rehearsed it basically plays itself. Stereolab dispatch "French Disko" near the start of their set and then sink into synth bangers, Laetitia Sadier graciously thanking those who stay in the tent even after people start leaving in large numbers to see the start of The Cure.
Forty years of touring have turned the British institution into an unlikely stadium rock band. A run of "In Between Days", "Just Like Heaven" and "Pictures of You" near the top of the show indicates The Cure are here to play the hits from their 13 albums. Robert Smith might still wear the painted face and crumpled black garb of a goth, but he looks like he's having a lovely time, waddling – almost even shimmying – stage left for "Friday I'm In Love" and "Close To You". He cracks a grin during "A Strange Day", a song ostensibly about the sea and death, and attempts a terrible joke about trying out his Finnish near the end, or the finish, of the set, with all the bumbling loveliness of your alternative Great Uncle at Christmas.
The slickness of Robyn's set in the Red Arena makes it difficult to deduce if she is truly as choked up by the sight of thousands of people screaming the words to "Dancing On My Own" back to her for the 742nd time as she appears. Yet there are moments of levity that suggest she, too, is still enjoying herself: the rakishness of her dancing partner, a vogueing man, who winks and motions to her to "bring it" when she returns onstage after a costume change before "Love Is Free", which bleeds into "Don't F**king Tell Me What To Do" and melts into an extended dance music outro played on cowbell and no less than three synths, Robyn and the dancer bouncing around the stage in gleeful freestyle.
Despite the sharply tailored suits and high-concept staging of Solange's Friday night set, she is all smiles, inviting the audience to dance with her and picking her favourites from the crowd. "Losing You" and "Cranes In the Sky" appear near the end, building a momentum that is swiftly destroyed when the sound cuts off at midnight, several minutes before the end of the show, and they are forced to finish dancing in near silence.
People filter away from the main stages and to the dance music corners or onto afterparties, where club heavyweights Avalon Emerson and Honey Dijon are among the billed acts. The ground they leave contains barely a trace of the festival that took place, just a few plastic cups tidied swiftly into recycling bins by attendants. The festival might share much of the music with rivals on the European festival circuit, but the sustainability ethos it has claimed as its own.
Register for free to continue reading
Registration is a free and easy way to support our truly independent journalism
By registering, you will also enjoy limited access to Premium articles, exclusive newsletters, commenting, and virtual events with our leading journalists
Already have an account? sign in
Register for free to continue reading
Registration is a free and easy way to support our truly independent journalism
By registering, you will also enjoy limited access to Premium articles, exclusive newsletters, commenting, and virtual events with our leading journalists
Already have an account? sign in
Join our new commenting forum
Join thought-provoking conversations, follow other Independent readers and see their replies