Future Islands are irresistible at Brixton Academy, London - review
Band put on a dazzling, inimitable spectacle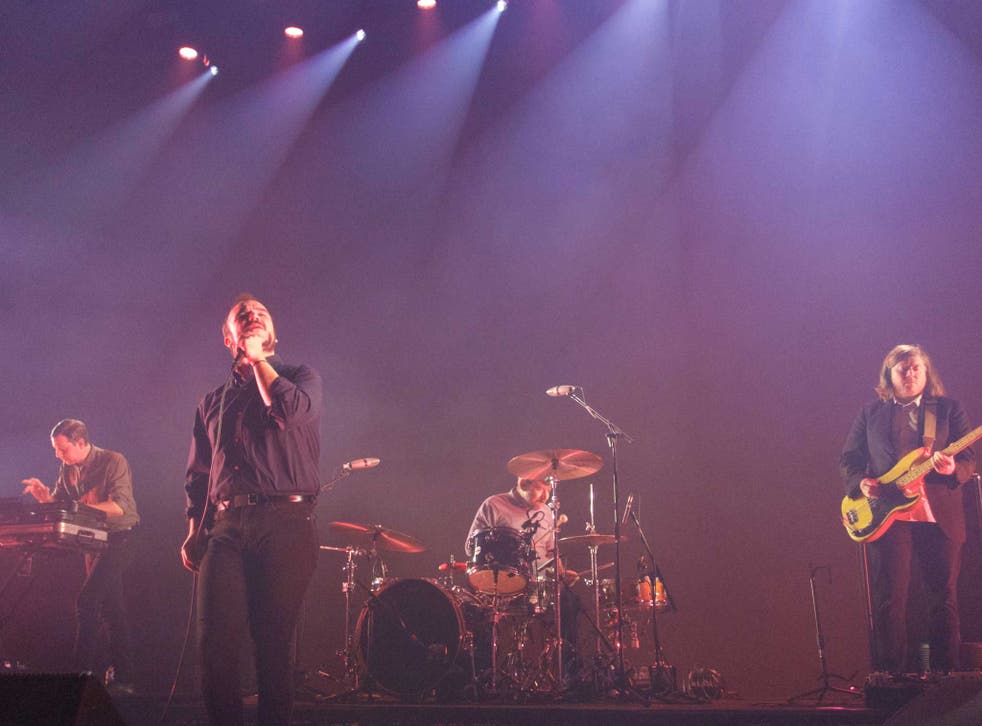 Where do you start with a frontman like Samuel T Herring? The theatrical belly slides, performed with little-to-no disregard for the consequent friction burns? The voice that seems plucked from a Memphis soul record, but regularly mutates into a bowel-dredging growl? The dance moves that resemble those of a man made entirely of Slinkies?
Maybe we just start by saying that tonight, at the last of three sold-out shows at Brixton Academy, it all combines to create a dazzling, truly inimitable spectacle. He is a frontman in every sense – he is the tireless focal point, but he also stands literally in front of the rest of the band, who, on a raised platform, deliver eminently danceable synth-pop, enveloped in wistful whirs and energised by pneumatic basslines.
It's a sound Future Islands have been honing and tweaking since the mid-to-late 2000s and, at a show like tonight, which runs well over 90 minutes, there is a danger of the blueprinted song structures becoming repetitive, but the warmth of feeling from the achingly nostalgic synths and Herring's on-stage volatility keep hold of any wandering minds. On "Ran", the stirring lead single off the band's latest album, The Far Field, Herring's face is contorted by melodrama, crooning out lines like: "What's a song without you?/ When every song I write is about you?"
Momentum builds with older tracks like the jaunty thumps of "Balance" and "Long Flight" before we reach "Seasons (Waiting on You)", the song that could be fairly credited with launching Future Islands from underrated heroes into the realm of bands who can sell out three nights at Brixton. It's the song they played on that Letterman performance in 2014, and it's probably the best thing they've ever written, and the best thing we see tonight. It turns the wistfulness up to 11 – "Seasons change, but I've grown tired of trying to change for you," Herring sings – as his longing eyes search the audience, before he leaps across the stage and, once more, unlocks the rattling cage within which he keeps his inner death metal singer. It's downright peculiar, but it's irresistible.
Join our new commenting forum
Join thought-provoking conversations, follow other Independent readers and see their replies