Future Islands review, As Long As You Are: You can't blame them for not messing with the formula
This is the band's second album since their big, viral moment and they're still happily swimming in the same warm currents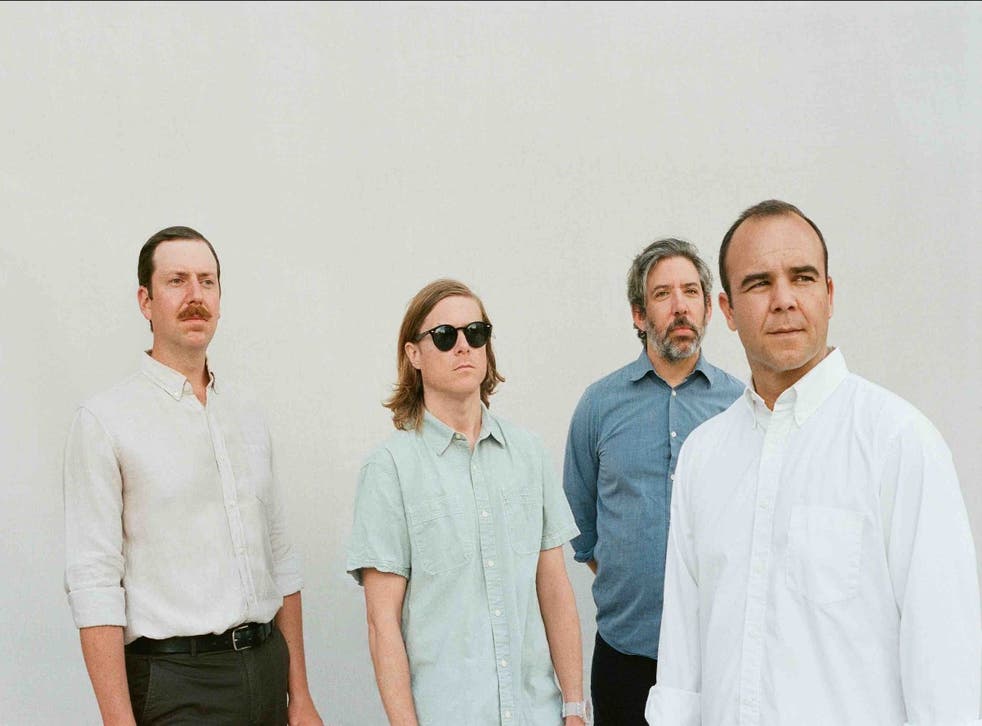 In 1892, WB Yeats sent the first of four, unsuccessful proposals to his "great unrequited love", Maude Gonne. Describing himself as a man "haunted by numberless islands" who has "a sadness that may not die", Yeats sighed: "I would that we were, my beloved, white birds on the foam of the sea!"
And it's the cry of seabirds that opens Future Islands' sixth studio album. The heartfelt honking of the gulls across the water prove a perfect landscape for frontman Samuel T Herring's Yeatsian yawping, which flows over the rolling synth tides set in motion by bassist William Cashion and keyboardist/programmer Gerrit Welmers.
Although the angst-ridden Herring is now happily settled with a Swedish sweetheart and the band claim to have "finally found" the sound they've been after for years, there's little to differentiate this record from the last few. And you can't blame them for not messing with the formula.
The Baltimore synth-poppers have been together since forming the Kraftwerk-indebted Art Lord and the Self-Portraits in 2003. They took time to develop a shtick that made them sound like New Order fronted by a wounded lion. Live performances in which Herring growled, beat his chest, crawled across the floor and licked the sweat from his own body won them a devoted live fanbase, but they only hit the big time in 2014, after Herring delivered a magnificent performance of "Seasons (Waiting on You)" on The Late Show with David Letterman. Chat-show telly had never seen anything like that much intense eye contact, hip-swivelling and guttural roaring before.
This is the band's second album since their big, viral moment and they're still happily swimming in the same warm currents. Those seagull cries melt into dreamy opener "Glada" on which 36-year-old Herring – the son of a divorce attorney – wonders if he's worthy of his current romantic fortune. "Who am I?" he growls "Do I deserve the sea again? The slow-lapping waves/ Bathing my face in light… Finding love and a friend / In the dawn."
The pace picks up some punch with "For Sure", although the neat chorus of "When you say 'us'/ You make me trust" deserved more melodic oomph than an urgent (but fruitless) hopping urgently but fruitlessly between the same two notes, like a tune needing the loo.
Other tracks, such as "Born in a War" – which tackles America's macho gun culture – also struggle to gain momentum, although the lyrical scansion reveals Herring's hip-hop roots (he still raps under the name Hemlock Ernst). "Raised in a town that's 80 proof/ Shotgun shells under every roof" have a real tendon-snap to them.
"The Painter" has a more involving musical and narrative arc. Herring (who met Cashion on an art course) grabs your attention with strange images of blue and yellow willow trees and crushed pianos. "Thrill" has a tender, spacey sway that finds Herring "falling down/ None of my friends around". The emotion and musical details swells slowly and beautifully throughout. "Moonlight" slinks around a feline hook straight out of The Cure's playbook.
Most moving is "I Knew You", on which Herring unpicks a toxic relationship. There's a piercing bravery to lines such as: "You told me you'd been fine/ Since I poisoned your life". Long-term fans will also love piecing together the history, as Herring sings that this ex-girlfriend is the one for whom he wrote "Long Flight" from 2011 album, On the Water.
Enjoy unlimited access to 70 million ad-free songs and podcasts with Amazon Music Sign up now for a 30-day free trial
Sign up
As Long as You Are is also an elegantly structured record. After speeding up in the middle, it slows gracefully to end with "Hit the Coast". Against the warm wash of synths and a soothing pulse, Herring stays in his heartbroken comfort zone. Sounding a little like The Fine Young Cannibals' Roland Gift, he laments the demise of a relationship that's as tightly spooled and redundant as old cassette tapes, frying in the backseat of his car. But there's an exhilaration in Herring's catharsis as he describes driving alone, "flying and free, not crying".
If I'm honest, it's as hard to tell this Future Islands album from the last one as it is to tell one seagull from another. But that's not to say they don't all soar and swoop in a way that's guaranteed to lift the heart.
Register for free to continue reading
Registration is a free and easy way to support our truly independent journalism
By registering, you will also enjoy limited access to Premium articles, exclusive newsletters, commenting, and virtual events with our leading journalists
Already have an account? sign in
Register for free to continue reading
Registration is a free and easy way to support our truly independent journalism
By registering, you will also enjoy limited access to Premium articles, exclusive newsletters, commenting, and virtual events with our leading journalists
Already have an account? sign in
Join our new commenting forum
Join thought-provoking conversations, follow other Independent readers and see their replies