Goldfrapp, Royal Albert Hall, review: Genuinely captivating
Goldfrapp shun disco and electroclash in favour of a more stripped-down, defiantly non-commercial sound
Roisin Oconnor
Wednesday 19 November 2014 16:54 Comments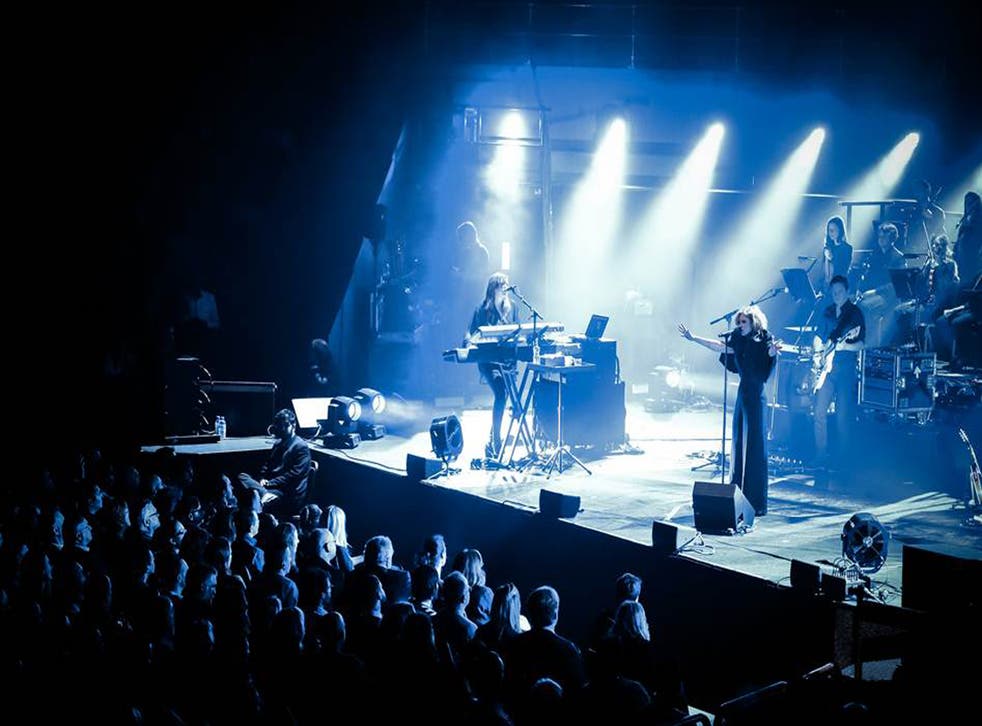 Goldfrapp have been present in international art-pop for over a decade, gliding through everything from trip-hop to electro-glam to pastoral folk.
Alison Goldfrapp tells the audience at the Royal Albert Hall that many of her songs have stories behind them, and that she'll explain them as the night goes on, yet she only gets as far as explaining 'Annabel', 'a song about a girl trapped in the body of the boy' and inspired by Kathleen Winter's novel of the same name; which possesses the same deceptively pretty quality as Nancy Sinatra's 'Bang Bang'.
True to visually romantic form, she cuts a lonely figure centre-stage - milky pools of light filtered out across the floor – in a simple black trousersuit as opposed to the outlandish costumes that used to feature in her live performances.
Shunning their disco and electroclash work in favour of a more stripped-down, defiantly non-commercial sound – Tales of Us has a richness that is consistent throughout, and is certainly one of Goldfrapp's more satisfying offerings.
There are occasions where tracks border on self-indulgent – repetitive, drawn-out notes on 'Alvar' feel like a cover for lack of substance – whereas 'Jo' is genuinely captivating with its lilting vocal trips over piano phrases and drawn-out violin notes. Yet the live performances of these tracks all work perfectly as mesmerising soundscapes that weave their spells with an intensity that has been lacking from previous tours.
Alison's voice soars up and around the room, controlled yet breathless; filled with subtle emphasis and dark, erotic undertones that wouldn't be out of place in a classic James Bond film. Backed by an orchestra, bass, guitar, drums and synths, it's a deeply fulfilling experience fuelled by old-world glamour.
'Clay' is one of the few tracks to strike an upbeat note from Tales of Us: a paean to forbidden love between two male soldiers during WWI, yet without the predicted tragic ending.
As unhappy as some critics were with the eschewing of pacier material, the songs in Tales of Us feel more quintessentially Goldfrapp, with clear echos from Seventh Tree and their debut Felt Mountain. Will Gregory's production is narrower than previous outings, with maudlin strings and stark production comprising much of the duo's latest LP.
While the setlist is designed to showcase most of the material from Tales of Us, it doesn't deny their audience a few of their old favourites. Guest performer John Grant is brought onstage for a rendition of Seventh Tree's 'Monster Love' and then an exquisite, highly evocative cover of Nancy and Lee's 'Some Velvet Morning'.
Enjoy unlimited access to 70 million ad-free songs and podcasts with Amazon Music Sign up now for a 30-day free trial
Sign up
At times Alison's nerves seem to get the better of her; perhaps not helped by the fact that everyone is frozen in their seats, a thousand eyes fixated on her and her alone. 'Can we stand up?' she asks before 'Happiness', and the audience get obediently out of their seats. Confidence apparently restored, she throws herself into the next few tracks, and the audience remain on their feet.
Register for free to continue reading
Registration is a free and easy way to support our truly independent journalism
By registering, you will also enjoy limited access to Premium articles, exclusive newsletters, commenting, and virtual events with our leading journalists
Already have an account? sign in
Join our new commenting forum
Join thought-provoking conversations, follow other Independent readers and see their replies