Gorillaz review, O2 Arena: A cathartic return for UK arena gigs
Damon Albarn's musical project brought on a procession of special guests, including Little Simz and Robert Smith, for a free show in honour of NHS workers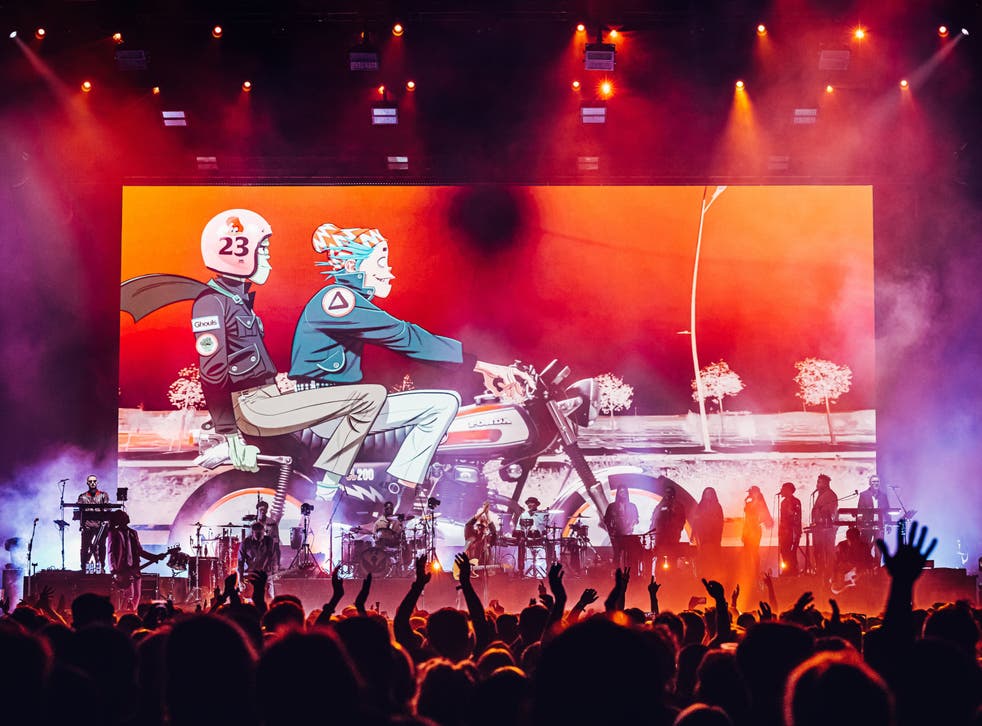 "I feel like you've come back so much stronger," Damon Albarn tells an O2 so overjoyed to be a part of one of the first UK arena gigs for 16 months that they greet even the most obscure album tracks like encore showstoppers. The same could be said, too, of his cartoon-fronted collective Gorillaz. They've been one of the more proactive acts of the pandemic. Through much of 2020 they dispatched monthly tracks from their seventh album Song Machine, Season One: Strange Timez, released in October. Come Christmas they delivered lockdown's most imaginative livestream with Song Machine Live From Kong, in which a holographic Beck danced around a golf buggy and a cartoon Elton John played a grand piano festooned with a candelabra of hairy hands. It was fitting, then, that Gorillaz would kick the mothballs out of the O2 with a show for NHS workers on Tuesday and, the following night, deliver the mass communal party the rest of us have been so desperate for. Even if, judging by the awkward shapes being thrown in the stands, the human body has forgotten how to do whatever we used to call "dancing".
Over two decades, Jamie Hewlett's cartoon band concept – confined to the back-of-stage screen tonight, where 2-D, Murdoc, Russel and Noodle embark on moon missions, desert drives and cruise ship shooting sprees – has proved a liberation for Albarn, freeing him of any stylistic expectation or responsibility and allowing him to develop one of music's few truly uncategorisable bands. Beyond a strong dub thread, anything goes, and a genre-blind modern audience happily tag along as Albarn skanks around the stage in a pink jacket, shapeshifting between the motorik punk of "M1 A1", zombie dub tunes like "Last Living Souls", volcanic sleaze rock ("Every Planet We Reach Is Dead"), and the masterful electropop of "Aries", featuring New Order's Peter Hook on chemtrail bass. "Fire Flies", from 2018's The Now Now, could even be the theme to an intergalactic space ballet, picked up by radio telescope.
Albarn is often tootling on instruments native to the playpen – the "Ghost Town" melodica was key in giving early Gorillaz their ring of urban melancholy – and delivering raps veering from the tranquillised to the impassioned through a microphone seemingly sourced from an East End taxi firm. Yet the fresh textures and solid songcraft of Strange Timez has allowed him to bolster what was once, at times, a slightly ponderous and indulgent Gorillaz live experience into a rich and varied two-and-a-half-hour extravaganza. The album's numerous guests carry the night – Leee John karate kicking and pirouetting through "The Lost Chord" in a cascade of soaring falsettos, Fatoumata Diawara bringing an exotic elegance to the Malian-style "Désolé", The Cure's Robert Smith adding gothic glower to "Strange Timez", an electro noir anthem for the Covid age.
Each guest, thanked with a bearhug from Albarn, steals the show from the last. Against imposing historical competition, Little Simz makes "Clint Eastwood" her own. Shaun Ryder cements his cult legend simply by standing on the spot and mispronouncing "there" every few minutes. Slaves rampage through the effervescent punk of "Momentary Bliss", before performing what was probably the first two-man stage-dive since 2019. Even the two new songs, traditionally the toilet break segment of any arena show, are an unmissable spectacle. In tribute to the Notting Hill roots of the band, the stage becomes a carnival, filled with flags and steel bands, while Jamaican singer Alicai Harley parades the stage in a white fur hat so large, it might reverse global warming single-handed.
Ultimately, though, the event itself is the greatest thrill. "Thousands of people all communing together," Albarn says. "What a wonderful feeling." And how wonderful to share it – both musically and emotionally – in a place of such unfettered release.
Join our new commenting forum
Join thought-provoking conversations, follow other Independent readers and see their replies