Gorillaz at the O2 Arena, London, review: Damon Albarn brings a conveyer belt of guest artists
Frontman looks on in wonder at Little Simz and her take on "Garage Palace" – a riotous garage-rave blitz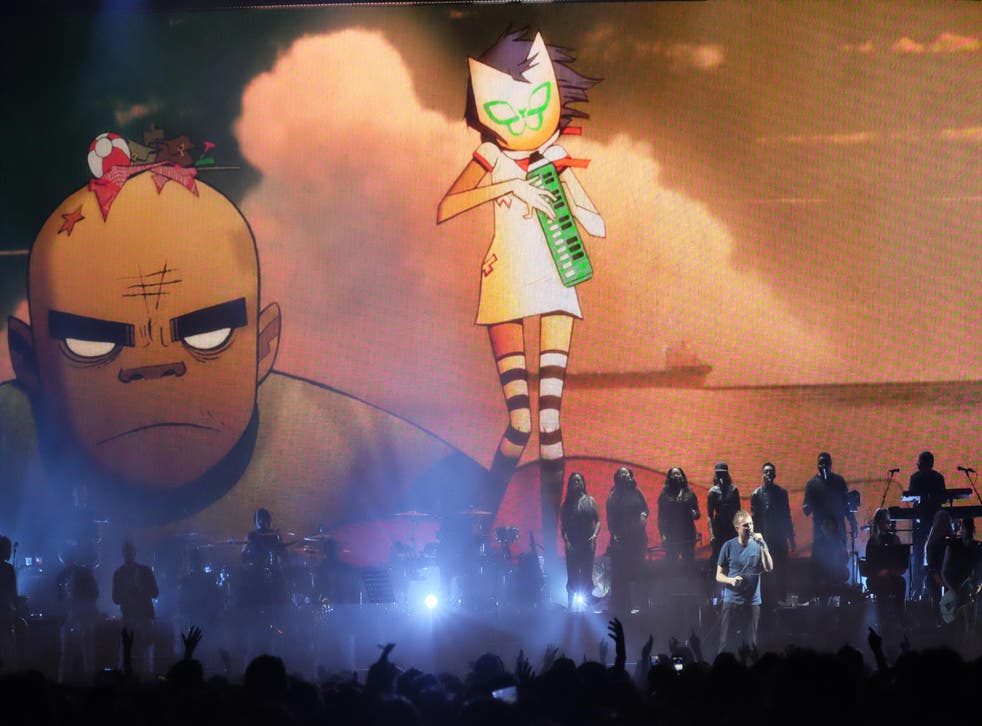 There's a moment tonight during the first of two sold out shows at the O2 that do as much as any to sum up what a unique proposition Gorillaz are.
Peven Everett, little known before he hooked up with Gorrilaz, is playing a keytar and crooning through the fantastic rolling funk of "Strobelite" as Damon Albarn blends into the background alongside his band. As the song ends, Albarn re-emerges from the shadows, arms aloft, goofy grin across his face, and seemingly in as much awe as everyone else.
Albarn is willing to let the carnival coalesce around him, fully committed to his anything-goes-as-long-I'm-having-fun enterprise (it's hard to think of anyone but the Blur frontman who would pluck someone from obscurity for their multi-million selling, Grammy-winning project then ask them to sing over a keytar). An ego-free approach that has kept Gorillaz relevant way beyond the shelf life of most bands. Indeed, Jamie Hewlett's animations, once their unique selling point, have been eclipsed by Albarn's musical imagination.
The roll-call of collaborators over the years has made Gorillaz hard to pin down. Albarn's pensive melodies are a reassuring foundation, but material that covers so much ground (hip hop, house, disco, electronica, gospel, acoustic balladry) is dizzying in scope, and far more challenging than their status suggests: "On Melancholy Hill", the sweetest song Albarn has ever written, is noticeable tonight among the debased disco for its simplicity. More than 15 years on, Gorillaz are bigger than ever. Their current world tour has eclipsed even Blur in terms of tickets sold.
That Gorillaz are now known for a live spectacle featuring Hewlett's excellent visuals (deep sea adventures; bike chases; American landscapes) and a conveyer belt of guests certainly helps. London, especially, is spoiled. Savages' Jehnny Beth, Blur's Graham Coxon and Noel Gallagher (don't tell Liam) combine for the trite but undeniably uplifting "We Got the Power"; Pusha T adds menace to "Let Me Out"; De La Soul throw themselves full throttle into "Feel Good Inc". Shaun Ryder even manages to remember the words to "Dare".
But it's the guests from their fifth and most recent album Humanz that work best. When he penned the album in Albarn envisaged a doomsday scenario in which Donald Trump became President (imagine, right?) and went about scoring an apocalyptic party record. The result was a lopsided mishmash playlist, but live the jukebox jumping is thrilling.
Long Beach rapper Vince Staples brings a sudden frisson to Humanz's pulsating stand out track "Ascension"; "Sex Murder Party", unremarkable on record, is transformed into a mighty, deviant beast by Jamie Principle and prowling, silver-suited Zebra Katz. Better still is upcoming London rapper Little Simz's take on "Garage Palace", a riotous garage-rave blitz. As she leaves the stage, Albarn is once again looking on in wonder.
Join our new commenting forum
Join thought-provoking conversations, follow other Independent readers and see their replies