Gottwood Festival 2017: Britain's most scenic festival on Google Images and in the flesh
It was not hard to see why we kept coming across Gottwood fan boys and girls who return to Holyhead for its House, Techno, and Snow-White-esque forest year in year out
Maya Oppenheim
Thursday 29 June 2017 13:54 Comments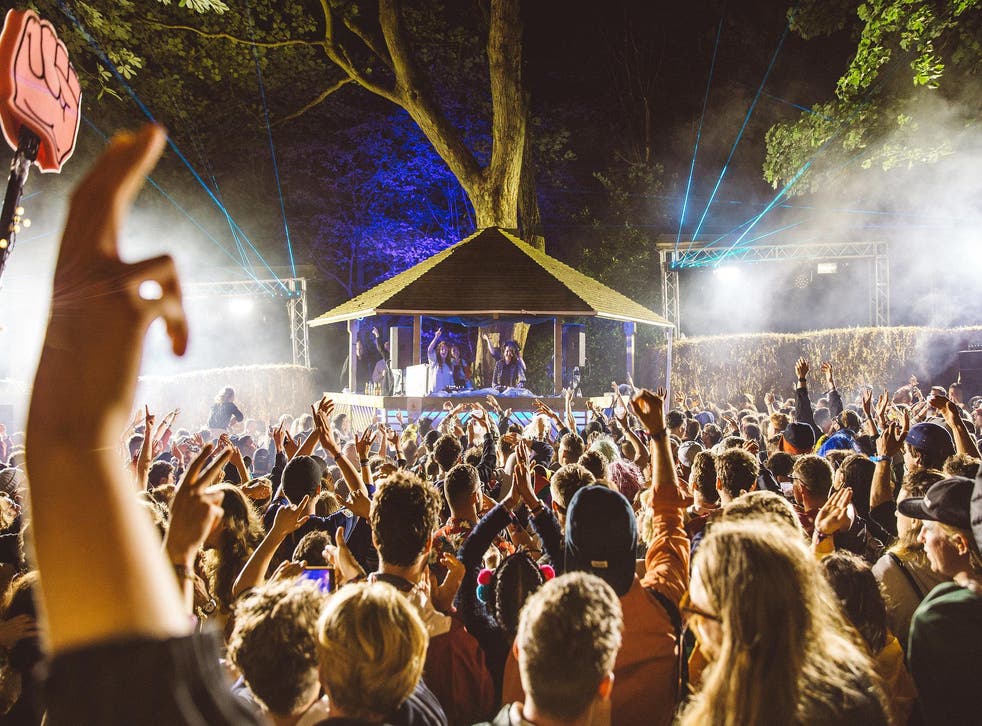 The world might have yet to reach peak oil – the point in time when the maximum rate of petroleum extraction comes to a head – but it reached peak festival a good while ago. As each year goes by, the seemingly never-ending list of festivals appears longer and longer.
For this reason, I always feel a little apprehensive and listless about trying a new one. Nevertheless, I am relieved to say that Gottwood not only did not disappoint, I would probably even be a return customer.
Set in the distant, far-flung island of Anglesey on the north-West coast of Wales, it deserves its reputation as one of the most beautiful festival sites in the UK. While 'picturesque' and 'festival' might be two words you rarely hear in the same sentence, the electronic music festival is an exception - even the car park looks over a secluded Welsh cove.
Despite the fact there was a fair bit of rain and heavy winds - the days were peppered with adequate sun - it looked every bit as good in the flesh as it did on Google Images. The site is centred around a glittering lake which imbibes every drop of light in a sunrise and sunset.
The lake itself is surrounded by a forest that almost looks like it could be home to Snow White, the only difference being that the fulcrum of the festival site is a grand mansion rather than a skewiff thatched cottage, and there are no seven dwarves in sight.

Like a fair few other festivals in the UK, the four-day event started as a free party for the kids of aristocrats and their friends but metamorphosed into an altogether less exclusive affair as it grew in size.
But, despite having grown considerably since it started in 2010, it still only has a crowd of 5,000 people, and appears to be a rare example of organisers actually keeping their promise of keeping festivals as intimate affairs.
The Outlook Festival lineup over the years

Show all 11

The small size means it is easy to negotiate and near impossible to get lost in. This was further aided by seemingly indefatigable phone signal throughout. What's more, it felt like a relatively smooth-running affair behind the scenes.
Unlike London festivals where you get herded around like livestock, you were never waiting for more than a few minutes to get a drink if at all. The food was also a massive draw. Somehow pretty much everything I tried tasted good, with highlights including Fleetwood Mac and Cheese, Fundi pizzas, and My Mates BBQ.
Enjoy unlimited access to 70 million ad-free songs and podcasts with Amazon Music Sign up now for a 30-day free trial
Sign up
But it goes without saying that the food was not the main reason people were there. That, of course, was the music, and that did not disappoint either. Not one of the ten stages to choose from was a dud, although definite preferred spots included the Walled Garden, which is hidden in the depths of the festival and had a queue for its big sets, and the Tree House, despite being treacherously muddy.
As much as a cop-out as it might sound, I enjoyed pretty much all of the acts I saw, despite fearing it could potentially be too "chin-strokery" for our tastes. High points included Matthew Herbert's own old favourites and his take on older classics, and Craig Richards' lengthy finale set on the Sunday night which topped off the weekend. Richards was also joined by Nicolas Lutz for the back-to-back, whose earlier set was equally impressive.
Another head to head set which stood out was Bradley and Jayda G, who performed for a whole five hours at The Curve. In terms of non-electronic music, I was blown away by Harvey Sutherland & Bermuda and Dele Sosimi's Afrobeat Orchestra.
To top off the tunes, even the security were friendly, appearing more interested in hugging punters than searching or scolding them. For all of the above and more, it was not hard to see why we kept coming across Gottwood fanboys and girls who return to Holyhead for its house, techno and disco year in, year out.

Another appealing feature of the festival was the stark contrast between day and night time. While the daylight hours are relatively relaxed – perhaps too laid back for your super debauched festival veteran - the nights are a lot more riotous.
And if you want proof of the latter look no further than heavyweight boxer Tyson Fury's wild weekend at Gottwood last year which saw him let his hair down and cut shapes to Artwork's 'Let Go Of My Acid' just weeks before his rematch with Wladimir Klitschko.
But don't be mistaken, Fury is by no means your average Gottwood patron. On the contrary, the majority of the festival is made up of semi-cloned-looking trendy uni students and fresh-faced graduates.
At its very worst moments, it did feel suspiciously like one long university reunion you weren't invited to. Although, a very cheerful reunion to be fair, with the mood of punters openly buoyed by Jeremy Corbyn's against the odds success in the general election.
One of my only criticisms of the event would be the fact it could have done with a more mixed demographic - like many festivals. Saying that, there were people from a wide variety of places across the country and it did bridge the north-south divide characteristic of many other festivals.
Register for free to continue reading
Registration is a free and easy way to support our truly independent journalism
By registering, you will also enjoy limited access to Premium articles, exclusive newsletters, commenting, and virtual events with our leading journalists
Already have an account? sign in
Join our new commenting forum
Join thought-provoking conversations, follow other Independent readers and see their replies