Gottwood Festival 2018: Five best performances from the Welsh woodland party
Long sets, intimate stages and beautiful scenery prove a winning formula for a young crowd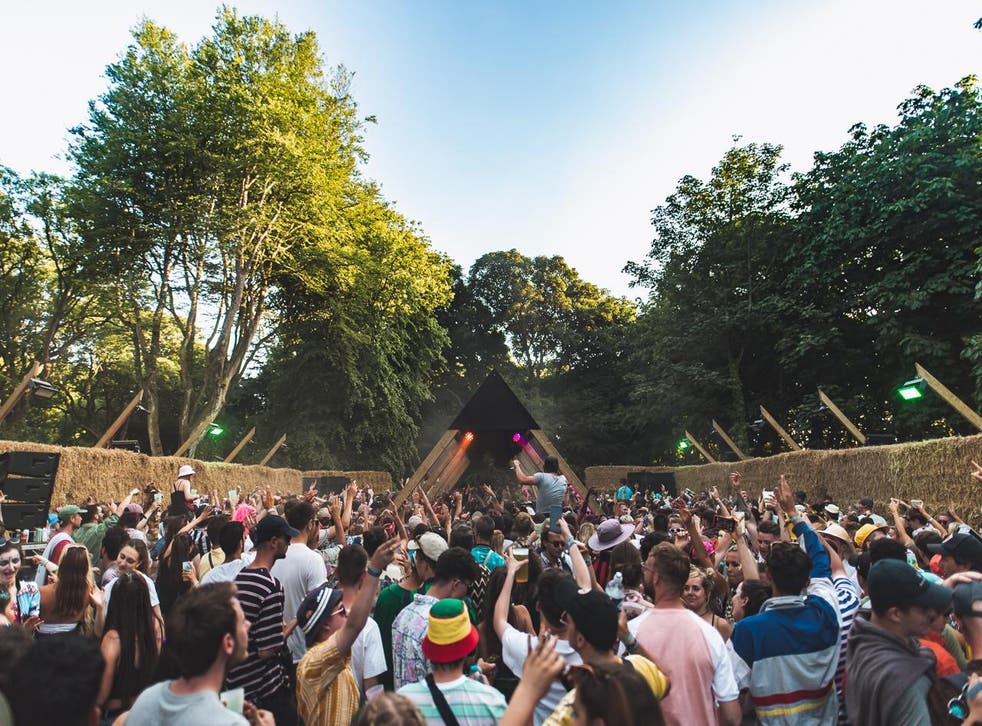 Gottwood Festival, situated on the most northwestern point of Wales in Anglesey, has been going for nine years, and the UK festival scene for electronic music would be much the worse if it were to stop anytime soon. Hosted in the serene Carreglwyd Estate near Holyhead, an impressive ten, mostly small stages are positioned around a beautiful lake, with a welcome mix of international house and techno headliners, and a decent amount of smaller artists across the electronic spectrum.
One the one hand, Gottwood's formula is quite simple – many intimate stages of top-draw selectors in a beautiful setting. On the other, the attention to detail in the diversity of stage design makes Gottwood in a league with only a couple of other UK festivals.
While many festivals might have four or five fairly similar, slightly unimaginative big tents to choose from, Gottwood made creative use of the woodland setting, constructing many different worlds to lose yourself in. The Walled Garden is a two-tiered secret hideaway with a cosmic light show; Ricky's Disco is a low-ceiling'd hall of glitz; the Treehouse is a woodland pulpit set within towering walls of hay.
The crowd capacity has barely grown – the organisers say they kept it at 5,000 this year, undoubtedly a crucial element of its success. Gottwood being talked of highly for its six-year lifespan has seemingly put it on the radar for young Northerners who want a party and may be relatively new to house and techno. Various rave signifiers – vicks vapour rub, kitschy accessories – were easy to spot, as were the mass of retro football shirts, which left no doubt that despite the many bookings from the European selectors scene, it is a UK affair.
The mass appeal and youth emphasis to the crowd is not necessarily a bad thing of course - it's hard not to think that watching Andrew Weatherall play surreal, sluggish techno in a blue-lit, spaceship-esque space, say, or Hunee playing heartbreaker house ballads by the moonlit lake, is more likely to make rave culture more than a passing fad in these young attendees' lives, compared to seeing 'Generic House Headliner' in a big tent in a field.
It would be a mistake to say the presence of young 'squads' didn't have any drawbacks – with headline acts like Palms Trax or Jackmaster b2b Grain drawing big crowds, many of whom seemed somewhat agnostic to meeting the artists halfway in the shared responsibility of creating a fun atmosphere through dancing or otherwise. This was the exception rather than the rule, however, with talk of multiple, simultaneous sets being 'unmissable' by ravers afterwards.
The typical set length was two hours or longer, compared to too many festivals which ship artists in and out for short sets without allowing them to create an atmosphere. Here were some of our highlights:
Move D
Davd Moufang loves the festival so much he brought his whole family, parading his baby son in the booth in the three sets he played across 24 hours. His disco set packed out the Trigon for one of the best carnival atmospheres of the weekend, opening with Mary Clark's classic 'Take Me I'm Yours'.
The German wizard slalomed through the Trammps, the Dells, into a finish that included the glitziest of numbers in Baccara's 'I Can Boogie'. The image of holding his son in one arm, with enormous protective headphones on, and with the other mixing in Boney M's 'Daddy Cool', will live long in the memory.
Margaret Dygas
A wayward set of decks, and quite a few needle skips aside, Margaret Dygas was fantastic in Ricky's Disco. Foregoing disco strings and Italo synths, Dygas's palate was more muted, sludgier and slightly slower than those of other performers, and in the more enclosed, darker setting of Ricky's Disco, the Panorama Bar resident's selections felt completely transportive. Larry Heard's 'The Sun Can't Compare' was a rare vocal track, inspiring a heartfelt singalong from the crowd.
DMX Krew
You'd be forgiven for not knowing Ed Upton's one-hour set was live, such was the analogue electro veteran's ability to maintain a pace and groove seamlessly. Live sets can often be more trouble than they're worth, as the musical feat is lost on slower or less slick versions of what has been or could be perfected in the studio. The driven, analogue synth sounds DMX Krew delivered betrayed any notion that live sets are for chin scratchers, and the sheer fun of the melodies wafting through the Walled Garden was such that Kate Miller, ready to play after him, couldn't help but dance along.
Special Request
Paul Woolford's two hours flew by in Trigon, the triangular arches of the stage shuddering to 90s hardcore and rave basslines. His hits 'Brainstorm', 'Make It Real' and a face-melting re-work of Prodigy's 'No Good' brought out collective pleasure-grimaces from the crowd. The biggest moment came with Outlander's 1991 R&S classic 'Vamp' - gesticulating the "3…2…1…0!" android vocals back to the crowd, Woolford showed he was not wasting any time and getting straight to the point.
Job Jobse
Job Jobse started out at the 'headsy', widely-revered Trouw, his raucous shows at the Amsterdam club quickly becoming the stuff of legend. Though grounding his Treehouse set in European selectors style house and techno, Jobse was not afraid to reach for italo-infused ballads, ABBA's 'Gimme Gimme Gimme' (Ziggy Phunk Edit) typical of a set which didn't take itself too seriously. Krystal Klear's droney 'Neutron Dance' aside, the driving engine of Wolfram's 'Automatic Dub' and Disconet's remix of 'Lay All Your Love On Me' saw anthemic melodies go down very well.
Join our new commenting forum
Join thought-provoking conversations, follow other Independent readers and see their replies