Guns N' Roses, Metro Radio Arena, Newcastle Sharon Van Etten, Komedia, Brighton
Make my day, punk, and give squeaky Axl a miss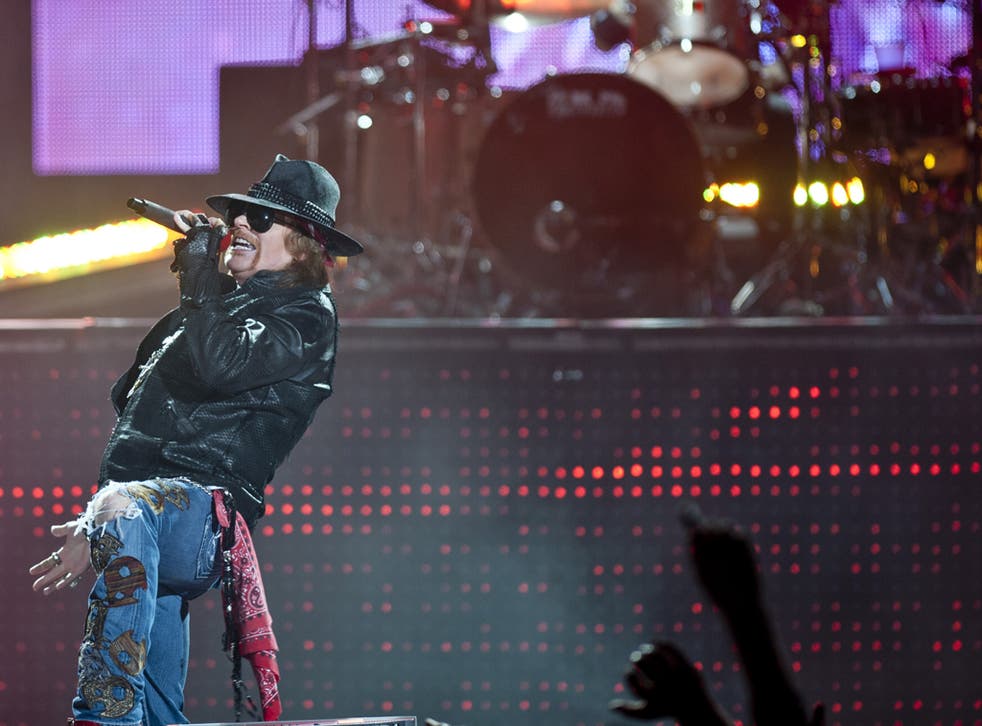 You can get away with almost anything in pop – that's kind of the point – but contempt for your fans is a cardinal sin. Asked for a reason for the insanely late hour at which Axl Rose and his "Guns N' Roses" (now featuring only long-serving keyboardist Dizzy Reed from the glory years) deign to take the stage, his PR people replied simply: "No statement I'm afraid."
Dig deeper, though, and you'll find a blog on their website by GN'R associate Del James arguing that the late stage times are about "standing against conformity" and "raising the middle finger", and that any complaints come from a "vocal minority" of "obsessive pests". That's as close to an official statement as we're likely to get. Rose thinks it's punk; that's the only possible explanation.
But there's nothing punk about ripping off your own fans. Nothing punk about making them wait around in a shed for hours while you eat your 12-course dinner. Nothing punk about forcing them to fork out for hotel rooms and taxi fares because you can't be bothered to get out of bed.
When you've been photographed strolling along the Tyne the day before, you can't blame travel (although he does try to blame the fractured shoulder he sustained at Liverpool – where he went onstage even later). It's all very well playing a three-hour set bloated by too many cuts from the turgid Chinese Democracy, wailing through the once-great "Don't Cry" and "It's So Easy" like a constipated tomcat, and allowing some plait-beard guitarist called Bumblefoot have his solo spot. Just start earlier, schmuck.
Hearteningly, not everyone is taking it lying down. Even in this metal heartland, there are banks of empty seats at the top and rear when "GN'R" arrive at a quarter to 11. A hostile atmosphere greets them, and a cup is thrown during "Live and Let Die", causing the jowly bigot to complain petulantly: "Don't fucking throw shit!"
I look around, and no one is having the time of their lives. By the time of final encore "Paradise City" (1.40am, since you ask), the arena must be half-empty. It's easy for Axl to expect us all to sack off the day job or forget about classes, but people with lives, not rock-star lifestyles, have already drifted away to get back to them.
If you're vile at 21, you can pass it off as rock'n'roll. If you're vile at 50, you're just vile. You want something punk? Then never mind "Civil War", that flatulent fart of a song that wafts noxiously around the arena at stupid o'clock. Let's have some civil disobedience. After this review is published, three "Guns N' Roses" gigs remain, in Manchester and London. Call Axl's bluff. Don't show up at all. You won't be missing much.
"I'm trying to figure out how to be a professional," Sharon Van Etten self-deprecates between songs, but don't be fooled. This tiny, curtain-haired New Yorker, bemused at being called "Shazza" by her growing British following, has stealth weapons up her sleeves. The world is already full of singer-songwriters who arrogantly expect us to care about their inner workings. Van Etten writes songs that sound as though they've tapped into yours, and is singing them back to you.
If there's one criticism of her spooked, autumnal minor-chord folk rock, it's that her three-album repertoire can tend towards the samey. But within that template there can be surprises, such as the song that starts with a sustained harmonic "oooh" that sounds at first like a pitch-finding exercise, but builds into a fog that fills the room. And on current single "Serpents", she's perfected the art. Simply one of the songs of the year, "Serpents" is so deeply cinematic that one imagines montages of empires crumbling, with Van Etten's voice cast as a Cassandra, foretelling the terrible events slowly transpiring on screen.
Enjoy unlimited access to 70 million ad-free songs and podcasts with Amazon Music Sign up now for a 30-day free trial
Sign up
It's all carried off with an engaging dry wit. "Is there anything anybody wants to hear," she asks at the start of her solo section, "before I make my own decision?"
Critic's Choice
The second Apple Cart Festival brings Noah & The Whale, Scritti Politti, Adam Ant, Billy Bragg, Rich Hall and Kid Creole to Victoria Park, London (Sun). Meanwhile, the South Downs will reverberate to Lamb, Speech Debelle, Martin Rossiter and Sweet Sweet Lies, Pink Narcissus, Hollowmoon and Sparrow at the Meadowlands Festival, Glynde Place (Fri to Sun).
Join our new commenting forum
Join thought-provoking conversations, follow other Independent readers and see their replies