Hacienda Classical, Royal Albert Hall, London, review: It doesn't get much better than this
A poignant, powerful performance that weaves together club classics with a live orchestra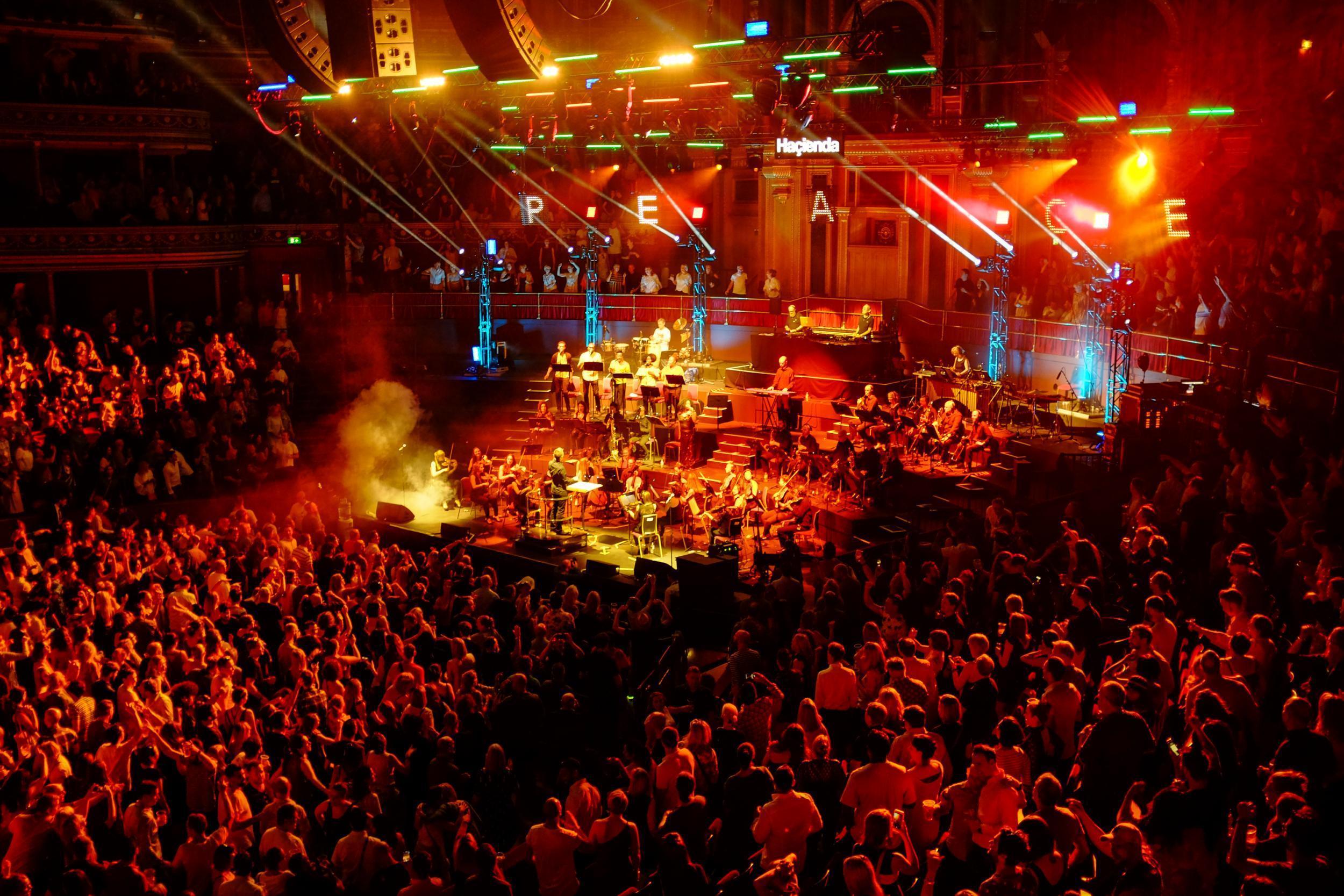 The Royal Albert Hall is rammed to the rafters with aged ravers and a loved-up in-the-know younger crowd ready to start throwing shapes, but when Peter Hook takes the stage and delivers a moving tribute to the Manchester Arena atrocity it's as if someone has flicked a switch.
The crowd goes respectfully silent. And then the Manchester Camerata perform Arvo Part's "Silouan's Song" a moving orchestral piece that brings many in the venue to tears. Others hold each other closer together. Many close their eyes in respect. It's a poignant, heartfelt moment which will stay with me forever. As the final notes fade out the silence is broken by a huge primal roar – and we are transported away from the horrors of the present back to the happier times of the Hac.
And what a set this is. Drawing on the success of last year's sold-out concerts, Hooky, DJs Graeme Park and Mike Pickering, and Camerata conductor Tim Crooks have taken the show to another level, weaving an orchestral score together with club classics to create the ultimate hybrid.
While the 2016 gigs had more of a back-to-back "best of" collection feel – a cherry-picked selection of standout anthems – this year the tracks seamlessly merge into each other. It's a much more polished portrayal of the heady Hacienda nights which cemented the club's rep back in the day.
Park, Pickering and Co had promised a brand new set but thankfully they still find space for classics such as the seminal "Strings Of Life", Rhythim is Rhythim's almost orchestral track which surely must have played a key part in persuading them that Hacienda Classical would actually work.
Backed by the AMC gospel choir, MC Tunes and with the orchestra up in the mix, the crowd are taken on a glorious trip back to when Manchester really was the clubbing capital of the world.
From Mr Lee's "Pump Up Chicago" through "Show Me Love" by Robin S, to Mory Kanté's "Yeke Yeke" and Ultra Nate's "Free" – with a brilliant vocal from Rae Hall – these are the tracks that defined the Hacienda sound. There's an absolute storming version of "Peace (In The Valley)", Yvonne Shelton doing justice to Sabrina Johnston's lung-busting crowd pleaser.
Bez makes an (inevitable) appearance with that dance that defined a generation and Hooky shoulders his bass and sings "Blue Monday". It's a perfect evening, an inspirational antidote to the helplessness of the week before, and Rowetta's soaring, goose-pimpling "You Got The Love" sends us out into the night with a smile on our faces. It doesn't get much better than this.
Join our commenting forum
Join thought-provoking conversations, follow other Independent readers and see their replies