Haim review, Women in Music Pt III: A fearless, effervescent album
On their third record, the sisters address misogyny, depression and death without ever letting the momentum dip
Helen Brown
Wednesday 24 June 2020 17:09 Comments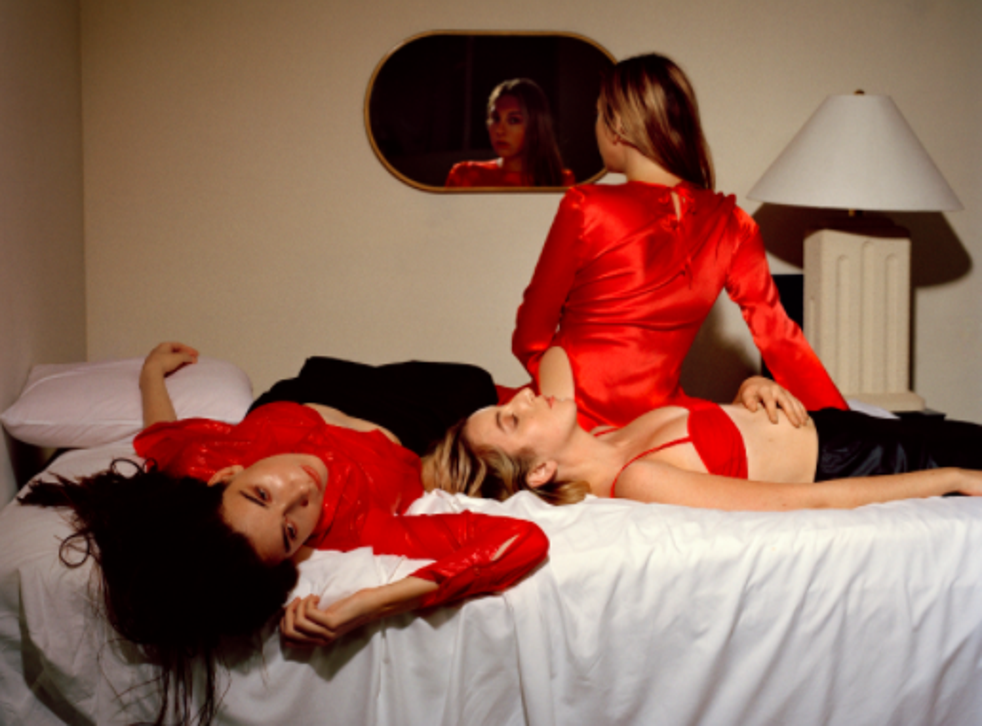 Best known for their sunny, classic-rock-indebted sound, the Californian Haim sisters have travelled a dark road to make their third album. Lead singer and guitarist Danielle's boyfriend (the band's producer Ariel Rechtshaid) had testicular cancer and, once he reached remission, she was diagnosed with depression. Keyboardist Alana's best friend was killed in a car accident. And bassist Este – struggling with her type 1 diabetes – was also prescribed antidepressants. All three decided it was time to tackle those experiences head on, while calling out the misogyny of the music business and pushing themselves into more difficult sonic spaces.
So you might expect Women in Music Pt III to be a more difficult brew than the bubbling, amber festival beer of the band's first two releases. But, while incorporating refreshing new sounds, it turns out to possess a surprisingly easy-going effervescent sound – reflecting the fearless fun the sisters were surprised to experience on releasing those uncomfortable feelings.
The warm, jazzy breeze of saxophone that opens the album sets the airy mood, before the band launch into "Los Angeles". The tribute to the band's love-hate relationship with their hometown is a melting pot of influences, layering pretty pings of African-inflected guitar over rattling, hip-hoppy drums, its lyrics and melody drawing hard on Jackson Browne's melancholy singer-songwriter standard "These Days" (first recorded by Nico in 1967 and by Browne in 1973). Haim have become famous for walking in their videos and so there's a little joke underlying the conceit: Browne's song opens with the line: "Well, I've been out walking…" While channelling the heartfelt sorrow of her fellow Californian's original material, Danielle's lyrics add self-aware 21st-century context and briskness. "New York is cold/ I tried the winter there once/ Nope!"
From there, the band move into the rockier terrain of "The Steps". "Every day I wake up and make money for myself," sings Danielle. "And though we share a bed/ You know that I don't need your help/ Do you understand?/ You don't understand me/ Baby." She has said the lines are about business relationships, not romantic ones.
Misogyny is more directly addressed on the acoustic "Man from the Magazine", whose moreishly wonky guitar sound offers a feminist nod back to Joni Mitchell. The song finds the sisters challenging the patronising attitudes of men in guitar shops and the invasive questions asked by male rock journalists. "Do you make the same faces in bed?/ What kind of question is that?/ What did you want me to say back?"
Days before the release of WIMPIII, Este Haim says a male rock journalist had the gall to ask her who played the bass on the record. "I was like, 'Was there a misprint in the credits? Like, does it say someone else?' I played my instruments on this record, and the record before that, and on the first record. It's crazy. Still to this day."
The band have called for more female engineers and producers and Danielle's skill as a producer shines on tracks that mix drum machines with their more organic sounds. The effect – as with the work of their friend Maggie Rogers – is to add a shimmering patina of danceably detached sorrow over the raw emotion. This works best on the depression-tackling tracks like "Now I'm In It" and the standout "I Know Alone", whose murky glitches and neon pulses have the night-driving noir of The Weeknd in the rear-view mirror.
There's a different texture to the heartbreak expressed on the dreamy, guitar-sliding "Gasoline". "I get sad, you know I get sad/ And I can't look past what I'm sad about," sighs Danielle, sinking into the mood and embracing her bitterness with: "You did me bad/ And I did it back/ You needed ass/ Well, what's wrong with that?"
While offering no glib quick fixes, the album still vibrates with hope. The message throughout is to speak out, seek help and connect. Tracks like "Lean on You" (on which the sisters sing about how they've supported each other), "Don't Wanna (Give up on You)" and the sweetly finger-picked "Hallelujah" all reinforce the message.
Enjoy unlimited access to 70 million ad-free songs and podcasts with Amazon Music Sign up now for a 30-day free trial
Sign up
In a bold move, the album ends with its lead single: "Summer Girl". Bouncing off the riff from Lou Reed's "Walk on the Wild Side", this is the song Danielle wrote for Rechtshaid when he was ill. "I'm relief," she breathes, "Feel my unconditional love." The saxophone returns. Listening, you feel like you're walking through a subway past a very talented busker.
Haim take us through a dark place and they do it frankly. But they never let the momentum dip. And they never lose sight of the light at the end of the tunnel.
Register for free to continue reading
Registration is a free and easy way to support our truly independent journalism
By registering, you will also enjoy limited access to Premium articles, exclusive newsletters, commenting, and virtual events with our leading journalists
Already have an account? sign in
Join our new commenting forum
Join thought-provoking conversations, follow other Independent readers and see their replies