Harry Styles review, Fine Line: Dextrous, audacious album just a little too in thrall to music's greats
Fine Line expands on the languorous guitar rock that has been Styles' currency since he left One Direction, with copious charm and flickers of ingenuity
Alexandra Pollard
Monday 17 February 2020 17:30 Comments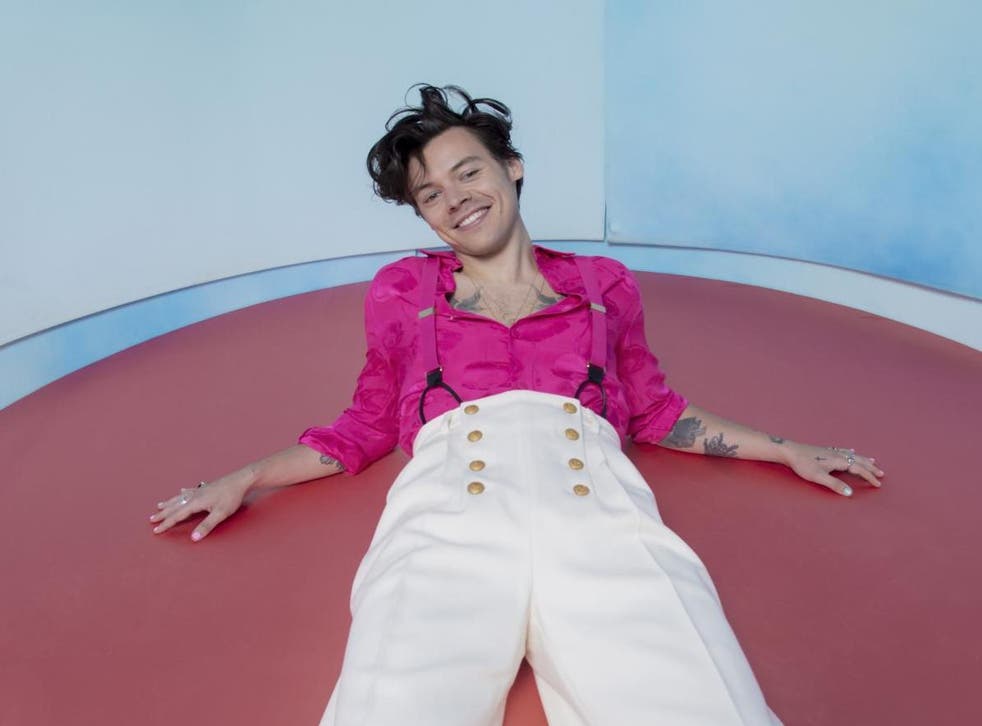 Harry Styles says his second album is "all about having sex and feeling sad". Holding in high regard the 20th-century masters of those moods – Fleetwood Mac, Joni Mitchell, Van Morrison, Simon & Garfunkel – Fine Line expands on the languorous guitar rock that has been Styles' currency since he left One Direction.
It is a more dexterous, audacious album than Styles' 2017 self-titled debut – though he remains as in thrall to his musical heroes as ever. After becoming obsessed with Mitchell's 1971 masterpiece Blue, the 25-year-old tracked down the woman who built her dulcimers, begged her for a lesson and then duly dotted it throughout his own album. The Mellotron, a polyphonic keyboard made famous by The Beatles, crops up on the earnest farrago "Treat People With Kindness", while "Canyon Moon" sounds like an outtake from Simon & Garfunkel's Bookends. That he manages to avoid sounding like a Sixties tribute act is a testament to Styles' charm, and his occasional flickers of ingenuity – but his influences sometimes feel like a lavish coat he is yet to grow into.
Still, heartbreak is timeless. In 2018, Styles broke up with his girlfriend, French model Camille Rowe, and was so distraught that he couldn't even bear to see collaborator Kid Harpoon wearing the slippers she'd bought him. The break-up rules this album – and Styles knows it.
"I'm well aware I write too many songs about you," he sings on "Falling", a moody, Moog-y lamentation – but he doesn't let that knowledge stop him. In fact, Rowe's (speaking) voice crops up at the end of the fizzy guitar ballad "Cherry", just after Styles has pined, "I just miss your accent and your friends/ Did you know I still talk to them?"
The 50 best albums of the decade – 2010 to 2019

Show all 50
Elsewhere, he grapples with his own culpability in the relationship's end. "You can't blame me, darling/ Not even a little bit/ I was away," he sings on "To Be So Lonely", over fluttering violins and Spanish guitars, before giving up the ghost: "I'm just an arrogant son of a bitch who can't admit when he's sorry."
On the six-minute-long "She", Styles indulges himself a little too much. In between meandering, prog-rocky guitar solos that suggest a few too many listens to Pink Floyd, he paints a day in the life of a man dropping his kids off at school and sending his assistant out for coffee "around one thirty, two" – all the while daydreaming of a mystery woman and the canyon moon. Or is it Styles doing the daydreaming? It's all a bit unclear. Sometimes, there is poetry in the prosaic – there isn't here.
But the memory is swiftly washed away by the excellent "Sunflower, Vol 6" (volumes one to five are mysteriously missing), a funky, syncopated psych-rock track almost as good as lead single "Lights Up", whose discordant, distorted pre-chorus is something special. Styles pleaded the fifth when Zane Lowe asked if "Watermelon Sugar" is about "the joys of mutually appreciated oral pleasure", but it's a rare and refreshing moment of breeziness.
Liam Payne has a new album out today. It's probably not fair to pit the two former bandmates against each other, but it's patently clear who is the more inventive talent. It may not reach the pinnacle of sex or sadness, but Fine Line is a fine album nonetheless.
This article was originally published on 12 December 2019
Register for free to continue reading
Registration is a free and easy way to support our truly independent journalism
By registering, you will also enjoy limited access to Premium articles, exclusive newsletters, commenting, and virtual events with our leading journalists
Already have an account? sign in
Join our new commenting forum
Join thought-provoking conversations, follow other Independent readers and see their replies