Hell is for Heroes, Shepherd's Bush Empire, gig review: 'Turn of the century post-hardcore heroes return triumphant'
British melodic post-hardcore underdogs reform and celebrate the 15th anniversary of their debut album The Neon Handshake at their largest ever London headline shows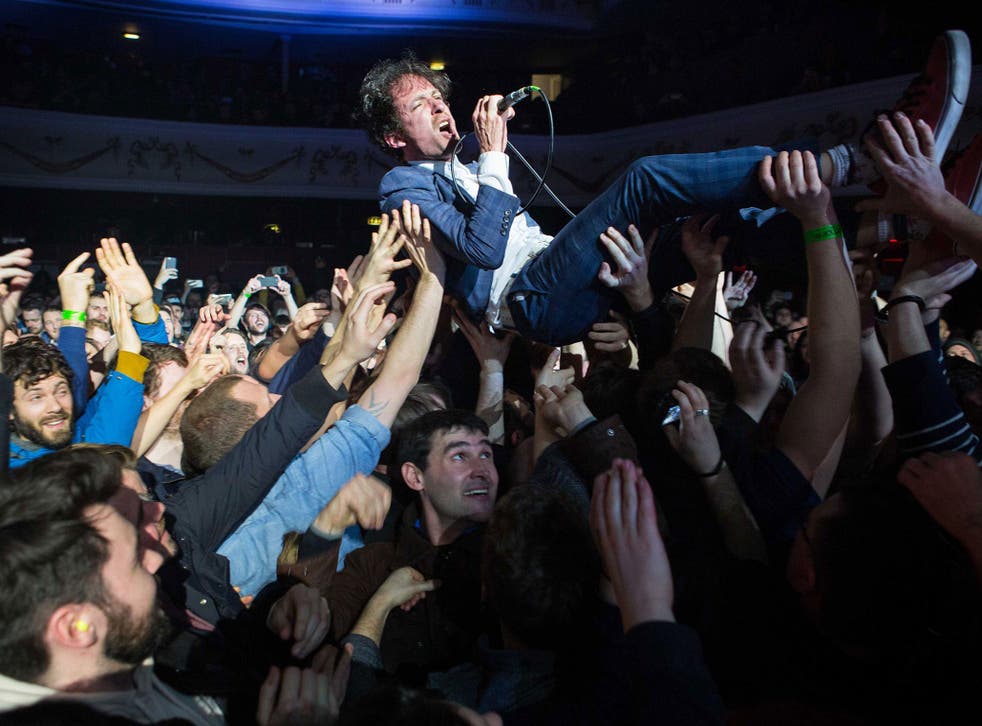 A substantial wave of promising, young British rock bands established themselves at the turn of the century, including the likes of Hundred Reasons, Million Dead, Reuben, My Vitriol, Sucioperro, Yourcodenameis:Milo and a more rowdy and abstruse incarnation of Biffy Clyro. These groups bandied together and, whether intentionally or not, created a scene of sorts, despite the fact that they were all resolutely doing their own thing and had little connection musically.
Of these bands, it looked likely at one time that Hell is for Heroes would become 'the next big thing' (whatever that even means), signing to EMI records based on a smattering of incendiary live shows at tiny venues, many of which are now long since defunct. Sadly, it was not to be; Hell is for Heroes released a modern classic in the form of 2003's The Neon Handshake, but quality doesn't always translate to sales. The record failed to sell as many copies as whatever magic number the suits at EMI had come up with in their collective heads and the band were promptly dropped.
Two excellent albums followed with far more limited releases but the momentum had gone and Hell Is For Heroes disbanded in 2008, seemingly forever fated to never receive their just desserts. Which is why it's all the more encouraging that the band have shifted a little shy of 4,000 tickets across two nights in the capital, numbers that the band could have only dreamed of back in 2003. Tonight may be a bit of a nostalgia-fest, particularly when you consider the fact that Hell is for Heroes have brought along two recently reformed acts of the time in the form of Vex Red and A, but it's hard to deny the band this reunion when they should have been filling venues this size 15 years ago.
It's relatively sparse inside the Empire when Aldershot's Vex Red take the stage, which is a shame because they prove to be one of the most interesting acts of the night. Most rock bands experimenting with electronics tend to age horrendously but if anything, Vex Red sound more contemporary now than they did in 2002 when they released their Ross Robinson produced debut album Start With A Strong and Persistent Desire in amongst the dying throes of nu-metal. Maybe it's the current trend for all things retro electro, but Vex Red's amalgam of skittering beats and complex three-pronged guitar attack sounds more 2018 than it has any right to be.
There's a distinct lack of charisma or stage-presence but they make up for that in the dynamism of their sonics; throbbing bass, squealing guitars, trippy samples and spectral vocals collide to make a varied smorgasbord of sound. By not fitting in with the status quo in 2002, Vex Red seem far more relevant now than the majority of guitar music that ushered in the 21st century. Everything's cyclical of course but Vex Red have so many different elements to their sound that boxing them into a genre is practically impossible.
The tinkling pianos and mellifluous vocal harmonies on new song "Burn This Place" bode well for Vex Red making this comeback more permanent and the energy is cranked up considerably for final song "Can't Smile" (which also features the evening's first of two nods to The Cure with a cheeky verse of "Lovesong" thrown in before the final chorus). Vex Red then; much maligned but almost certainly better than you remember them being.
It might be cold tonight but A's Jason Perry has come slightly over-prepared, dressed as he is in a red beanie and huge blue puffa jacket. The band bound on with a ton of candy-coated enthusiasm and energy, which belies the fact that we are essentially watching five middle aged men relive their youth. That said, Perry is enormously entertaining; he's easily the most charismatic vocalist to step on the Shepherd's Bush stage this evening. He makes constant whimsical references to their age which are genuinely funny and his insistence that the crowd jump enthusiastically so as to impress the Kilimanjaro promoter present tonight enough to re-book them for a Hi-Fi Serious tour gets a suitably ardent response.
Whilst ostensibly a pop-punk band, there were always far more strings to A's musical bow than your average gurning three chord melodic bleached boys. Their secret weapon has always been guitarist Mark Chapman; his guitar harmonies on "Monkey Kong", wah drenched guitar solo on "No.1" and bluesy, wailing guitar hysterics during "I Love Lake Tahoe" are all mighty impressive and elevate this band above their peers. The band finish with a raucous one-two punch of "Took It Away" and the absolutely monumental "Nothing" both of which make that proposed Hi-Fi Serious tour seem a very enticing proposition indeed.
Hell is for Heroes propel themselves into a thunderous rendition of "Five Kids Go" and it immediately feels as if they've never been away, such is the youthful intensity and vigour that flows from the stage. "Out of Sight" and "Night Vision" hurtle by in a whirlwind of frenetic energy, with vocalist Justin Schlosberg wrenching each syllable from the depths of his body, eyes clenched shut and microphone clamped in his vice-like grip. Songs such as "Few Against Many", "Three of Clubs", "Retreat" and the all-conquering "I Can Climb Mountains" sound just as vital today as they did upon their initial release and with British rock music under-going a revival in quality that's getting harder and harder for the mainstream press to ignore, now seems an optimum time for the band to make an exultant return.
Enjoy unlimited access to 70 million ad-free songs and podcasts with Amazon Music Sign up now for a 30-day free trial
Sign up
Which is perhaps the only bugbear tonight; there may be those who didn't see Hell is for Heroes between 2000 and 2008 and for those people, these shows must be revelatory. But this is the second time the band have reformed and both times, they've celebrated their debut album by playing it in full; we're getting remarkably close to a 'shit or get off the pot' nostalgic deja-vu scenario here. Based on this evening's performance, it feels as if Hell is for Heroes have enough fire in them to make that most rare of things; a come-back record that actually lives up to the legacy.
Besides, unlike some of their contemporaries, it's not as if the quality of Hell is For Heroes's output ever dipped, as the short but sweet four song encore proves. They begin with the expertly paced, post rock-esque stylings of "To Die For", which whilst maybe not as immediate, is easily the equal of any song from their debut. Staccato post-hardcore rhythms are injected into a distinct and individualistic cover of The Cure's "Boys Don't Cry" before they end with a spectacular rendition of "Folded Paper Figures" from second album Transmit Disrupt.
For now though, Hell Is For Heroes have avoided the hazard that most often befalls bands that choose to reform over a protracted period of time; coming back with a haggard inferior version of their former selves. That the band have managed to do this not just once but twice is nothing short of miraculous but one hopes if we do see them again, that the bring a fistful of new tunes with them as well.
Register for free to continue reading
Registration is a free and easy way to support our truly independent journalism
By registering, you will also enjoy limited access to Premium articles, exclusive newsletters, commenting, and virtual events with our leading journalists
Already have an account? sign in
Register for free to continue reading
Registration is a free and easy way to support our truly independent journalism
By registering, you will also enjoy limited access to Premium articles, exclusive newsletters, commenting, and virtual events with our leading journalists
Already have an account? sign in
Join our new commenting forum
Join thought-provoking conversations, follow other Independent readers and see their replies