HowTheLightGetsIn festival, Hay-on-Wye, Wales, review: A rare combination of fascination and fun
Who would have thought that a philosophy festival on themes of 'Darkness, Authority and Dreams' could be so entertaining?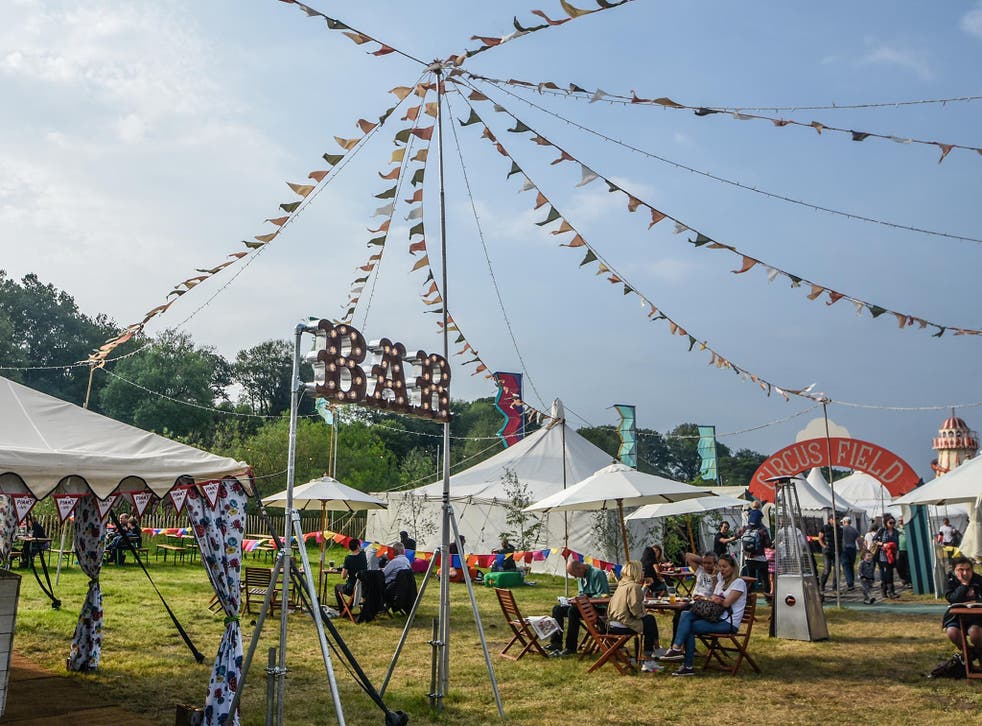 "In these dark and turbulent times, we face many dangers, threats and unknowns. What beliefs and authorities have led us here? What dreams and visions for the future might enable us to create a better world?"
This was the question posed by HowTheLightGetsIn, the world's biggest philosophy and music festival (put on by the Institute of Art and Ideas and founded by director Hilary Lawson – not to be confused with the nearby Hay festival).
At first glance, it seems an oddly depressing premise. Five days of "Darkness, Authority and Dreams" – almost inevitably political – under the shadow of the Black Mountains, in a rainy Welsh town on the River Wye. Grim's the word.
But five days of dramatic debate and late-night musings, comedy and cabaret, music and documentaries, and I barely saw anyone without a smile.
An ambitious event, the festival hosted more than 500 acts and artists on 12 stages, at two separate sites about a 10-minute walk apart. (A note to anyone planning to attend: work out your day's schedule with the programme carefully – you'll want to attend everything and end up running up and down that hill in your wellies.)
Philosophy and the exchange of ideas was at the heart of the festival, but talks ranged from psychology to politics, to science, sex robots and the future of psychedelic drugs. Various formats provided a variety: there were debates with keynote speakers, ticketed events to banquets with those speakers, philosophy breakfasts and live TED-style talks.
Another Independent article goes into more detail about the big ideas we heard at the festival, but the headliners give you some idea of what to expect.
Rowan Williams, former archbishop of Canterbury, was there to talk love, hate and extremism with philosopher Robert Rowland Smith and (Per)versions of Love and Hate author Renata Salecl. The great Noam Chomsky appeared via video link live from Arizona to consider the dangers of authority with economist Deirdre McCloskey, who also appeared to discuss capitalism, poverty and the benefits of a free-market state.
Green Party politician Natalie Bennett faced off against journalist Yasmin Alibhai-Brown and electoral expert Professor Nic Cheeseman (author of How to Rig an Election) about why we need democracy even in times of democratically elected demagogues. Prof Cheeseman cautioned listeners not to reduce democracy to elections and voting, but to concentrate on engagement in decision-making.
Enjoy unlimited access to 70 million ad-free songs and podcasts with Amazon Music Sign up now for a 30-day free trial
Sign up
Dr Brooke Magnanti (better known as Belle de Jour, author of The Intimate Adventures of a London Call Girl) teamed up with radical feminist Dr Finn Mackay to debate the production and product of pornography, against human rights activist Peter Tatchell and Erotic Review editor Rowan Pelling. Dr Magnanti summarised her stance with a call to arms for the audience: "Pay for your porn!"
Shadow home secretary Diane Abbott was seemingly everywhere, but excelled in a debate on the so-called Generation Wars, in which she argued convincingly that the real divide was to do with class and economic background, rather than age. She foundered somewhat against journalist and Tony Blair's speechwriter Philip Collins, who reminded her that: "You should have won and you lost!"
Post-truth expert and journalist Matthew d'Ancona had the whole festival persuaded that, rather than political falsehoods and manipulations, the real fear is increasingly powerful conspiracy theories and pseudoscience. Founder Hilary Lawson made a convincing case for moving beyond concepts of true and false, arguing that these implied that one side was right and one was wrong.
Documentary offerings included Bafta-winning How to Start a Revolution, based on Nobel Peace Prize nominee Gene Sharp, and Accidental Anarchist about diplomat Carne Ross's trip from Europe to Syria, with a Q&A from the man himself.
But this was a festival as much about entertainment as it was about ideas. The musical lineup would shame your average summer festival: more than 250 acts, from Afropunk percussion to acoustic guitars.
Ana Matronic of Scissor Sisters fame made her DJ debut, Justin Robertson mixed Bjork with Fatboy Slim to prove he's still at the cutting edge of EDM, Afriquoi (who you might remember from the London Olympics) brought dancehall to the dancefloor, and throughout the day each tent played host to acoustic and soul sets between talks.
Singer-songwriter Luke Sital-Singh – "the British Bon Iver" – was a particular highlight, with his surprisingly passionate throatiness captivating the audience, as well as soul-singer Keeva and her rousing chorus. The Sunday night culminated in a huge set by electropop massive Hot Chip – possibly the most accessible dance act I've ever seen – which led the festival to an incredible collective crescendo.
The debauched masked balls and adults-only "Boudoir Circus" offered the titillating night-time naughtiness that perfectly balanced the day's intellectualising. And for when the brain was fried – believe me, that happened more than you'd imagine – guests could be soothed by morning yoga classes, afternoon massages or simply a pint on the seats by the river, entertained by kitsch jugglers. There was even a Ferris wheel.
Despite the festival's clear aim of "something for everyone", the food offerings where more cornfed chicken than cheesy chips – an impressive variety of popups, stands and gastro-yurts that would satisfy even the most discerning of foodies. But don't despair: the obligatory overpriced taco stands and warm pints of cider were also widely available.
The accommodation perfectly reflected this variety: from glamping yurts to pre-pitched tents, to your standard muddy field, every budget and sensibility was catered for. But bear in mind that no matter how luxurious the yurt, the waterlogged marshland of Wales is never far from your lockable door, and the festival could well be renamed "how the bugs get in".
The comedy scene at was dotted with surprisingly big names like Alfie Brown, Annie McGrath, Brett Goldstein and James Acaster, beloved of Have I Got News For You – as well as some alternative offerings like Vaudeville maestro the Captain of the Lost Waves, "anti-comic" Ed Aczel and cabaret-with-a-ukulele Tricity Vogue.
And each night, guests could attend the aptly named "Midnight Mayhem": a comedy debate which saw philosophers and speakers interact with audience members at various stages of boozed.
But it was Edinburgh Comedy Award Nominee Ahir Shah that stole the show: a fast-talking "post-Indian" who scats on religion, cultural heritage, democracy and social media with none of the self-indulgence that characterises so many of his peers. With his hyperactive eloquence and expertly controlled "Bohemian Rhapsody" references, this high-speed woke act was a perfect microcosm of the festival.
Journalist and former Independent political columnist Mary Ann Sieghart (a trustee of the Arts and Ideas Trust, the charitable arm of the Institute of Arts and Ideas), tells me she heard about the festival about eight years ago from Lawson and decided to chair a few sessions. "I really enjoyed it – it's much more fun than any other festival, apart from Glastonbury."
A lot of literary festivals are "just authors selling their books", she says. "What sets this apart is people trying to sell their ideas. The debates and talks are really intellectually stimulating, and in between you hang out with interesting people."
She points to the varied demographic – not just pseudo-intellectuals and political big hitters, but parents giving their children their first festival taste; radical feminists from the Seventies with literature-loving grandads; musos and comedy groupies – and anybody just out to enjoy the atmosphere.
"I find it fascinating but also very fun," she says, "and it's that combination that's very rare."
As Shah explained when he opened his act, "It's one of the most inexplicable events in the UK. Dunno why it exists. Glad it does."
So are we.
This September, HowTheLightGetsIn will come to London for the first time. Tickets are now on sale here
Register for free to continue reading
Registration is a free and easy way to support our truly independent journalism
By registering, you will also enjoy limited access to Premium articles, exclusive newsletters, commenting, and virtual events with our leading journalists
Already have an account? sign in
Register for free to continue reading
Registration is a free and easy way to support our truly independent journalism
By registering, you will also enjoy limited access to Premium articles, exclusive newsletters, commenting, and virtual events with our leading journalists
Already have an account? sign in
Join our new commenting forum
Join thought-provoking conversations, follow other Independent readers and see their replies