Hozier, Usher Hall, Edinburgh, review: The definition of a crowd-pleasing show
However, the performance is not indicative of where its composer might go once his big hit has been exhausted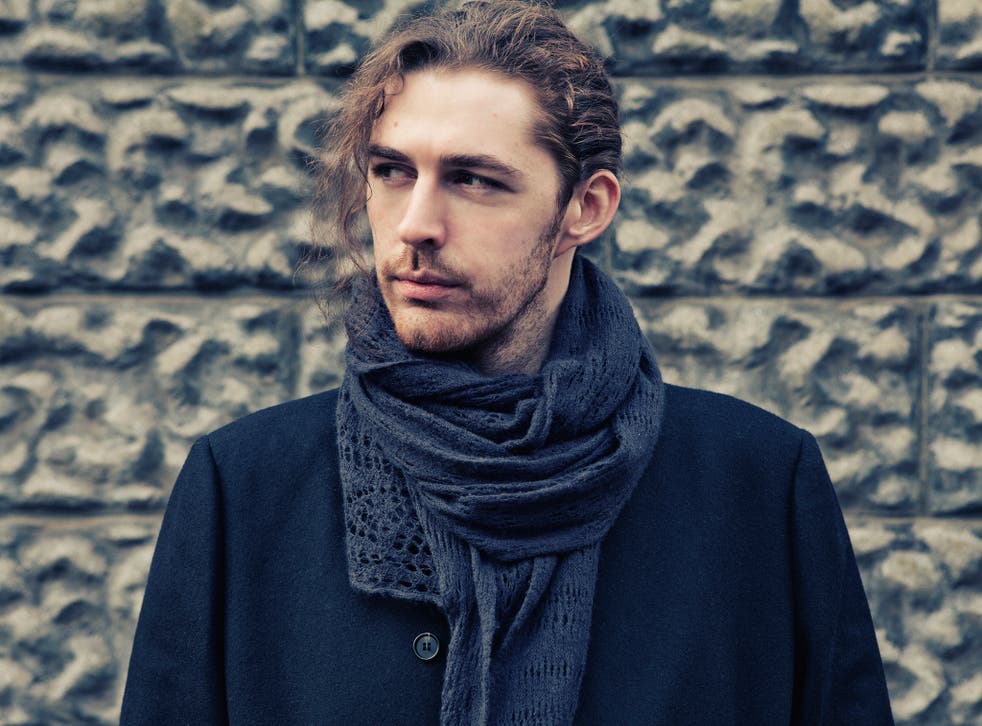 Earnest -man-with-guitar remains a simple formula which seems unlikely to stop bothering the charts any time in the near future, at which news 25-year-old Irish singer-songwriter Andrew Hozier-Byrne must be rejoicing.
He is, in point of fact, a one hit wonder, but what a hit. His 2013 debut single 'Take Me to Church' has become embedded as one of the definitive songs of the decade on both sides of the Atlantic, a gnarled old blues stomp which at once questions religion while amplifying that genre's sense of innate religiosity.
The following year's eponymous debut album was another big hit, although beyond that Hozier (as a performer, he uses just the first barrel of his surname) has been restricted to success by way of YouTube views and Spotify streams. His career stands between the massive fame he's already enjoyed and meaningfully following it up, although on the evidence of the goodwill at this sold-out early date of his latest UK tour, a critical mass of goodwill is already behind him.
Hozier wins Song of the Year
He's a performer who enjoys an easy, confident, unstarry relationship with his audience, professional more than passionate. Tall and modestly handsome in dark denim, with his black hair in a tight bun on the back of his head, he's friendly and gracious; as polite, in fact, as much of the music he plays. The majority-female half-dozen performers alongside him include a cellist, a keyboard player and two female members of his support trio Wyvern Lingo on backing vocals, and they make an expansive sound worthy of this grand space.
The best of his songs display a convincing sense of keen pop songwriting at their core, to go with the weathered moodiness of Hozier's voice. For the most part it's the most resonant instrument onstage, at once strong and assured beyond his years and lent a certain sense of vulnerable experience, and its use is central to the best music here.
'Someone New' rests on such a pristine choral line, a perfect convergence of sentiment, construction and delivery – "I fall in love just a little bit every day with someone new" – that it's possible to forgive the relentless repetition of its use, while his variation on the Beatles 'Blackbird' is unshowy, backed by synthesised strings which help make this version subtly Hozier's, rather than a bravura attempt to claim its composers' space as his own.
The gnarled 'Jackie and Wilson' is less definitive of his talents, although perhaps best suited to the roll of stadium pop-rocker if he ever makes it that far, while the understated guitar-and-vocals duet 'In a Week' is taken over by Karen Cowley, also of Wyvern Lingo, whose voice is strikingly rich and deep in tone and experience. Hozier jokes about the pair's shared County Wicklow upbringing and sings a bandmate 'Happy Birthday', both matey, communal touches.
When it comes, of course, 'Take Me to Church' is the most dramatically communal moment of the show, and it's followed after the encore gap by his solo acoustic take on 'Cherry Wine' and the striking full-band harmonies of 'Work Song'. It's the definition of a crowd-pleasing show, although not long at barely 80 minutes and not indicative of where its composer might go once that big hit has been exhausted.
Register for free to continue reading
Registration is a free and easy way to support our truly independent journalism
By registering, you will also enjoy limited access to Premium articles, exclusive newsletters, commenting, and virtual events with our leading journalists
Already have an account? sign in
Register for free to continue reading
Registration is a free and easy way to support our truly independent journalism
By registering, you will also enjoy limited access to Premium articles, exclusive newsletters, commenting, and virtual events with our leading journalists
Already have an account? sign in
Join our new commenting forum
Join thought-provoking conversations, follow other Independent readers and see their replies