Janelle Monae at Glastonbury, review: Dirty Computer star performs with a zealous energy
Perhaps she belongs somewhere left of the mainstream, a place that is both welcoming and gloriously alien
Alexandra Pollard
Sunday 30 June 2019 23:38 Comments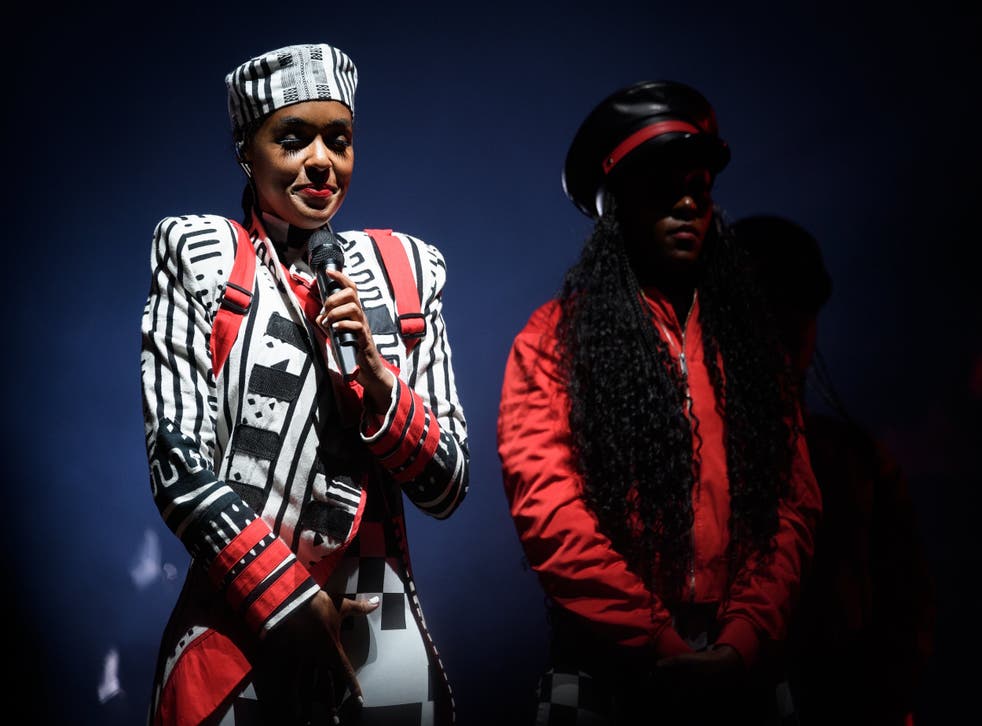 For a moment last year, it seemed as though Janelle Monae was heading towards megastardom. With the release of her third album, Dirty Computer – a weird, wonderful melting pot of soul, funk, jazz and pop, and a righteous call to arms for black power, female liberation and queer rights – she teetered on the edge of it. And yet she never quite reached the upper echelons. Maybe that's because Monae actually belongs somewhere left of the mainstream, a place that is both welcoming and gloriously alien.
The West Holts Stage is that place tonight. The Cure might be headlining the Pyramid Stage nearby, but "this is the place with the most juice", Monae declares, arriving on stage in a red army hat and jacket, as the words of Martin Luther King ring out, a suitably defiant precursor to the big, bold, brassy "Crazy, Classic Life". "Remember when they told you I was too Black for ya?" she sings, her voice smooth and clear as a bell. "And now my Black poppin' like a bra-strap on ya."
Next comes the perky, playful "Screwed". With it, she unbuttons her jacket, revealing a checkerboard one-piece, dons a new one, and sits down on a red throne for "Django Jane", declaring, "This is my palace."
A few years ago, a Twitter user tweeted Monae to say he was "tired of those dumbass suits". The 33-year-old's response? "Sit down. I'm not for male consumption."
She still isn't. As she instructs us to get our phone torches out and keep them that way, blissfully unaware that we have all about 11 per cent charge between us, she announces, "No matter who you love or how you love, you are welcome in my house any time. As a young, queer, black woman in America I'm honoured to be here. I'm proud to be here."
Best pictures from Glastonbury 2019

Show all 83
Just as Dirty Computer came out last year, so, too, did she (as pansexual), though her music has toyed with the norms of gender and sexuality – offering a haven for all those who have felt other – ever since the ArchAndroid days.
She plays some songs from that 2010 debut tonight, including the jazzy, timeless "Tightrope", performed with a zealous energy, but it is from Dirty Computer that she most draws. For "Pynk", a love song to the labia, she changes into the vagina trousers that adorn that song's video.
Next, she invites three people up who she thinks have the "juice". "Do you got the juice?" she asks the first person. "I love you so much." "I love you too, but do you got the juice?" "Thank you." It's not her fault: being in Monae's presence would surely turn the greatest minds to jelly.
After "Make Me Feel", which is all clicks and clucks and funky staccato guitar and which she ends by falling to her knees, she makes an announcement. "We must fight for the rights of immigrants. We must fight for the rights of LGBTQIA people, of black people, of women. And we must impeach Donald Trump."
Enjoy unlimited access to 70 million ad-free songs and podcasts with Amazon Music Sign up now for a 30-day free trial
Sign up
It seems as though the set is over. The crowd begin to pour away. But before long, Monae returns, for a gloriously frenetic rendition of ArchAndroid track "Come Alive (The War of the Roses)". She did this at this festival eight years ago, stepping one foot over the barrier between her and the crowd as a security guard clung onto her.
Tonight, she goes several steps further, wading far into the crowd, further than I have seen anyone venture into a crowd this size, and participating in an enormous mosh. She emerges unscathed. This truly is a safe space. "What you just saw you will never see again," she yells at the top of her lungs, straight into the camera. There's little doubting that.
Register for free to continue reading
Registration is a free and easy way to support our truly independent journalism
By registering, you will also enjoy limited access to Premium articles, exclusive newsletters, commenting, and virtual events with our leading journalists
Already have an account? sign in
Join our new commenting forum
Join thought-provoking conversations, follow other Independent readers and see their replies