Janelle Monae review: Freewheeling performance at The Roundhouse was all about female energy
Some critics have taken umbrage with Monáe's status as a musical enigma, suggesting it could hinder her ability to connect with her fans – yet her live show is one of total connection and inclusivity
Roisin O'Connor
Music Correspondent
Thursday 13 September 2018 09:22 Comments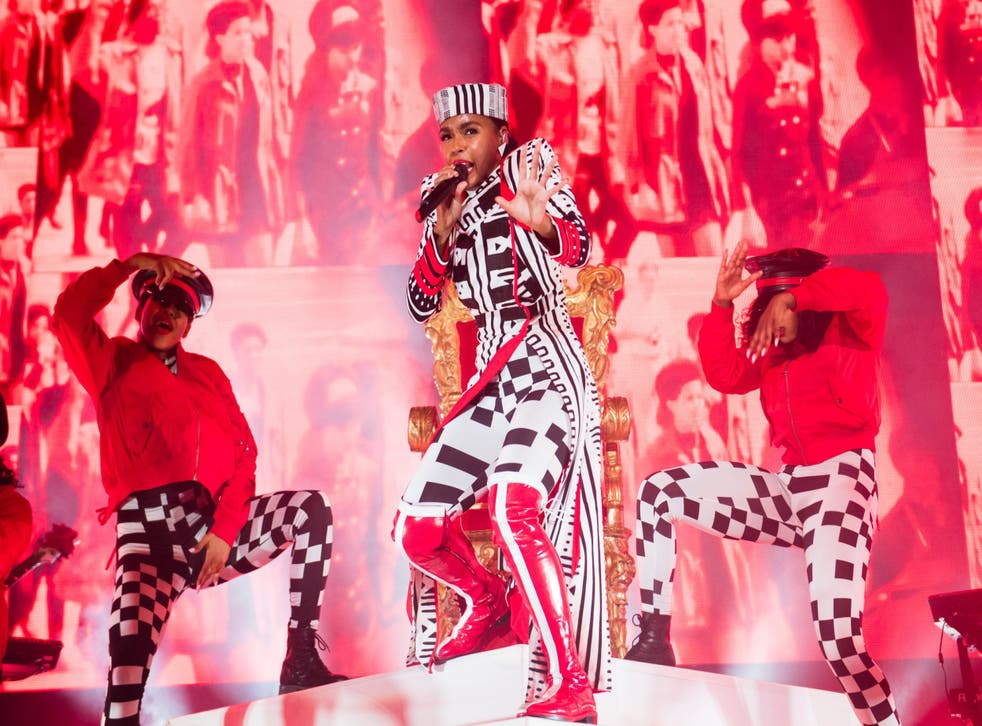 Janelle Monáe is perhaps the most underrated artist of her generation. Whether it's the powerful messages against oppression in her lyrics, her prowess as both a rapper and a singer, or her artistic persona, this is an artist who has spent more than a decade honing her craft, and perfected it.
The Kansas-born 32-year-old is the eponymous Electric Lady from her 2013 album. At the first of two shows at London's Roundhouse, she performs a set of such colour, variety and joy that some audience members have tears in their eyes before the night is out.
"Where are my queens?" she demands as a gold throne is carried to the top of a pyramid platform, draping herself across it as if to answer her own question. Tonight is all about the female energy, from Monáe herself to the sublime quartet of backing dancers who twist, grind and twerk their way around the stage.
At the beginning of her career, Monáe used the various personas she has adopted for her art as a shield from her fear of being judged, with the image of the shiny android best representing that wish to be seen as nothing less than flawless. And she is a perfectionist, of that there is no doubt. Tonight, she and her dancers don't put a foot wrong. The outfits are sublime, the moves are carried out with the kind of discipline you'd expect to see at a Beyoncé concert, yet here you get the sense that Monáe could still take you anywhere, such is the freewheeling nature of her performance.
On her latest album, 2018's Dirty Computer there are moments where she holds back, allowing the subtleties in her voice to shine through. Tonight, "subtle" is not in her vocabulary. Backed by a tight band featuring one very enthusiastic lead guitarist, a formidable bass player and two standout appearances on sax and trombone, she performs a routine of vocal acrobatics so that the entire show feels like a soul-funk opera.
Most of her Roundhouse set focuses on material from Dirty Computer. From the throne, she leans into the swooning opening of "Django Jane" before delivering a rap that tackles misogyny with a hint of humour, on lines like: "We gon' start a motherf***in' pussy riot/Or we gon' have to put them on a pussy diet/Look at that I guarantee I got 'em quiet", and "Hit the mute button/Let the vagina have a monologue."
Some critics have taken umbrage with Monáe's status as a musical enigma, suggesting her supposed elusiveness would hinder her ability to connect with her fans (something that wasn't an issue with Bowie or Prince). Yet her live show is all about connection and inclusivity. She tells her fans she loves them, compliments someone's afro, invites four people up on stage to dance to "I Got The Juice", wishes everyone a "Happy Pride". "This is dedicated to all the free-ass motherf***ers," she yells.
There's enough time for some material from her back catalogue like "Tightrope" from her debut ArchAndroid, which shows off her vocal dexterity – she slips from a smooth-as-silk croon on the chorus to a sharp rat-tat-tat on tightly controlled couplets for the verses – and "Yoga" from 2015's EP The Eephus.
There are screams from the audience as she struts out in the now-legendary pair of vagina trousers for "Pynk", bathed in a soft glow of rose-coloured light and clouds of smoke as she delivers her tribute to the power of female sexuality. As she reappears on stage in skin-tight, silver lamé trousers, sliding and grinding to an extended intro for "Make Me Feel", you can feel the spirit of her mentor and friend Prince. It's pure, sexed-up funk, rounding off a show that should silence anyone who ever doubted her.
Register for free to continue reading
Registration is a free and easy way to support our truly independent journalism
By registering, you will also enjoy limited access to Premium articles, exclusive newsletters, commenting, and virtual events with our leading journalists
Already have an account? sign in
Join our new commenting forum
Join thought-provoking conversations, follow other Independent readers and see their replies