Kate Jackson, Madame Jojos, London
The star appeal of an ex-Blonde whose roots are still showing
Elisa Bray
Tuesday 27 December 2011 01:00 Comments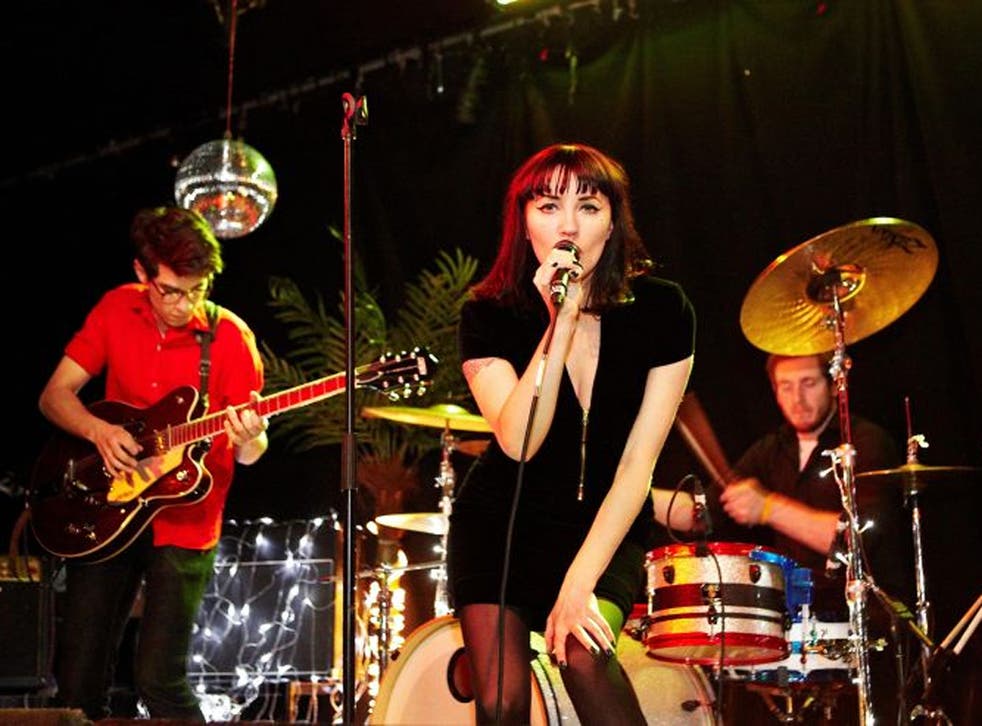 Ever a vivacious stage presence, tonight dressed in rock'n'roll chic electric blue shift dress and knee-high boots, Jackson's set is peppered with enjoyably stompy glam-tinged pop rock songs.
Since The Long Blondes split in 2008, fans have been waiting for their singer to step forward as a solo artist. Now 32, Jackson returned with the double A-sided single, released on 7-inch, earlier this month, with the digital download available in January – "You have to do things the right way, 7-inch then download," she says tonight, displaying dedication to her indie-rock roots.
Tonight's set however is underwhelming. There is something disappointing about hearing the now solo artist singing song after song of relationship woes, if only because her character in the Long Blondes (the Sheffield art-rockers that were once hailed the best unsigned band in Britain) was that much more feisty. Songs were delivered with more spiky attitude than new ones such as the pining, bloodless "Leaving Me Easily", which does little except show off her unmistakable vocals.
Much better are the singles – tonight's highlights. "Wonder Feeling" is a catchy number that best suits her vivacious and rebellious personality, as does "The Atlantic", which tells the autobiographical story of a doomed love affair conducted between New York and London, symbolised by an all-night party aboard a plane. "I'm the new romantic," she sings between an energetic chorus backed by her band. Her four-piece rock band create her fuller guitar-heavy new sound, which leaves behind the angular art-rock that characterised The Long Blondes, but their unexceptional performance does not form a cohesive sound.
Jackson wears her classic rock and pop influences clearly on her sleeves: one minute she's channelling sassy Blondie in "Lie To Me", the next she's recalling Jefferson Airplane. Elsewhere there are pointers to Pulp, early Bowie and some 1990s indie guitar lines that do well to add texture and melody to the songs, no doubt influenced in part by Bernard Butler with whom she's been collaborating on songwriting.
Considering the honoured space that Jackson holds among nostalgic fans, it's surprising that the venue is not more busy. Jackson's star appeal is still very much alive, and it's when she finds her feet as a solo artist that more people will undoubtedly know about it.
Register for free to continue reading
Registration is a free and easy way to support our truly independent journalism
By registering, you will also enjoy limited access to Premium articles, exclusive newsletters, commenting, and virtual events with our leading journalists
Already have an account? sign in
Join our new commenting forum
Join thought-provoking conversations, follow other Independent readers and see their replies