Kimya Dawson, Bush Hall, London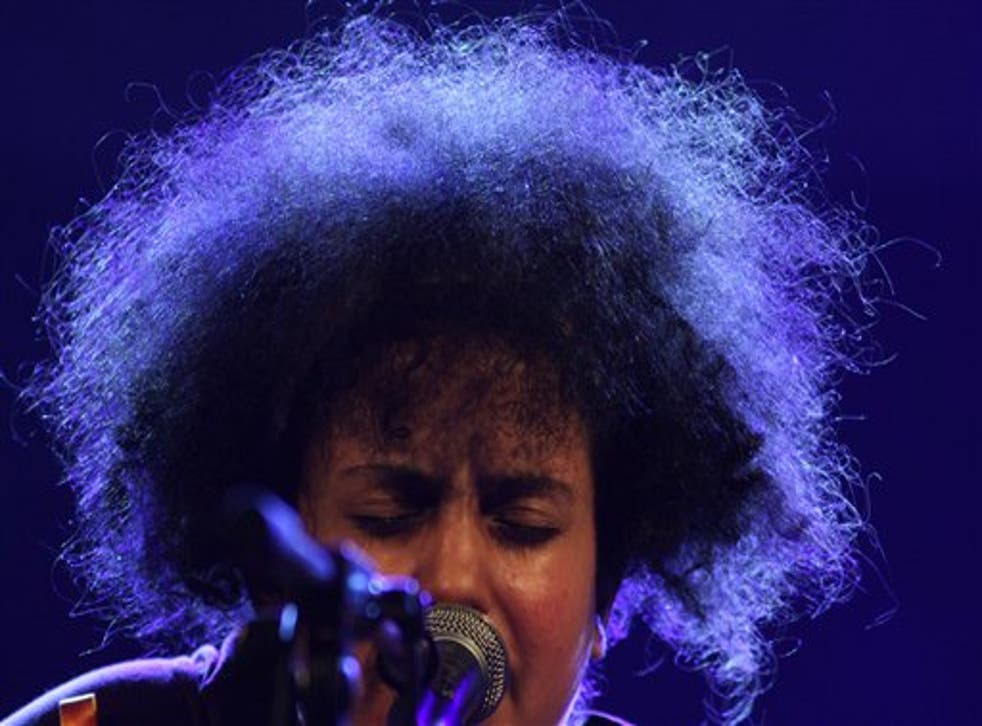 Kimya Dawson is sporting an enormous pink and blue afro. It's as if candyfloss met a cartoon rain-cloud sign for depression over her head. Which is pretty apt: to the strumming and fingerpicking of her acoustic guitar, she sings in that funny little voice about friendship and silver pink ponies, but also people dying of cancer, her own mental health, and struggles with addiction.
What might have seemed like indie-movie quirk on the Juno soundtrack is actually as honest as it comes.
Now nearly 40, Dawson was once poster girl for New York lo-fi anti-folk, as half of The Moldy Peaches with Adam Green. Tonight, she's joined by Pablo Das who, ahem, turns Buddhist chants into indie-folk ditties. It does get a touch group therapy - "know that you're perfect as you are" - they have us singing by the end before a giant spiral group hug. But Dawson deserves such love-ins.
Sure, she wears her heart on her sleeve, but it's laced with wit, not pretension or sentimentality. Dawson offers hymns on being true to yourself, and not judging people, whether they're suits'n'ties or tie-dyed in the wool hippies: "Some people like business, some people like numbers/ Some people grow organic heirloom cucumbers." She sings about not trying to be cool; the slightly-too-dweeby-to-be-hipster crowd swoons.
It is cheering, and dryly funny, just like her understated wavery delivery, which still manages to fit in more words per bar or breathe than you'd think possible (see "The Beer" for a masterclass). She also frequently fluffs it - as on Juno-famed "Tire Swing", her closest thing to a pop hit, which has all the girls unconsciously swaying. But although Dawson's forever interrupting herself to laugh or joke or tell us a bit more back story – every song's got a back story! - such gentle shambling doesn't irk.
Also, much of the set is just plain silly: she did an album of children's songs, and we get the rude "Alphabutt", as well as "The Mare and the Bear" on which she shares writing credits with her kid. There's even a mildly cringe-worthy rap. But then, the thing with Dawson is that there's no such thing as cringey: if she feels it, she does it. Everyone has their own limit with this (an 11-minute ode to dead friends tested mine), but there are also moments when it feels Dawson speaks not just from her heart, but from yours too.
Join our new commenting forum
Join thought-provoking conversations, follow other Independent readers and see their replies