Kings Of Leon review, When You See Yourself: A sonic smoulder strung together with cliches
Caleb Followill says this is the band's most personal album. But if this is meant to be a reflection of his soul, then the mirror is a pretty murky one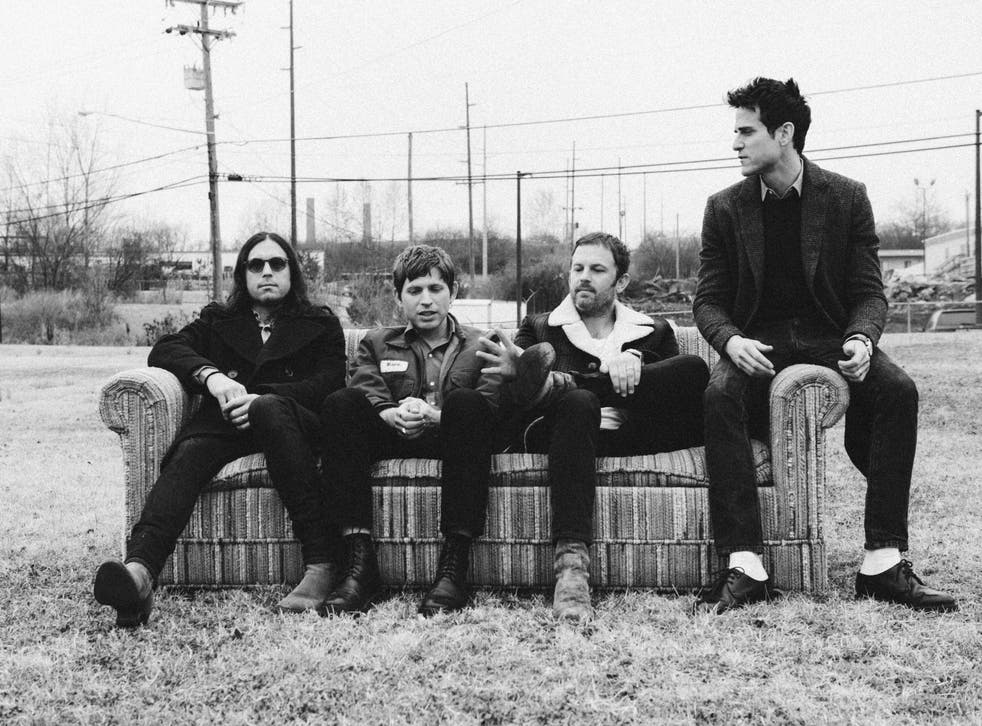 The muted, pewter tones of Kings Of Leon's eighth album are a far cry from the red-hot roar of their 2007 arena-shaking breakthrough sound. Once best known for the boozing, brawling and bawling "Sex on Fire", Nashville's Followill brothers (and their cousin) are now middle-aged family men, happy to settle into a sonic smoulder.
In interviews published during the pandemic, the erstwhile "Southern Strokes" say this is the first album they've managed to record without a single punch being thrown. No mean feat, when you consider that it was produced by Markus Dravs. The Eno-inspired British engineer (best known for his work with Coldplay and Arcade Fire) has been compared to a "prowling big cat" in the studio. He once said he knew songs were being licked into shape if he provoked a band member to come at him with a baseball bat. But Dravs is also the man who brought the big, clean, Eighties-indebted Silvertones into KOL's last album, WALLS (2016). 
Like WALLS, When You See Yourself sounds like an album designed to be enjoyed as much on expensive car stereos as in stadiums. It retains that album's Talking Heads-y sonar pings, but things are a little less shiny. The matte surface of the new sound comes from lead guitarist Matthew's new obsession with vintage organs and synthesisers, instruments he's proud to say we would have heard on classic albums by the Beatles and Pink Floyd. They throb and pulse through the album like the engines of old container ships: solid, soothing and slightly distant. 
Shy frontman Caleb says this is their most personal album in terms of lyrics. But if this is meant to be a reflection of his soul, then the mirror is a pretty murky one. Songs are strung together with cliches and contradictions. So the opening track, "When You See Yourself Are You Far Away?", with its pretty, planetarium-show synths and stargazey guitar, has a nonsensical chorus that runs: "When it comes to you if you reach the moon/ Can I be there too?" Over the hypnotic, low frequency synth-churn of "100,000 People", he expounds an opaque philosophy: "Stray from the heart the more you know/ The more you look the less you see/ The more you see the less you know."
"Time in Disguise" – a mid-tempo chugger about the surreality of the red carpet lifestyle – was written when the band were drunk on a plane to an A-list birthday party. Maybe that accounts for the stuff about "masked machines".
The weirdest moment comes on "Supermarket", where the singer hails a passing ocean liner, inviting it to anchor down in the "sea of forgiveness" and see what he's found. It's something "long and lanky, awkward at times". No sniggering. I've honestly no idea what it means. But the nonsense is mostly masked by the plausibility of Caleb's generic-rock-dude vocals and the soothingly warm slosh of the bass line. Jared's bass often provides a warm, organic counterbalance to Matthew's synths. It drives the mellow "Stormy Weather" and mooches through the closing track, "Fairy Tale", like it's wandered in from Lou Reed's "Walk on the Wild Side".
Having realised they're unlikely to earn much radio play, KOL allowed all the tracks on When You See Yourself to run well beyond the three-minute mark; most are closer to five. They all share a similar, mellow tempo. It's pleasantly – if forgettably – soporific. The sort of family motorway album that tired parents can hum along to without waking the kids in the back.    
Join our new commenting forum
Join thought-provoking conversations, follow other Independent readers and see their replies