Lady Gaga and Tony Bennett review, Love for Sale: Duo's chemistry crackles against the odds
Bennett's got these songs under his skin, and pop's Mother Monster does a brilliant job of helping him deliver them as a final gift to the world
Helen Brown
Thursday 30 September 2021 13:30 Comments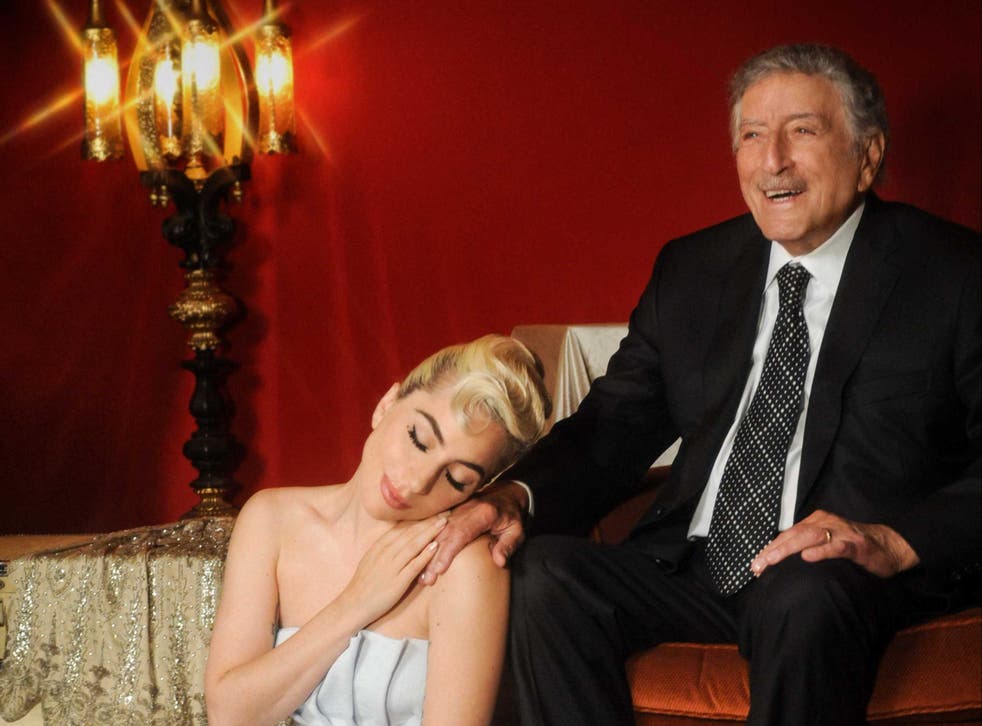 Tony Bennett once said that "singing intimately is almost like thinking into a microphone, so it helps to have the song buried inside you". Now he's 95, Bennett is so in tune with the Great American Songbook that I wouldn't be surprised if Berlin rhymes and Gershwin lines showed up on his X-rays. To hear the subtle, supple way he finds his way through the 12 Cole Porter standards that appear on Love For Sale (his second duets album with Lady Gaga), you'd never guess that he was diagnosed with dementia five years ago and can no longer maintain anything like a normal conversation. Bennett's got these songs under his skin, and pop's Mother Monster does a brilliant job of helping him deliver them as a final gift to the world.
Fans of the pair's first duets album, Cheek to Cheek (2011), will already know that Gaga and Bennett have a chemistry that crackles against the odds. She brings sequins and drama and brassy big notes. Although her pop career was built on staccato syllables (mah-mah-mah-mah Poh-kah face!), she can slide confidently up and down a jazz scale like a woman with a trombone for a throat. Bennett brings the husky suede of his soft shoes to the party: always considered, dexterous and audibly decent. Unlike the rock stars who turn to the standards as part of a lazy retirement plan, Bennett has always wanted to continue learning from them. It's a pleasure to hear him and Gaga – born 60 years apart – step out for such an enjoyable musical conversation.
The sophisticated songs written by Cole Porter in the early 20th century are perfect fodder for the duo. Though the work of the wealthy Yale graduate (who drew as much on Gilbert and Sullivan as the work of his Broadway contemporaries) is sometimes criticised for a lack of emotional depth, Bennett and Gaga dance through his witty wordplay and bring nuanced humanity to the deft melodies he dashed off in his suite at the Waldorf.
Love for Sale opens with its jazz hands waving – a curtain-swooshing rattle of drums and blare of brass – before Gaga takes the mic and leads us into "It's De-Lovely!". The lively, old-school acoustic arrangements make you feel like a guest at a vintage nightclub. Bennett's long-time collaborators Jorge Calandrelli and Marion Evans (also aged 95) ensure that double basses prowl like alley cats in tuxedos and strings swirl like satin skirts. Xylophones and flutes plop sweet and soft into the mix like maraschino cherries into cocktails, as Bennett and Gaga sing "Night and Day". Jaunty piano backs the pair as they pivot into the mutual appreciation of "I Get a Kick Out of You", on which Bennett nails the dizzying internal rhyme scheme of lines such as: "Flying too high with some girl in the sky is my idea of nothing to do…"
On the lesser-known "So In Love", he sounds genuinely desperate with devotion, reminding us of the pain in Porter's yearning letters to his male lovers (published in 2018). "Let's Do It" is given a moreishly off-kilter swing, while "Just One of Those Things" – the only song where Bennett doesn't sound entirely dialled in – gets a hot-club guitar solo. We get Bennett back on "I've Got You Under My Skin", where he chuckles as Gaga ad libs, "Like a tattoooooo…" They have a ball on closer "You're the Top", as Bennett jokes about being "a total wreck, a flop".
Neuroscientists don't yet understand how music can reach so far into a brain that appears to have been shut down by diseases like dementia. For now we still think of it as a kind of miracle. And it's the top to hear it happening in real time.
Register for free to continue reading
Registration is a free and easy way to support our truly independent journalism
By registering, you will also enjoy limited access to Premium articles, exclusive newsletters, commenting, and virtual events with our leading journalists
Already have an account? sign in
Join our new commenting forum
Join thought-provoking conversations, follow other Independent readers and see their replies