Ladyhawke, HMV Forum, London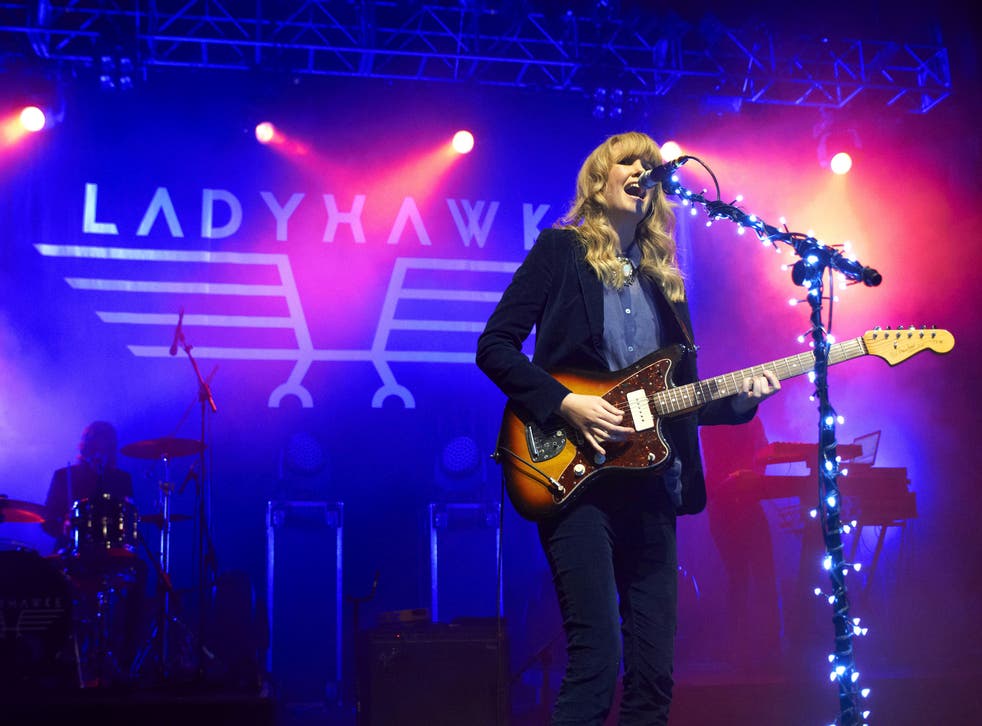 When Ladyhawke – aka New Zealander Phillipa Brown – fired onto the electropop scene in 2008 with an addictive self-titled first album, the hype was off the scale. Her name was mentioned in the same breath as Lady Gaga and La Roux and endorsements came thick and fast – including one from Kylie Minogue.
A four-year wait for a new album called Anxiety followed by two tiny UK tours is enough to give even the most die-hard Ladyhakwe fans pause for thought though. Surely she should be packing bigger venues than the Kentish Town Forum by now? And why didn't her debut album sell as well as pop-lovers thought it should?
Nonetheless she's back and the gap between her shiny pop tunes and nervous stage presence is clear from the start. "Back of Van" is one of the stand-out tracks from her first album, sort of Fleetwood Mac with an electro synth overload, but the sound set-up isn't right (a problem that plagues the whole night).
Brown, hiding behind her heavy blonde fringe is unsure of herself and the pretty mic stand (covered in twinkling LEDs) is the most interesting thing on the stage. "Blue eyes" from her new album follows. It's rockier, with power chords and drum solos, but it's not classic Ladyhawke and she's almost inaudible at times.
This uneven sound carries on for a track or two as thrashed-out chords and muscular riffs struggle to perk up the crowd. Then the power-pop gems return with "Professional Suicide" and "Magic" and the crowd is back with her. Her anthems sound different this time round, more guitar-laden than before. It shows that she has broadened her scope and as she warms up it's clear she's more comfortable as a rock queen than an electro-pop darling.
The power chords continue with "Black White & Blue" from her new album, but now they drive the set forward and even her tambourine solo during "Quick and the Dead" is forgiven, before a poppy finale of "Better than Sunday", "Sunday Drive" and "Paris is Burning" bring the stragglers back from the bar.
She's infectious again, blossoming with pumped na-na-na's, pummeled piano phrases and delightful pop synths. This is new Brown – she's taken her older sparkling tracks and dosed them with just enough rock to make them new again. Much has been made of the title of her second album and how it relates to her musical uncertainty and career woes, but I think it's about whether her fans will like the new her.
Is she an electro-pop queen of synths and beats or a six-string guitar rocker? I'm not really sure, maybe she isn't either, but her fans seem to enjoy finding out.
Register for free to continue reading
Registration is a free and easy way to support our truly independent journalism
By registering, you will also enjoy limited access to Premium articles, exclusive newsletters, commenting, and virtual events with our leading journalists
Already have an account? sign in
Register for free to continue reading
Registration is a free and easy way to support our truly independent journalism
By registering, you will also enjoy limited access to Premium articles, exclusive newsletters, commenting, and virtual events with our leading journalists
Already have an account? sign in
Join our new commenting forum
Join thought-provoking conversations, follow other Independent readers and see their replies