Last Night: Blur, New Order and The Specials, London Live Closing Ceremony, Hyde Park
Old animosities are suspended for a party in the park
Nick Hasted
Tuesday 14 August 2012 12:54 Comments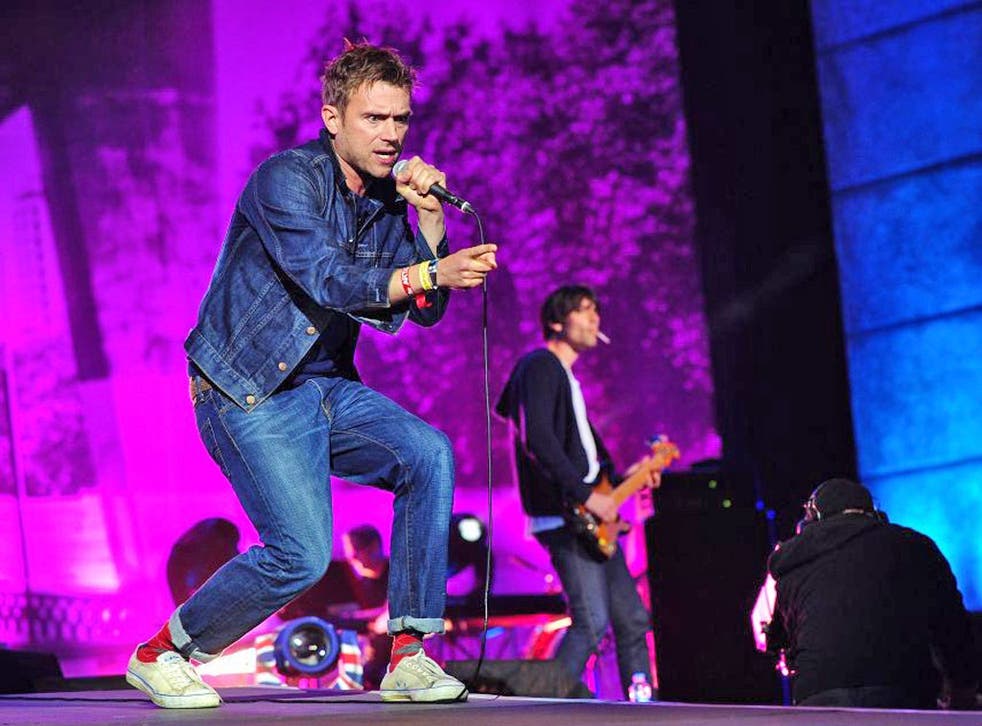 The sell-out Hyde Park crowd sing lustily along to the National Anthem, minutes before Britpop's old kings, Blur, take the stage. Their singer Damon Albarn was fiercely patriotic for his country's music back in those deceptively heady 1990s, and wraps himself in the Union Jack again on one of his frequent sorties into the crowd tonight.
But the Britain Blur explore in this triumphant, possible farewell is an inclusive, dotty place.
"This Is A Low", based around the band missing Radio 4's Shipping Forecast when adrift in America, is revealed again one of the most heartening and heartbreaking moments in British pop tonight.
And one look around the huge, boozed-up, alternately tearful and happy crowd hugging each other in the park is a scene as characteristic of this country at its best as anything in Danny Boyle's opening Olympic film.
The crowd demand the volume, notoriously stingy due to Hyde Park's posh, selfish neighbours, is turned up. And when Blur begin with "Girls and Boys", the slick pop single about "love in the '90s" which kick-started their commercial rule, an adrenalised, punky mood of celebration dominates at first.
Even "Country House", the dodgy single with which they won their war with Oasis, is played with gusto, guitarist Graham Coxon wryly wincing at a song he hates. The true nature of life at the heart of the Britpop storm is revealed in the lyrics' confession that "I am so sad, I don't know why".
Phil Daniels and Harry Enfield, dressed as a char lady complete with tea-trolley, guest on "Parklife".
But 1999's "Tender", when Blur had moved into stranger musical and emotional terrain, is a greater highlight, sung first by Albarn in a baritone croon, then taken over by the crowd, just as they did when Blur last reformed, for Glastonbury in 2009.
They finish with the fine new single "Under the Westway" (the set tonight is a neon-streaked mock-up of the west London overpass), "For Tomorrow"'s utopian pop, introduced as "a London song", then "The Universal". Not, notably, "To the End". For all Albarn has achieved without Blur, watching him lead his three old friends in front of the sort of huge, unified crowd only this band can give him – one reason pop exists – they still look like the fundamental root of his music. He's prevaricated about the band's future in recent weeks. But who could give up nights like this?
Among the support acts, the Specials' brutally realistic lyrics from the early Thatcher years regularly cut through the balmy evening air, as the 1970s of unemployment and the National Front haunt songs such as "Concrete Jungle".
Enjoy unlimited access to 70 million ad-free songs and podcasts with Amazon Music Sign up now for a 30-day free trial
Sign up
The spectre of Jerry Dammers, the Specials' jettisoned leader, is also present, though the dancing crowd seem oblivious.
New Order are also acrimoniously minus a member, bassist Peter Hook, singer Bernard Sumner's red-faced exhortations to "Come on!" strained compensation for the absence of their only real rock monster.
"Love Will Tear Us Apart" by Joy Division, the band New Order once were, built from the catastrophic life of its original singer, Ian Curtis, when he hanged himself in 1980, has certainly come a long way, as Union Jacks are waved to it by the crowd, one of this Olympic fortnight's many surreal moments.
Register for free to continue reading
Registration is a free and easy way to support our truly independent journalism
By registering, you will also enjoy limited access to Premium articles, exclusive newsletters, commenting, and virtual events with our leading journalists
Already have an account? sign in
Join our new commenting forum
Join thought-provoking conversations, follow other Independent readers and see their replies