Lauryn Hill review, O2 Arena London: Miseducation artist is still declaring her independence
The former Fugees member's free-jazz approach to the live set is often scattershot, but it makes the set feel loose and relaxed rather than messy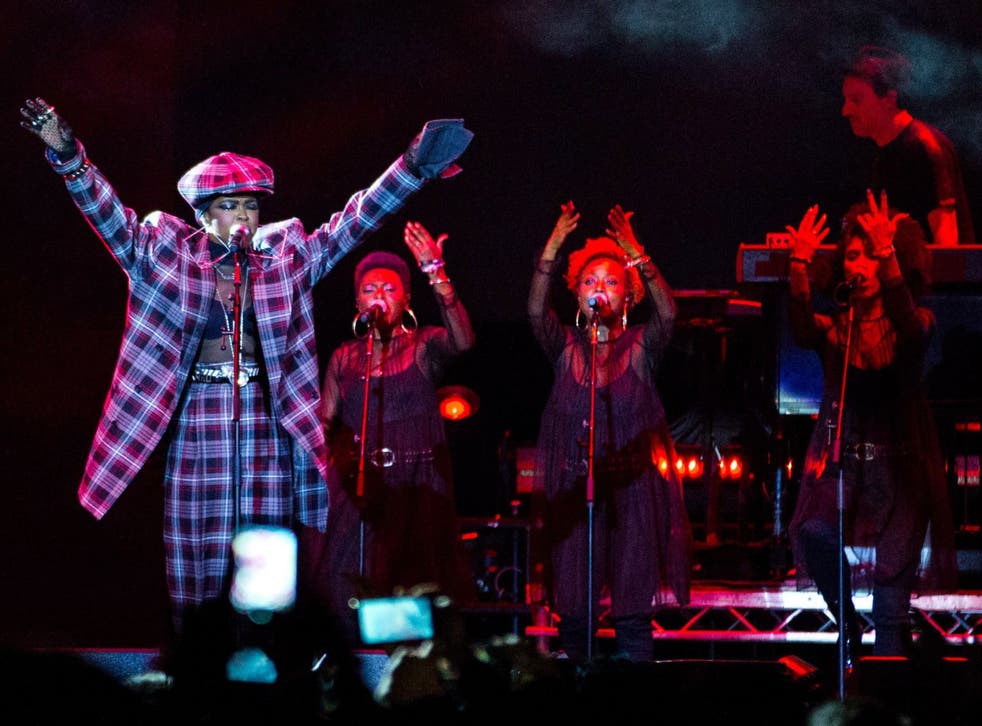 "She's on time!" A ripple of excitement has just gone through the O2 Arena. The lights have dimmed, and Lauryn Hill is as about as "on time" as she'll ever be – just 20 minutes late.
Much of the commentary surrounding her tour – which celebrates 20 years since her debut (and only) solo record The Miseducation of Lauryn Hill was released – has focused on her almost mythical tardiness and the various, eyebrow-raising excuses that have come with it. But at her show tonight, it feels as though the slate is wiped clean the second she walks on to the stage.
Dressed in a resplendent, oversized, Eighties-style tartan suit complete with shoulder pads, with giant square earrings framing her face, the 43-year-old barely seems to have aged a day since she made that groundbreaking record. Switching between two tones – cold and sharp, then warm and sensual – Miseducation tackled themes of independence and motherhood, with aspects of soul, reggae, rock and funk woven seamlessly together to set it apart from the other rap albums of the late Nineties. No wonder Drake caused an uproar in 2012 when he had the temerity to suggest he was the first artist to "successfully rap and sing" – a skill that made Hill the first woman in history to win five Grammys in one night, in 1999.
What has changed is how each version of songs from Miseducation play out. Technical issues aside (the acoustics at the O2 aren't great, and the set tonight is plagued by dodgy sound levels), the former Fugees member's free-jazz approach to the live set is often scattershot, but it makes the set feel loose and relaxed rather than messy. And whenever the song structures feel as though they're about to unravel, things are quickly tightened back up by her band and superb trio of backing singers.
Her guitarist redeems himself after an overwrought version of the silky guitar intro on "To Zion" with some dexterous shredding on his solo for "Ex Factor", a track widely believed to be about Hill's former bandmate Wyclef Jean. A live rendition of the Bob Marley-sampling "Forgive Them Father" remains faithful to the original, as Hill's vocals soar, backed by the urgent harmonies of her singers. Images of police violence against black men, women and children filmed on phones and bodycams, meanwhile, are broadcast on the giant screen behind her.
The 40 best albums to listen to before you die

Show all 40
Hill takes her time to check in with her audience, offering words of love, hope and thanks. Halfway through the set, she recounts a story that Adele herself told in September, about how she first saw Hill at Brixton Academy in 1999, when she was 10 years old. Hill makes a poignant remark about the continuation of legacy. As much as some love to question what Hill's own legacy, tonight it seems beyond doubt. Miseducation is as much a declaration of independence as it was 20 years ago.
Join our new commenting forum
Join thought-provoking conversations, follow other Independent readers and see their replies