Little Mix, LM5 album review: A frenetic record from a pop group struggling to assert their identity
'LM5' is so scattershot, both thematically and musically, that it's hard to find much to grab onto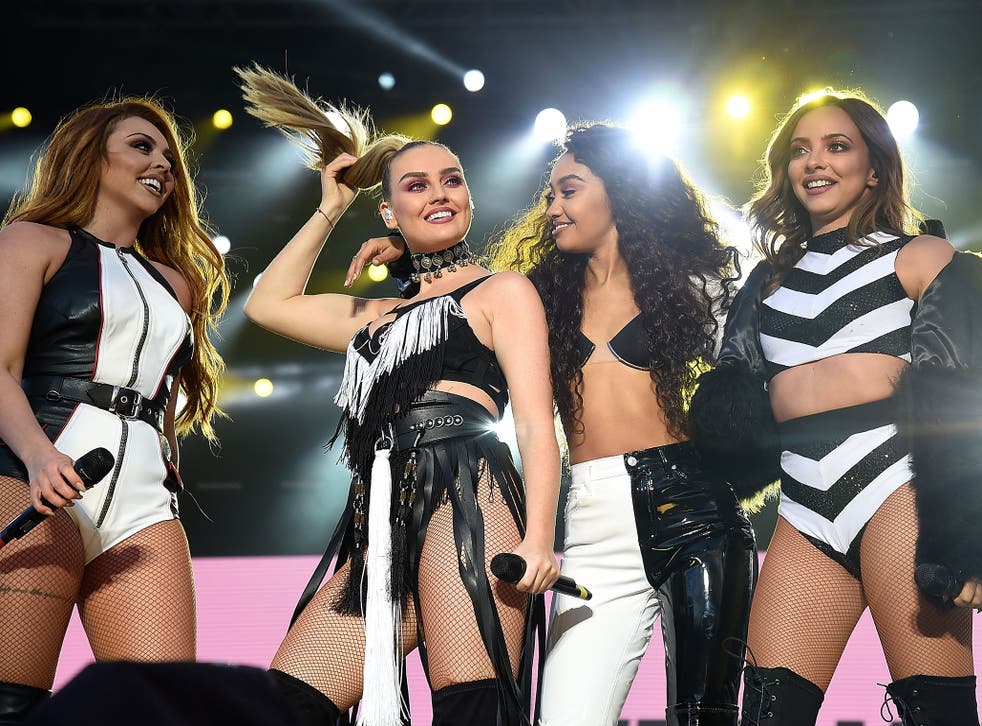 When the Spice Girls reunited last week and promptly urged us all to "come together" and support Theresa May, it was a stark reminder of the shortcomings of Nineties "girl power" – a concept invented to sell records first, and enact actual change second.
On their new album LM5, a record laden with messages of emancipation and self-acceptance, Little Mix at least attempt to give us something more than vague truisms. Unfortunately, they don't quite manage it.
"Man, I feel like Cleopatra, Joan of Arc, Queen of Hearts, yeah," the girl group sings, in four-part harmony, on their self-empowerment anthem "Joan of Arc". They are, they proclaim, on "that feminist tip" – but given that Cleopatra killed herself, Joan of Arc was burnt at the stake, and the Queen of Hearts was a fictitious tyrant who ordered copious beheadings, I'm not sure they really thought the whole thing through.
The British quartet's fifth album arrives under somewhat murky circumstances. Just days before its release, it was announced that the band – who first found fame after winning The X Factor in 2011 – had split from their label, Syco. When the news hit, they wasted no time criticising Simon Cowell's record company. "We went to a radio event in America, full of VIPs," said Jade Thirlwall. "Someone from the label said, 'Go and flirt with all those important men.' I was like, 'F*** off. Why have I got to go in and flirt to get my song on the radio?'"
They recalled, too, being told they should be focusing on singing the songs, not writing them. "We realised we – as women – have to work 10 times as hard," they said, "which is really bloody annoying because we do write songs."
Indeed, Little Mix share a writing credit, along with the likes of Ed Sheeran and Jess Glynne, on almost every track on the extensive LM5 – an album that hopscotches between genres with whiplash-inducing speed. There's the syncopated reggaeton of "Woman like Me", the minimalist tropical house inflections of "Think About Us", and the swaying bolero of "American Boy". At points, the whole thing starts to feel a little derivative – "Joan of Arc" eerily resembles, but is frankly inferior to, Beyonce's "Feeling Myself".
Richest musicians under 30 in UK and Ireland

Show all 12
Yet it's still worth sticking around for the gems. The admirably outlandish "Wasabi" switches from Peaches-esque punk to Noughties R&B, but somehow hangs together brilliantly. "The Cure" has beguiling synths and a bombproof melody, while "Strip", which houses a beat that sounds like heels stomping down a corridor, is a trite but catchy ode to self-acceptance.
"Told You So", meanwhile, is a deep, calming breath on an otherwise fairly frenetic album. Directed at a friend who's been messed around, it demonstrates a lower-key sort of female kinship: "We can put the kettle on, talk about how he's not the one/ I told you, but I'm never gonna say I told you so." Sure, the sisterhood vibes are undercut on songs like "Motivate", thanks to lines such as, "He motivate me, motivate me/ Yeah when he's with me bitches hate me", but beggars can't be choosers.
Ultimately, despite a few high points, LM5 is so scattershot, both thematically and musically, that it's hard to find much to grab onto. As they're so keen to point out, Little Mix can, and do, write their own material – but with as many as 13 songwriters on any given song here, their own identity becomes lost in the mire.
Register for free to continue reading
Registration is a free and easy way to support our truly independent journalism
By registering, you will also enjoy limited access to Premium articles, exclusive newsletters, commenting, and virtual events with our leading journalists
Already have an account? sign in
Register for free to continue reading
Registration is a free and easy way to support our truly independent journalism
By registering, you will also enjoy limited access to Premium articles, exclusive newsletters, commenting, and virtual events with our leading journalists
Already have an account? sign in
Join our new commenting forum
Join thought-provoking conversations, follow other Independent readers and see their replies