Mad Cool festival review: Blistering lineup makes up for a few organisational mishaps
The Madrid event boasts an impressive selection of veteran and of-the-moment indie, rock and electronic talent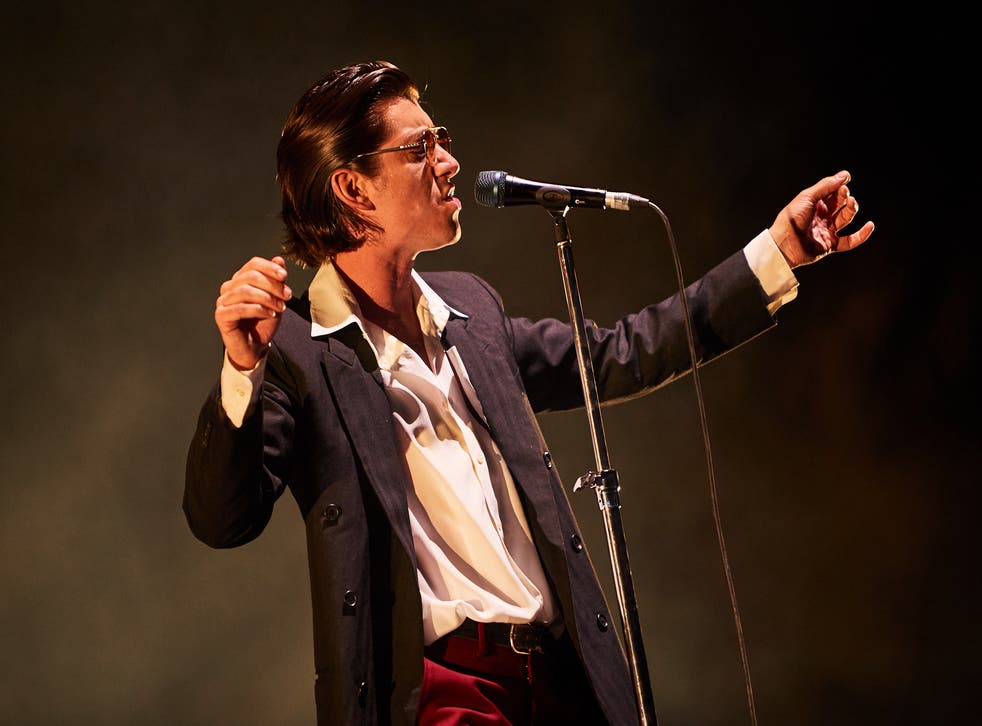 Benicassim, Sonar, Primavera Live, Bilbao BBK... Sunny Spain has a long history of putting on music festivals popular with the Brits. But Mad Cool? The capital's homegrown offering, despite a consistently stellar lineup, has remained modest in its draw in its nascent years.
That all changed for 2018 – for its fourth instalment, organisers took a massive punt in an exponential expansion, jumping from 45,000 attendees a day to 80,000, upping the ante on the programme and reaching out to attract a broader audience, including from the UK.
The result? A staggeringly impressive selection of veteran and of-the-moment indie, rock and electronic talent. The outskirts-of-town Valdebebas site, covered inch by inch in surprisingly lush false turf, was spotless, and the stages put together at the highest standard with crystal-clear enormous screens and superb sound quality, ensuring even those lingering at the back of any show could get involved. Dual main stages provided seamless changeover from act to act and an electric atmosphere amongst the eclectic, music-loving clientele crackled in the Madrilenian heat.
Clear highlights on day one were Tame Impala, led by Perth-born multi-instrumentalist Kevin Parker, who made a return to the stage after a year-long break: "I'm sorry, it won't f***ing happen again – I'm glad it's happened in Madrid though because you guys know how to kick it!" The mesmerising visuals amplified the performance of their psychedelic rock tracks from Lonerism (2012) and Currents (2016) as well as first ever single "Sundown Sundrome".
Leicester-hailing indie-pop rockers Kasabian set the crowd alight with a powerful performance of classic songs "Underdog", "Empire", "L.S.F. (Lost Souls Forever)" and "Club Foot" from their eponymous 2004 debut album, alongside newer numbers such as "You're In Love With a Psycho" from 2017's For Crying Out Loud, ending on the blazing "Fire".
Synthpop duo MGMT were psych-magic, courting their usual eccentricity in favourites "Electric Feel", "Time to Pretend" and "Kids" plus new songs released just this year after a five-year hiatus, including title track "Little Dark Age" and "When You Die".
But it was Seattle grunge rockers Pearl Jam that clearly stole the hearts of the Spanish-heavy 80,000-strong crowd who covered every visible blade of fake grass, with Eddie Vedder reading out between-song chat in Spanish, calling out harassment of women with the help of Javier Bardem and Luís Tosar and delivering heart-wrenching advice to seize the moment.
They treated fans to "Rearviewmirror" (1993), "State of Love and Trust" (1992), 1998's "Given to Fly" highlights of 1991 album Ten: "Jeremy", "Black" and "Alive" and closed out with crowd-pleasing Neil Young cover "Rockin' in the Free World".
Friday was no less high octane. Drenched in moody blue lighting, the ever-idiosyncratic Jack White displayed his renowned guitar skills playing a selection of his solo material, including second album title track "Lazaretto" plus "Over and Over and Over" from his genre-bending third album Boarding House Reach, released this year. There were also renditions of White Stripes's classics, from "Yotel Yorba" (2001) to "Seven Nation Army". He even pulled out "I Cut Like A Buffalo" from The Dead Weather and the brilliant "Steady As She Goes" from his project The Raconteurs.
Arctic Monkeys sexed it up in a mammoth two-hour set, with Sheffield's finest, Alex Turner, in full swagger mode: trussed up in something of an off-set Seventies porn star getup and playing a solid selection from 2018's critically divisive Tranquility Base Hotel & Casino.
The smoke-filled back room jazz bar vibes perhaps caused a bit of a lull for any other than the hardcore fans, loyally belting every song's last word. But their much-loved high energy vibes were there in 2007 favourite "Brainstorm", and later kicked back in with "Why'd You Only Call Me When You're High?" plus sound-of-an-era track "I Bet You Look Good On The Dancefloor".
Franz Ferdinand really knocked it out the park on the Friday, with frontman Alex Kapranos delivering a lesson in live performance as he continually pumped up the crowd and vocalised the frustrations of many, ultimately coercing security in allowing normal ticket holders to flood the Golden Circle, whose criminally empty space was disrespectfully separating the band from their most enthusiastic fans (reiterated on Twitter that night – "I felt like the front row was two miles back").
It was an onslaught of singalong classics – "No You Girls", "Ulysses", "Take Me Out" – which suddenly sounded fresh as ever, and recent "Always Ascending" proved they haven't lost their skill for crafting anthemic indie-rock tracks. Closing song "This Fire" felt more than apt with a pretty much out of control rip-roaring crowd full on moshing along to the lyric: "This fire is out of control/I'm gonna to burn this city, burn this city."
Taking the late night slot were Italian dance music project The Bloody Beetroots. Celebrating their 10th anniversary, they were bloody marvellous – attired in half-face-covering masks and jackets writ with "RESIST" they brought a frenzied mashup of electro-house and drum and bass in a punk-rock style that had you all riled up, shoes and inhibitions discarded, well past the 4am mark.
Saturday's Queens of the Stone Age gig was an epic showcase of their 20-year-spanning stoner rock, and echoing Alex Kapranos's sentiments of the day before, the macho Josh Homme actually had people scaling the the barriers into the VIP block during a raucous set of their heavy rock which included the "Feet Don't Fail Me" and "The Way You Used to Do" from last year's Villains, plus "Little Sister" from darker album Lullabies to Paralyze.
Thankfully the band's performance was marginally more explosive than the man's ego, which promised: "We won't leave till you're f***ed up, high, dancing, making out with someone and having the time of your life – otherwise we're just a bunch of domesticated animals."
The inimitable Essex boys Depeche Mode were on epic form, proving their 37 years on stage have taken none of the potency out of their rock-meets-electro. Dave Gahan, sporting a black and red waistcoat over his tattooed skin, thick black eyeliner and black nail polish, strut across the stage, microphone stand in hand, bringing his delightful camped-up weirdness to renditions of their synth-heavy tracks ranging from "Everything Counts" to last year's "Going Backwards".
Martin Gore, in all white and glitter, performed a heart-felt "Somebody". Black and white visuals were interrupted with a beautifully shot video of a transgender musician getting ready to go out for "Walking In My Shoes"; "In Your Room" came with a stunningly choreographed film of contemporary dancers. "Personal Jesus" blew minds, everyone in unison on those lines: "Reach out and touch faith."
Closing tracks "Enjoy the Silence" and "I Just Can't Get Enough" - "from before most of you were even born," Gahan quips – were enough to remind us of "fast fashions" pure music genius.
The almost-ludicrous back to back blocks of bands-you-can't-miss right from 6pm till 4.30am was not only a test for the stamina and but also made for some painful decisions – I will be forever mournful I didn't sit out a bit of Arctic Monkeys to watch of-the-moment Mercury Prize-winning Young Fathers. Justice got skipped for Kasabian. Underworld I simply couldn't hold out for, as they closed out main stage at 3.15am Saturday.
There was also little time for that usual joy of festival wandering, cider in hand, through the smaller stages, inadvertently stumbling across a new favourite artist. We managed to catch some of the Spanish talent such as Nuria Graham, with her understated but powerful vocals, and fun-loving Alberto & Garcia.
London's Goat Girl smashed it with their grungy folk while American folk-blues Hurray for the Riff Raff led by Alynda Segarra and Frankie Cosmos (aka Greta Kline – Kevin Kline's daughter) had just the right summery vibes on the Radio Station Stage. The Icelandic blues-rock Kaleo were a gravelly vocal dream driven up by JJ Julius Son singing the likes of 'Way Down We Go' to a setting sun on Koko.
While I was grateful for a vitamin D hit, the searing sun meant opening acts played only to a sparse audience of tenacious fans, collecting in weird-shaped herds under the scarce shade provided by the stages and yellow dumpsters.
This meant Fleet Foxes, while by nature a mellow vibe, seemed to meet an rather low key reception. North Londoners Wolf Alice were grossly shortchanged by a early Saturday slot for their folky-grunge. Slaves, who stir up a sweaty mess even in the UK's cool climes, made a literal swamp. Other weird scheduling decisions included pop Dua Lipa on the final night who, though brilliant at what she does, seemed to jarr performing "Blow Your Mind" and electro-pop Calvin Harris hit "One Kiss" in her glitter-adorned strappy bikini top and choreographed backing dancers, against the predominantly rocky lineup.
No review would be fully balanced without making mention the severely inadequate planning and insufficient infrastructure able to cope with the double in numbers for this year, causing a total implosion on the first day and unforgivable long queues to get in, eat and drink... nevermind get at the music.
Isle of Wight Festival

Show all 16
Those who opted to watch Massive Attack (we were busy having the time of our lives over at Franz) were left helplessly waiting in front of an empty but gig-prepped stage a full 90 minutes before being told the trip-hop legends had decided not to play due to sound bleed from the indie band's performance. The Twitter-expressed reaction from many was venomously scathing.
That said, as the days wore on, the machine that was Mad Cool did begin to whir as organisers reacted and solved many issues that had dogged the first day. I have no doubts they'll have learned some lessons hard but well for next year: a festival should be so much more than the sum of its lineup. Ticket sales and VIP upgrade-profit should never come in the way of creating a fully-rounded and lovingly crafted experience for artists and music fans alike.
After seeing mind-blowing performances from many of my all-time favourite acts, I'm inclined to believe Mad Cool will prevail and take its rightful place as one of Europe's foremost festivals in one of its most vibrant cities. A bit less mad, a bit more cool.
Join our new commenting forum
Join thought-provoking conversations, follow other Independent readers and see their replies