Mara Carlyle with Jon Snow, Purcell Room, London
London Jazz Festival
Chris Mugan
Monday 12 November 2012 11:55 Comments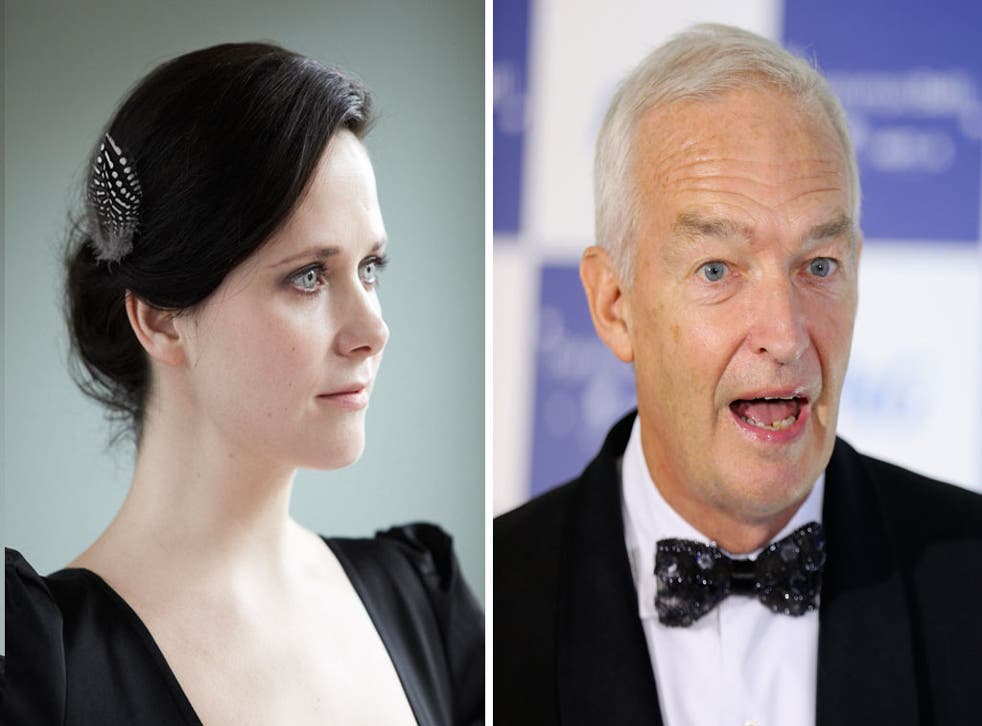 He may have impeccable taste, but Jon Snow's decision to take the stage with the singularly talented Mara Carlyle ultimately proves more foolish than brave.
Having met her working at a homeless shelter he supports, Snow has enthusiastically boosted her stop-start career, though never envisaged this engagement. The cycling newsreader and the vocalist with eclectic taste are certainly the unlikeliest pair to open London Jazz Festival, the annual fortnight-long celebration of that underdog genre.
Not least because Carlyle is a somewhat leftfield choice herself, known for giving contemporary twists to an array of traditional vocal forms, anything from doo-wop to Elizabethan madrigals. Signed to EMI in 2007, her ensuing album was shelved until last year when she wrestled back the rights and self-released the beguiling Floreat. More recently, she was taken under the wing of Simon Fuller's XIX Management (joining David Beckham and Annie Lennox), though that has yet to increase her fame.
Despite an unspecified illness limiting her range, Carlyle proves an inspired selection. While much of her material may be unfamiliar to jazz fans, she does bring a precise modulation that evokes those lauded vocalists Dinah Washington and Billie Holliday. Indeed, among her successes tonight is a warm take on Ella Fitzgerald's version of Duke Ellington composition "I Got It Bad (And That Ain't Good)", all reverential, if smoky, sophistication, until she raises the intensity near its close.
A former Winchester Cathedral choirboy, the towering Snow proves he can hold a tune during his two-number cameo, though is overly tentative on the duo's rendition of Gillian Welch's "Dear Someone", missing the original's old-time yearning quality. Carlyle, meanwhile, playfully flutters around his consistent baritone, regularly threatening to burst into giggles, having corpsed earlier. It is a turn best left for charity fundraisers. Snow is less awkward on Carlyle's own "Sweet Spirit", his unadorned delivery a better fit with words purloined, she admits, from a 16 century prayer.
Throughout, a trio of double bass, piano and accordion provide minimal backing while lacking their own spark, until Carlyle tries some chanson with the accordionist at the close, but then she is always going to dominate the evening, with two contrasting highlights. She draws out the bruised nobility of a composition aptly by Henry Purcell, "Dido's Lament", before the more visceral, both lyrically and emotionally, "Baby Bloodheart", where she manages to make a ukulele sound plangent, having already accompanied herself winningly on musical saw.
Register for free to continue reading
Registration is a free and easy way to support our truly independent journalism
By registering, you will also enjoy limited access to Premium articles, exclusive newsletters, commenting, and virtual events with our leading journalists
Already have an account? sign in
Join our new commenting forum
Join thought-provoking conversations, follow other Independent readers and see their replies