Metallica, Ziggo Dome, gig review: Luminaries of metal still manage to inspire with a magnificent spectacle
The most influential band in heavy metal history commence the European leg of their WorldWired tour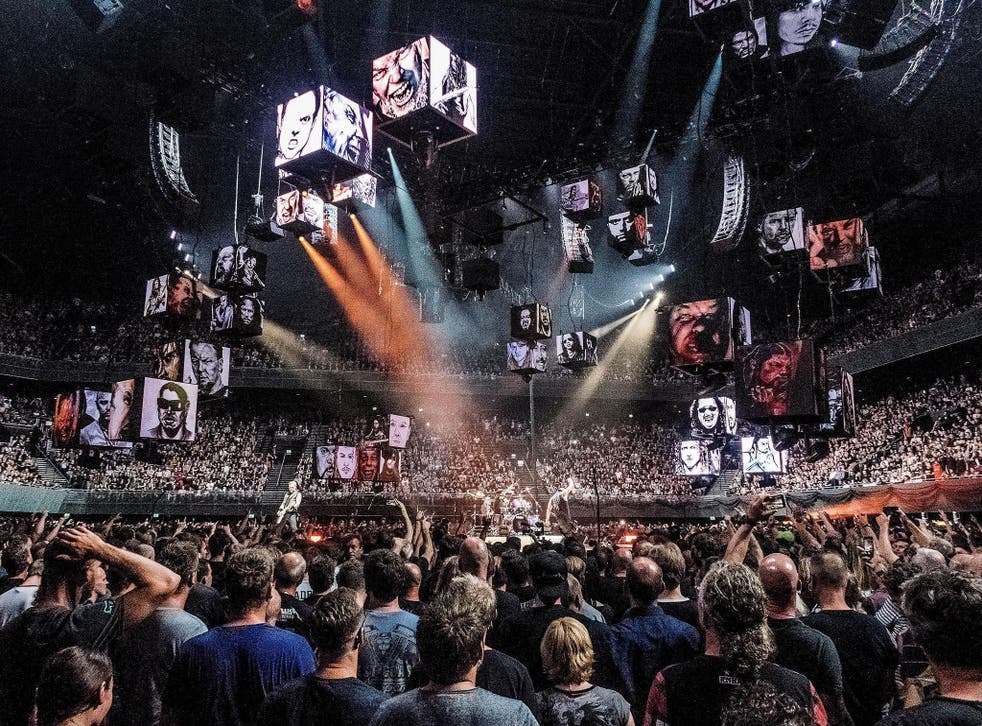 It's been over 35 years since a quartet of young, volatile, new wave of British heavy metal fanatics (NWOBHM for short) played their first ever show supporting denim and leather traditionalists Saxon at the Whiskey A Go Go in Hollywood. The four youthful, perma-drunk reprobates were paid a mere $16 for that first show and it's fair to say that the pay cheque is not the only thing to have changed considerably in the intervening years. From modest beginnings, Metallica went on to conquer the world, achieving bona-fide status as the quintessential household heavy metal band (at time of writing, their 1991 self-titled fifth album, affectionately known as The Black Album, has sold almost 34 million copies worldwide, with sales achieving a healthy plateau of approximately 10,000 a week).
Despite the 21st century being home to the majority of the band's missteps (the Napster debacle, the Lou Reed collaboration, the 3D concert film) the power of Metallica as a live entity has remained consistently strong over time. Earlier this year, the band revealed their intention to slow down as they near the twilight of their career and play fewer shows, so any opportunity to see them live, particularly in an arena, should be grasped fervently with both hands. Tonight is the third night of the first leg of their European tour in support of last year's long-awaited tenth studio album, Hardwired... To Self-Destruct.
On this run, Norwegian black n' rollers Kvelertak have the unenviable task of opening up for the elder statesmen of thrash. The initial surprise that came from the sextet's revelatory mix of black metal, punk and classic rock is beginning to fade with familiarity, although when they pull out the likes of "Mjod", "Blodtorst" and "Manelyst", it's a formula that still proves to be intoxicating. They are inventive and experimental too; "1985", the lead single from last year's Nattesferd album, sounds like fellow nordmenn Satyricon covering Ritchie Blackmore's Rainbow. Whether the world needs such an amalgam is up for debate, but it's certainly an unusual and innovative blend.
Unfortunately a sound mix that's muddier than the grounds of your average British music festival waters down the adroit concoction of 1970s rock pomp and metallic blast beats that make the band stand out amongst their contemporaries and as a result, their idiosyncrasies are lost on the majority of this audience. It really is a shame; Kvelertak, more than most, deserve to be given this platform but when hindered with sound as poor as this, nobody new to the band would be able to distinguish them from the reams of identikit bands that pollute daytime rock radio on a daily basis.
To the initiated, it's clear Kvelertak deserve more than this but credit where it's due, they perform with incredible relish and vitality, barely pausing for breath between songs; if sound gremlins are bothering the band, they show no sign of it whatsoever. The fact that a band as uncompromising and atypical as Kvelertak are able to support a behemoth like Metallica is something to celebrate. If you want to see them at full power however, go to one of the many headline dates that they have sandwiched in between these shows.
There's nothing quite as invigorating as hearing the roar that erupts when Ennio Morricone's The Ecstasy of Gold ushers in the beginning of a Metallica show. The composition, part of the Italian composer's score for epic spaghetti western The Good, the Bad and the Ugly, has been used as the band's intro music since 1983. As the lights dim and hairs stand on end, the four horseman file onto the central stage and thunder straight into the title track from last year's Hardwired... To Self-Destruct, a no-nonsense, three-minute, white-knuckle-tight barnstormer that sounds much more ferocious live than its studio counterpart.
"Atlas, Rise!" follows, with its dual guitar motifs that give the track a distinctly Iron Maiden-esque flavour, but it's third song "Seek & Destroy", an old-school riff-spectacular traditionally held back until the end of Metallica's sets, that makes the entire audience collectively crap their pants with unmitigated joy. Heads continue to bang as the band pile drive into the lumbering, mid-paced and seldom-played "Leper Messiah", the first of three cuts this evening from their undisputed classic 1986 album Master of Puppets. Despite the fact that the record is 31-years old and roughly two-thirds the age of heavy metal itself, the songs from it sound as if they could have been written yesterday.
There are several things that impress about Metallica's stage show on this tour. First, and most obvious, is the central staging, whereby the band performs on a raised stage situated on the arena floor with the audience arranged in a 360-degree configuration around them. Arena rock behemoths such as U2, Prince and Muse have all used the in-the-round approach in recent years, but fans of those acts may be surprised to learn that Metallica have been using such a setup since the early 1990s. (Within live music, Def Leppard are generally considered the first band to use an in the round setup for a full tour). Such staging affords everybody in this vast 17,000 capacity arena a decent view and one can't help thinking that such a setup should one day become the norm as opposed to the exception.
Pyromaniacs may be despondent at the lack of fire and explosions compared to Metallica concerts of the past but they still make appearances during key moments ("Fuel", "Enter Sandman") and it doesn't affect the quality of the show in a drastically negative way. In fact, it's the subtler moments that prove most successful, including a truly dazzling and hypnotising display that utilises drones during "Moth into Flame". The group drumming that's been shoehorned into "Now That We're Dead" looks more like one of Phil Towle's unorthodox approaches to psychotherapy than the percussive Stomp-style spectacular one suspects the band are attempting to emulate, but at least it gives the metal legends some room to have fun with something previously unseen at a Metallica show.
Enjoy unlimited access to 70 million ad-free songs and podcasts with Amazon Music Sign up now for a 30-day free trial
Sign up
Overall, gripes are minimal, but it would be remiss not to air them; describing the material from last year's Hardwired... To Self-Destruct as poor would be a huge disservice but you would have to be a very generous Metallica fan to sincerely hope that the likes of "Confusion" or "Halo on Fire" will replace set staples such as "Creeping Death" or "Battery" in the long term. That said, there is a balance to be struck; for a band who have railed consistently against becoming a nostalgia act, their set list has seen few major changes in the past 15 years or so. Certain fans will scoff, but it would be nice to hear more cuts from the oft-maligned "hard rock, cropped hair" era. Songs such as "Bleeding Me", "Hero of the Day", "The Unforgiven II", "No Leaf Clover" and "The Outlaw Torn" barely get a look in, despite being vital parts of the Metallica story.
Despite those niggles, Metallica in 2017 are still one of the most thrilling heavy metal spectacles in the world. That the band still manages to perform with extraordinary passion and zeal whilst all approaching their mid-fifties is truly inspiring. Internet trolls who bemoan the fact that they don't perform with the ferocity or accuracy of their former selves are missing the point; you can't argue with a band who are able to toss out a holy triage of metal as damn near perfect as "One", "Master of Puppets" and "Damage Inc" in quick succession (as they do tonight over 21 glorious minutes). Realistically, Metallica will remain a touring unit for the next 10, maybe 15 years maximum. Based on tonight's performance, people should be grasping every available opportunity to see them before they are no more.
Metallica continue their run throughout Europe and begin a five-date UK tour at London's O2 Arena on 22 October
Register for free to continue reading
Registration is a free and easy way to support our truly independent journalism
By registering, you will also enjoy limited access to Premium articles, exclusive newsletters, commenting, and virtual events with our leading journalists
Already have an account? sign in
Register for free to continue reading
Registration is a free and easy way to support our truly independent journalism
By registering, you will also enjoy limited access to Premium articles, exclusive newsletters, commenting, and virtual events with our leading journalists
Already have an account? sign in
Join our new commenting forum
Join thought-provoking conversations, follow other Independent readers and see their replies