Michael Kiwanuka review: Defiant self-titled third album smudges the personal and political
The singer's new record is an introspective mix of psychey soul, blues, rock and funk, which skips and strolls and swaggers through its 13 tracks
Alexandra Pollard
Wednesday 30 October 2019 13:33 Comments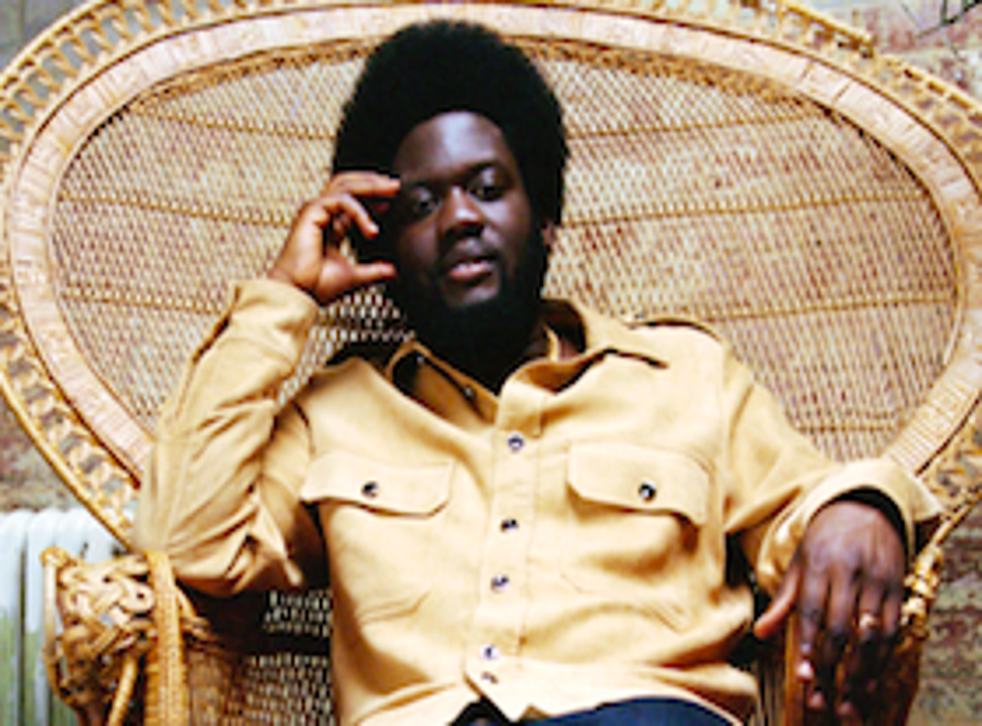 Since his career began, Michael Kiwanuka has been asking himself the same question: "Would I sell more records if my name had an easier ring to it?"
It's understandable that he should feel compelled to wonder. Despite accolades both numerous and prestigious, from a Mercury nod to a Brit nomination, and a boost from one of the most talked-about shows of 2017 ("Cold Little Heart" is the theme song for HBO's Big Little Lies), Kiwanuka has never quite managed to break into the mainstream. "I think it's slowly changing, but if you think about the artists that break through…" he said in a recent interview with The Independent, leaving the palpable racial implications unspoken.
So it is with a mix of defiance and pride that the singer has named his third album after himself – defiance against old school teachers who couldn't pronounce his name and a cultural landscape that recognises his white peers more readily than him, and pride for his Ugandan heritage and renewed sense of self.
"I won't change my name, no matter what they call me," he sings on "Hero", which begins with scratchily recorded vocals and the gentle strokes of an acoustic guitar, before the whole thing is plugged in and bursts forth into a Seventies psych-rock sermon. Later, that same song tackles police brutality against black people – "Please don't shoot me down". This gear change is typical of an album that smudges the personal and the political, with Kiwanuka's honeyed voice just as capable of expressing joy as dissent. The compelling, disconcerting "Another Human Being" features a gunshot and a vocal sample from a civil rights protest.
The 40 best albums to listen to before you die

Show all 40
The record is an introspective mix of psychey soul, blues, rock and funk, which skips and strolls and swaggers through its 13 tracks – but it is not simply an exercise in nostalgia. Its influences span decades; Gil Scott-Heron, Fela Kuti, Kendrick Lamar and Bobby Womack are all recalled. And it was produced by Danger Mouse and British hip-hop producer Inflo across three cities, both of whom kept it riding a contemporary wave.
That proud African heritage is apparent in the Afrobeat drums that proliferate throughout, and in the genial Sixties gospel pop of "Living In Denial". "Final Days" experiments with a different musical palette – with percussion that sounds like someone experimenting with kitchen utensils, and a guitar line so fuzzy it becomes almost a different instrument entirely.
"Piano Joint" channels the deep-voiced, unschooled emotion of John Martyn in his later, jazzier days, while there is a big band boldness to "You Ain't the Problem".
"I'm not going to have an alter ego, or becomes Sasha Fierce or Ziggy Stardust," says Kiwanuka. "I can just be Michael Kiwanuka." With an album this good, it's hard to argue with that.
Register for free to continue reading
Registration is a free and easy way to support our truly independent journalism
By registering, you will also enjoy limited access to Premium articles, exclusive newsletters, commenting, and virtual events with our leading journalists
Already have an account? sign in
Join our new commenting forum
Join thought-provoking conversations, follow other Independent readers and see their replies