The Mighty Hoopla review, London: A solid day of shameless, unabashed, cross-generational pop music
Love, pop and glitter-coated acceptance were the order of the day at this London festival, with a soundtrack from TLC, Belinda Carlisle and Mel C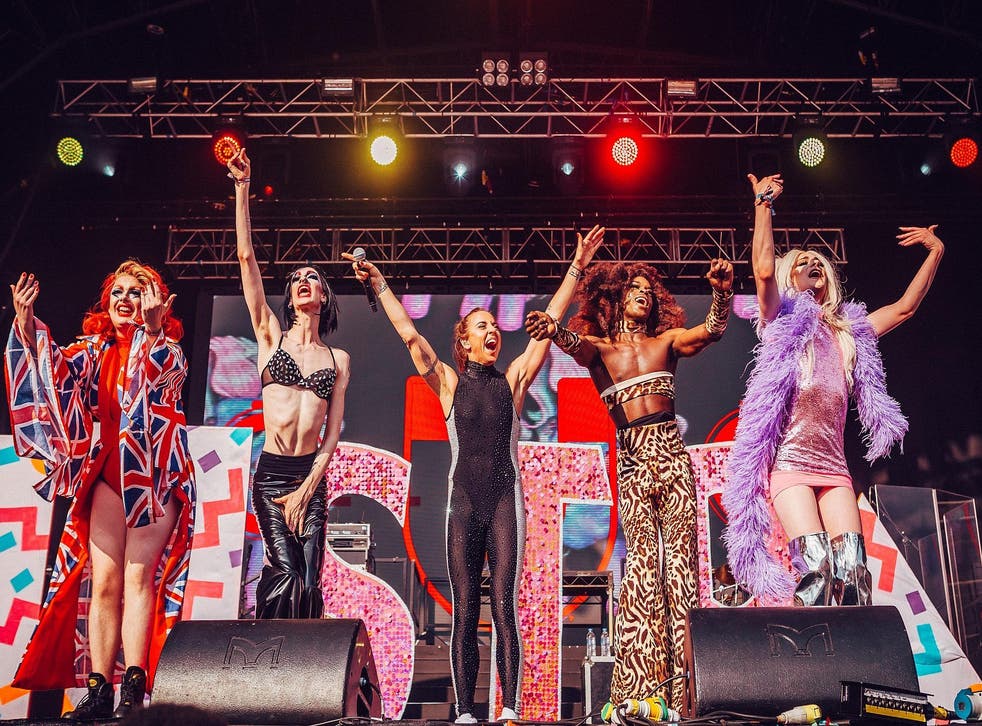 The problem with a lot of music festivals in the UK these days is that they lack any real personality. Outside of the big hitters – Glastonbury, Reading and Leeds, Latitude et al – there's not much to differentiate between one generic indie band playing in a field with a naff sound system and the next generic indie band playing in a field with a naff sound system.
But that's what makes The Mighty Hoopla – now in its third year – such a breath of fresh air. It rewriters the rules of what a music festival should be, using glitter and glamour to turn a tired old formula on its head while celebrating modern LGBT+ culture in the simplest way possible – with drinking, singing and dancing.
Sure, there were a few missteps along with way when it came to the actual music. For one, TLC sadly proved that they're not a festival headliner. They're stars, for sure, and forever woven into the tapestry of R&B, but the London crowd grew restless and weary through the first hour or so of their set – clearly waiting for the hits. It took the one-two-three punch of "Creep", "No Scrubs" and "Waterfalls" to properly wake up those who had endured to the end.
Lily Allen, who performed earlier that afternoon, turned out a performance much more becoming of a headliner, with "The Fame" sounding as contemporary and socially-relevant as it did when it was first released nine – nine! – years ago, while "Smile", "LDN", "Not Fair" and "F*** You" provided joyous and feel-good sing-a-long moments. It was a tightly packed set which could have been longer, pepper with a couple of tracks from Lily's acclaimed new album No Shame too, of course – but a Mighty Hoopla crowd is the kind of crowd more receptive to the hits than new album deep cuts.
B*Witched massively misread their largely LGBT+ audience by including a cover of Ed Sheeran's anthem to heteronormativity "Galway Girl", while Mel C – despite only having approximately 18 minutes of stage time – turned out the undeniable highlight of the day performing a rousing rendition of Spice Girls hit "Say You'll Be There", flanked by drag queens playing the roles of Ginger, Scary, Baby and Posh. Worth the price of admission alone.
Throw in everyone from MNEK to Vengaboys, Louise to Louisa, and a stand-out showing from one of pop's finest Belinda Carlisle – who closed her set in the Guilty Pleasures tent with 'Heaven Is a Place on Earth' and received a reaction akin to Beyoncé at Coachella – and you have a pretty solid day of shameless, unabashed cross-generational pop music.
But what makes The Mighty Hoopla so unique – and what makes it stand out in the sea of monotony that can be the British festival circuit – is that the music is pretty much superfluous to everyone having a good time.
For just one day out of 365, Brockwell Park in Brixton is transformed into a safe haven; a space where people can feel free to be who they want to be, dress the way they want to dress, kiss who they want to kiss and celebrate life, sexuality, freedom and everything that comes with it – without pretence, without judgement and without shame.
And when that's what's on offer, a line-up doesn't really matter. Truly a triumphant day of love, pop and glitter-coated acceptance.
Register for free to continue reading
Registration is a free and easy way to support our truly independent journalism
By registering, you will also enjoy limited access to Premium articles, exclusive newsletters, commenting, and virtual events with our leading journalists
Already have an account? sign in
Register for free to continue reading
Registration is a free and easy way to support our truly independent journalism
By registering, you will also enjoy limited access to Premium articles, exclusive newsletters, commenting, and virtual events with our leading journalists
Already have an account? sign in
Join our new commenting forum
Join thought-provoking conversations, follow other Independent readers and see their replies