Muse, Glastonbury 2016, review: Engineered for the Pyramid stage
A by-the-books performance, but it's one that is still stunning
Jack Shepherd
Saturday 25 June 2016 08:47 Comments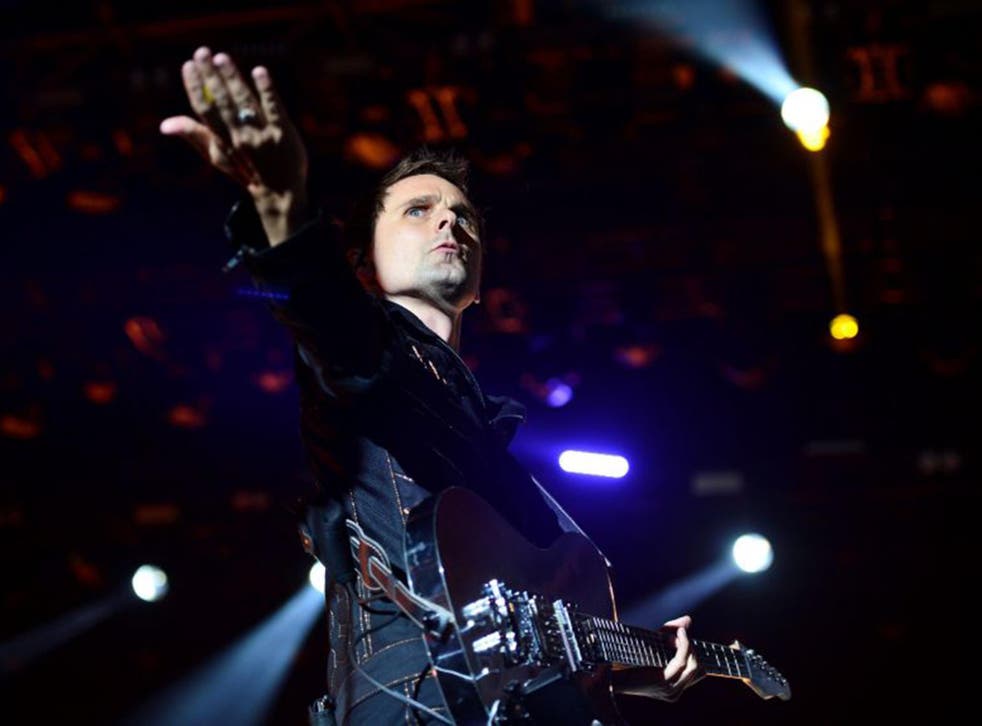 It's the day of the EU-referendum result and the mood at Glastonbury is a little strange, the spectre of Brexit looming over the Pyramid Stage. If there was something everyone could do with, it's escapism, a spectacle captivating enough to put to rest those thoughts of Boris Johnson becoming PM - something the majority of Glasonbury goers are seemingly against.
Thankfully, the festival's founders have booked a band ready to stun, raise spirits and deafen the muddy campers. Of course, I'm talking about three-time Glastonbury headliners, Muse.
A quick sermon by a pre-recorded voice and the lights flash on, the band already in place, strapped into black leathers, power chords at the ready. Straight off the bat, their intentions are made clear; to hit the crowd with heavy guitars and a blinding light show - everything they do best.
Two songs in, frontman Matt Bellamy launches his guitar into an amplifier, another one brought out just in time to launch into "Plug In Baby", the first song that sets the crowd alight (quite literally). Flares are lit, fireworks set off, and mass singalong engaged.
Unfortunately, the same heights of mass elation aren't reached again for another few songs, the trio's pure showmanship pulling the set along full throttle, guitars turned up to 11.
When the quieter moments do come it's a moment of relief. However, this being Muse, when they do come, they don't last long, with Bellamy interrupting things with his overdriven guitar. Another highlight comes in the form of "Supermassive Black Hole" back to back with "Starlight," a mid-set moment that unites Glastonbury's crowd once more.
It's these moments that remind you why Muse have been invited back so many times. It's as if they were engineered to headline the Pyramid, each member looking unbelievably comfortable on stage. Even when the less engaging "Madness" follows a jaw dropping instrumental from drummer Dominic Howard and Chris Wolstenholme, a mass wave-along keeps momentum going.
Glastonbury 2016 - in pictures

Show all 10
Aware that The 2nd Law single may not be to everyone's taste, it's back to reliable set stalwarts, this time in the form of "Hysteria," spurring on another wave of flares, one of which suspiciously lights up an EU flag (they did just play a segment of a JFK speech about conspiracies, after all). The band quickly blast out another hit, "Time is Running Out", getting the audience fully on board the Muse spaceship once more.
A broken guitar later, it's time for the band's slightly self-indulgent western-rock opera; spurred on by fireworks, it's engaging enough, feeling like a tribute to Queen's "Bohemian Rhapsody" only without the masses knowing every lyric and an extended choral send off.
"Uprising" puts things back on track, in the process reminding everyone that this politically minded band has yet to address the elephant in the room. But do they need to? As Wolstenholme plays a haunting harmonica to introduce "Knights of Cydonia", the Bowie tribute sat atop the Pyramid stage shines on screen. With these subtle reminders, perhaps Muse, don't need to speak directly for the crowd to know exactly how they feel.
And with that, Glastonbury's Pyramid Stage goes quiet for the night. For those wanting to drink the night away, Shangrila awaits, while for others, a good night's sleep is in order. Were Muse the right band for tonight? It may have been a by-the-books performance, but it's one that is still stunning.
Register for free to continue reading
Registration is a free and easy way to support our truly independent journalism
By registering, you will also enjoy limited access to Premium articles, exclusive newsletters, commenting, and virtual events with our leading journalists
Already have an account? sign in
Join our new commenting forum
Join thought-provoking conversations, follow other Independent readers and see their replies