Muse, O2 Arena London, gig review: A jaw-dropping extravaganza
More commanding than they have ever been in an evening that sets new standards for the possibilities of arena rock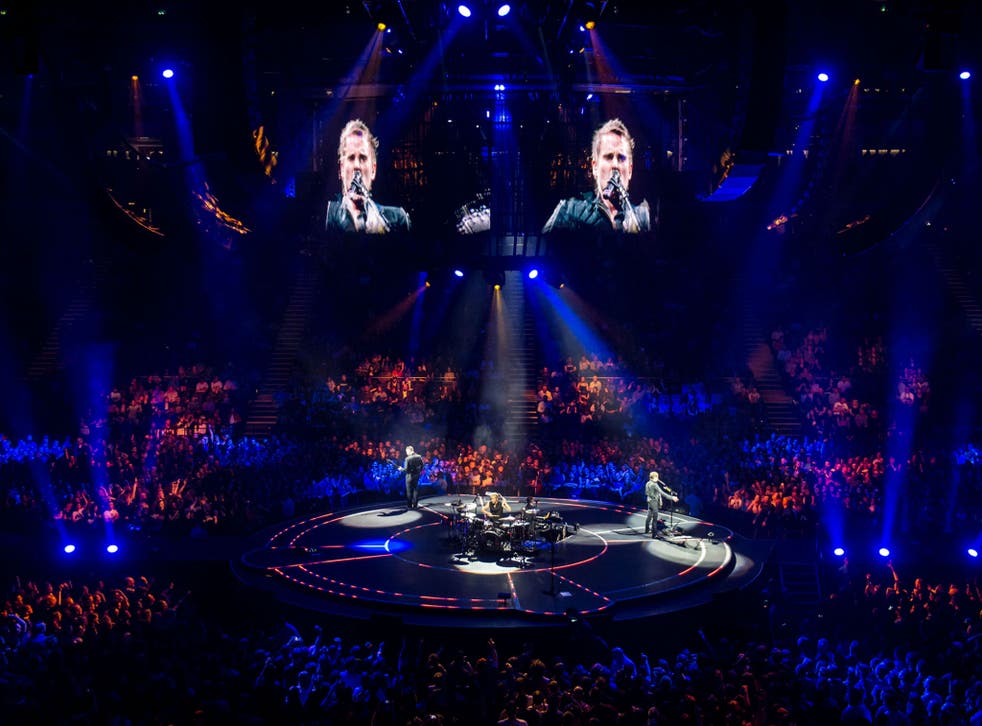 If you can make one complaint about this jaw-dropping extravaganza, it is that the drones Muse deploy are so graceful. Inspired by a concept album that warns against unmanned weaponry's human cost, these transparent, light-emitting orbs float down from the ceiling to dance around the group's 360 degree stage.
Eleven computer-controlled spheres (one stubbornly refuses to take flight) are just one of several coups de theatre in an evening that sets new standards for the possibilities of arena rock. Moreover, the first of five nights here also suggests the trio formed in Devon nearly two decades ago return re-energised.
The futurist chug of 'Psycho' and Matt Bellamy's shredded guitar on 'Reapers', both from last year's seventh album Drones, fit easily beside the rocket-fuelled thrust of long-standing crowd-pleaser 'Bliss'. Ahead of this tour, Muse claimed inspiration from Pink Floyd's The Wall and while the frontman's themes of sinister control and dehumanising technology lack the personal touch of Roger Waters' story, that failing is trumped by sheer showmanship.
Bellamy and hulking bassist Chris Wolstenholme navigate with ease a stage that stretches from one end of the venue to the other, even interacting with the projections on mammoth gauze-like sheets – notably when the pair appear to be marionettes controlled by shadowy puppet masters. The irony is not lost on this writer: Muse are more commanding than they have ever been.
Register for free to continue reading
Registration is a free and easy way to support our truly independent journalism
By registering, you will also enjoy limited access to Premium articles, exclusive newsletters, commenting, and virtual events with our leading journalists
Already have an account? sign in
Register for free to continue reading
Registration is a free and easy way to support our truly independent journalism
By registering, you will also enjoy limited access to Premium articles, exclusive newsletters, commenting, and virtual events with our leading journalists
Already have an account? sign in
Join our new commenting forum
Join thought-provoking conversations, follow other Independent readers and see their replies