Nadine Shah at Band on the Wall, Manchester, review: Deliberately unsettling surrealism
Shah's voice has, if anything, pushed its theatricality even further, becoming more exaggerated as she satires the absurdity of certain characters or situations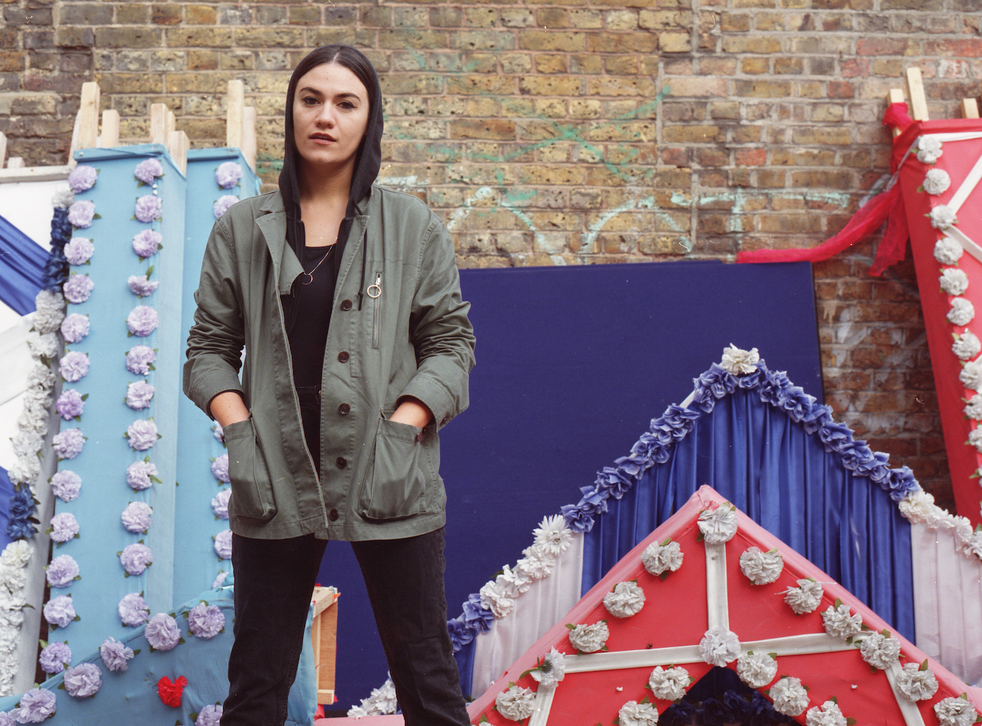 In case anyone wasn't clear about the message of Nadine Shah's latest album, Holiday Destination, she gave an overt and timely reminder in Manchester last night.
"This song is for anyone who doesn't like immigration because they're f****** idiots," Shah shouted before 'Out of the Way', a track detailing the fearful rise of Nationalism, deafens the venue. Met with universal applause, Shah added: "I know I'm preaching to the converted in here…but it's so important for me to keep telling everybody."
Born in South Shields, Shah is a British Muslim, a second-generation immigrant with Norwegian and Pakistani heritage. As well as experiencing her own othering in the current political landscape (she was questioned about her heritage on a recent visit to the US), Shah was bewildered by the lack of empathy seen at the global refugee crisis and the division brought about in local communities through the re-emergence of fascist ideology and rhetoric, especially that peddled by right-wing media.
"Yes Men" saw such media get a particular damning from Shah last night, her band merging an imaginative blend of post-punk with Krautrock to convey their disorientation at the state of the world. On many tracks, subtle drone like undertones build into crushing guitar crunches to correlate with Shah's increasing lyrical anger.
Often, Shah's songs built to a moment of disorientating deconstruction where we're forced as listeners to experience unfamiliar alienation, crossing uncanny musical borders in the process as genres clash and jar. It's deliberately unsettling surrealism, forcing us to empathise with those in similar situations around the world, "to play a tiny part in humanising the dehumanised," as Shah put it last night, her theatrical voice all the while conveying the drama of characters experiencing this every day.
"There are millions of people all over the world displaced in situations we could never imagine because we're so f****** lucky," Shah said before final emotive song "Mother Fighter". Dedicated to "a political activist and mother," Raga, a character who Shah discovered via the film A Syrian Love Story, the song sees Shah at her angriest: "these streets they are yours and they're mine," she scorns to those who think otherwise.
Early into the song, Shah jumped from the stage and wandered amongst the crowd, singing directly to, and reaching out to, as many in the room as she could, perhaps modelling the example of empathy she wants mirrored in the world.
Shah's voice has, if anything, pushed its theatricality even further, becoming more exaggerated as she satires the absurdity of certain characters or situations. The percussion of Ben Hillier on drums (her co-writer and producer) and Ben Nicolas on bass drive Shah's urgent message through, as does the frantic saxophone of Pete Wareham and evocative piano playing from Shah herself.
"Jolly Sailor", a song about the corruption of communities by right-wing ideologies, is one of the most brutally emotive of the evening and showcases how far Shah and her band have come in recent years.
As well as the political, Shah still levels in the personal, reaching out to people through the more familiar themes of mental health and failed relationships, making intense, individual contact with her audience as always. Channelling "Let England Shake "era PJ Harvey and Siouxsie and the Banshees, Shah last night showed us how we find compassion and hope in the current wilderness; hers is a pervasive sonic and lyrical narrative.
Join our new commenting forum
Join thought-provoking conversations, follow other Independent readers and see their replies