Nick Cave Alone at Alexandra Palace – review: 'Idiot Prayer' performance is stately and beautiful
If this is the gig of the future, Cave is the man to show us how it's done
Fiona Sturges
Thursday 23 July 2020 10:37 Comments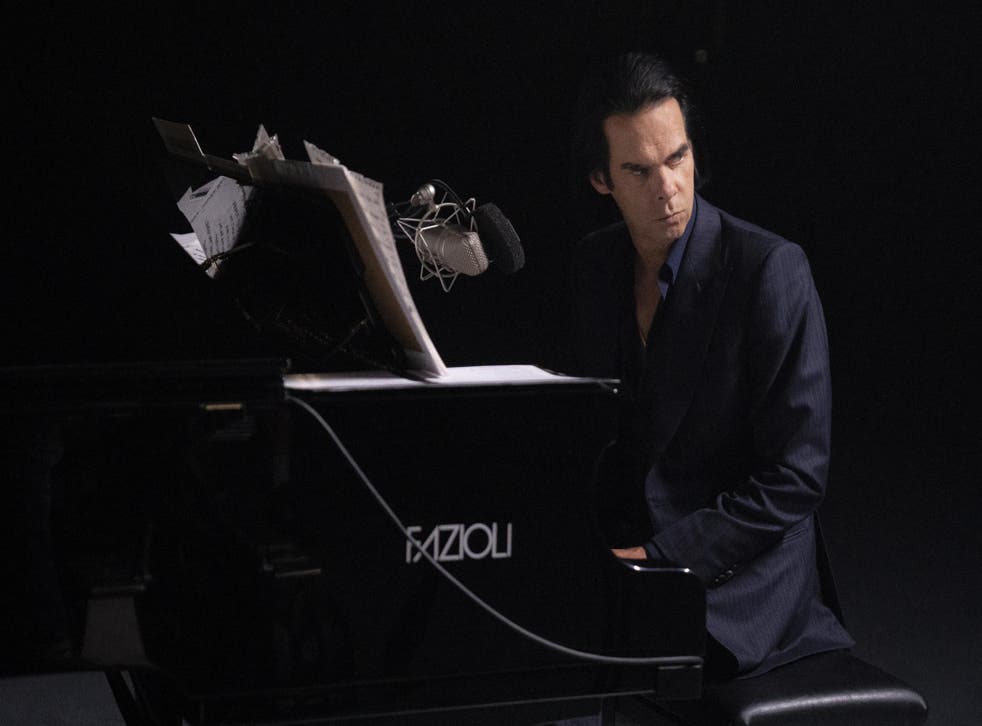 So this is where we are with live music: a man, a piano and a socially distanced film crew in a space that could feasibly house a commercial aircraft. Idiot Prayer: Nick Cave Alone at Alexandra Palace is technically a concert film, shot last month, though it is also a ticketed event that is being broadcast as if it were live. None of this is what we're used to – there is no expectant crowd, no light show and not a Bad Seed in sight. Roaring your approval from a sofa clearly isn't the same as being there. But if this is the gig of the future, Cave is the man to show us how it's done.
Instead of trying to conjure an artificial intimacy, Cave and his cinematographer Robbie Ryan draw deliberate attention to the eerie emptiness of the building in which he is playing. Right at the start, the camera follows Cave – suited, booted, reassuringly funereal – on his long walk through the corridors of Ally Pally while, via a voiceover, he recites the lyrics to "The Spinning Song". Eventually, he reaches the West Hall where a grand piano sits in the centre, rendered small in the surrounding vastness.
We are hardly unaccustomed to seeing Cave without a band. Last year he embarked on a speaking tour, during which his usual reticence was abandoned in a series of open-hearted Q&A sessions along with songs performed alone on piano. This time, there's no conversation and no applause. Most disconcerting is the silence that falls at the close of each song. Initially it feels like we're intruding on a private rehearsal: music and lyric sheets are dropped carelessly on the ground; a cup of tea sits on the floor to Cave's right.
Slowly, though, it starts to feel normal. The set list spans 30 years, from a visceral and incantatory "The Mercy Seat", from 1988's Tender Prey album, right up to songs from last year's Ghosteen, via "Nobody's Baby Now", "Higgs Boson Blues", "Brompton Oratory", "Girl in Amber", "Into My Arms" and "Jubilee Street". There are murder ballads, tender love songs and tortured hymns to a higher power. His voice is rich, occasionally ominous, but more often intimate and warm. There is little sign of the snarling fury that shaped his Birthday Party years.
Let's be clear: this is no substitute for a Nick Cave & the Bad Seeds gig, with its riotous swagger and the faintly ludicrous spectacle of a sixtysomething man spouting fire and brimstone in a shirt split to the navel. By contrast, this is stately and beautiful, a strange and quietly impassioned showcase for a truly remarkable body of work. Cave has called his performance a "prayer into the void", which is apt given where we find ourselves now. For as long as we can't stand and whoop and dance to music in close quarters with strangers, this is the next best thing.
Idiot Prayer: Nick Cave Alone in Alexandra Palace will stream on 23 July – UK & Europe: 8pm BST. Visit nickcave.com for tickets and full information
Register for free to continue reading
Registration is a free and easy way to support our truly independent journalism
By registering, you will also enjoy limited access to Premium articles, exclusive newsletters, commenting, and virtual events with our leading journalists
Already have an account? sign in
Join our new commenting forum
Join thought-provoking conversations, follow other Independent readers and see their replies