Nile Rodgers and Chic review, O2 Arena London: Heartbreak and hedonism in the most crowd-pleasing set imaginable
Admittedly, grey hair trumps glitter, but in the presence of the 66-year-old Rodgers and his precious Hitmaker guitar, age seems irrelevant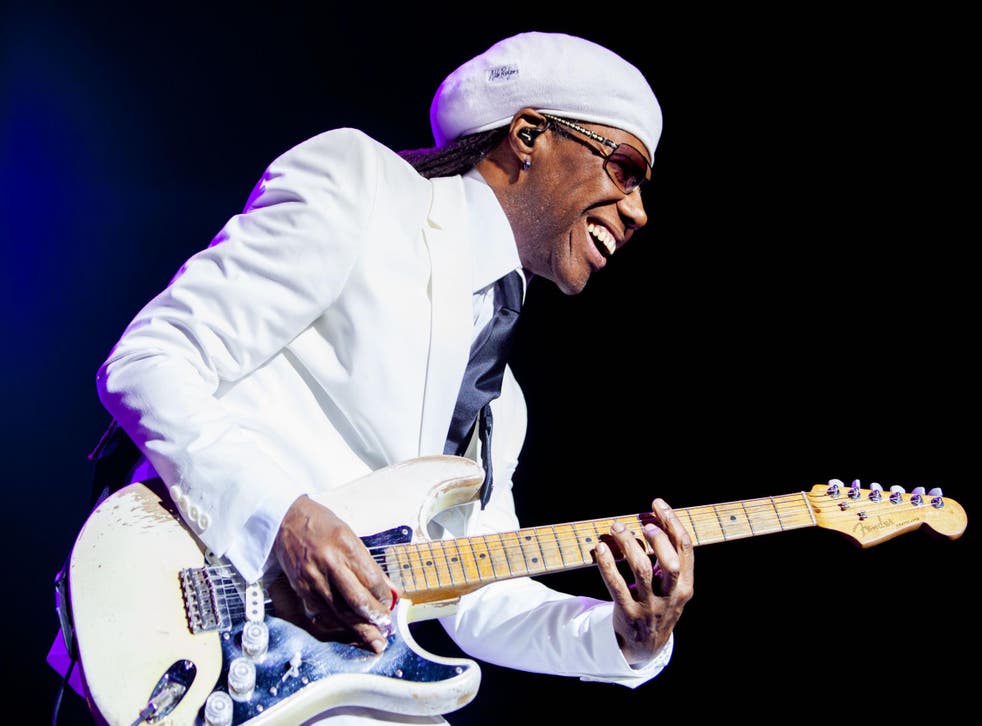 It was in London in the mid-Seventies that struggling R'n'B musician Nile Rodgers saw a group play who would change the course of his life. It was glam-era Roxy Music. Rodgers took one look at their studied sophistication and saw the concept for his next project: cool, stylish… Chic. He rang his musical partner, bassist Bernard Edwards, and said he'd got it. Disco was already taking off in the New York clubs, but The Chic Organization would be unique. Four decades on, in a packed O2 Arena, where the crowd stand up and dance from the start, it's clear that he was right.
Admittedly, grey hair trumps glitter, but in the presence of the 66-year-old Rodgers and his precious Hitmaker guitar, age seems irrelevant. There are all ages here, all getting down, as Rodgers plays the most crowd-pleasing set imaginable – hit after hit after hit, opening with "Everybody Dance" and closing with "Good Times".
Of course, the problem with being too crowd-pleasing when you have a back catalogue as deep as Rodgers' is that it leaves little room for rediscovery. Drawing on tracks that he has written for, or co-written with others, means that a greatest hits set almost chooses itself. Time has revealed the lesser Sister Sledge album track "Pretty Baby", for instance, with its insistent funk twang, to be a stone-cold disco classic, but there's little chance of it getting an airing when Rodgers has to get through "Let's Dance", "Like a Virgin" and "Notorious" (written with some "dudes from Birmingham… Duran Duran!").
In fact, there are so many hits in the set that some are chopped and stacked into a medley that takes in Diana Ross's "I'm Coming Out" and "Upside Down", plus Sister Sledge's "He's the Greatest Dancer" and "We Are Family".
Sometimes this seems antithetical to the "Chic technique": set up a groove, hold it, go to the chorus before the verse, go back to the groove, and hold it in a place where heartbreak and hedonism melt into one. That's why, oddly, it is some of the minor Chic dancefloor fillers that really hit the spot here, such as "My Feet Keep Dancing" and "Chic Cheer", when you could feel Rodgers and his brilliant band climb inside the groove, sit in tight and move it around. The early Chic material more than holds its own against the big pop numbers that sold so many units in the Eighties. Nile's still got the funk, and when you hear the sound of the strings of that famous chop-guitar, you can feel it. Edwards, of course, died in his hotel room after a Chic show in Japan back in 1996. He's irreplaceable, and his partner pays tribute to him more than once in this set.
Albums of the year 2018

Show all 40
It's fascinating to see how Rodgers deals with vocals. The Chic sound relied on a cool, laidback style, Sister Sledge had the warmth and power of Kathy Sledge's voice front and centre, Diana Ross had the sweet highs that turned "Baby Love" into transcendent Sixties pop, Madonna couldn't really sing but had everything else. This catalogue has to be handled with care.
Here, Rodgers is flanked by two singers as in the classic Chic line-up: Folami does impeccable cool, but Kimberly Davies is a big soul belter in the Tina Turner mould, which works on some tracks (especially Kathy Sledge's) but not on all. And when keyboardist Russell Graham takes over the vocals for "Let's Dance", however perfect the sound, he can never be Bowie – although, to be fair, no one can.
Last time I saw Chic, it was almost a decade ago in the much smaller O2 Indigo. This is bigger, more confident, and more euphoric, but I'd still like to see Chic somewhere small, late night in a club, playing none of the hits. Nile Rodgers is one of the great artists of our time, he shouldn't have to please anyone.
Join our new commenting forum
Join thought-provoking conversations, follow other Independent readers and see their replies