Nils Frahm review, Hammersmith Apollo, London: A hypnotic mix of minimalism and full-on rave
To see the German composer live is to experience two shows in one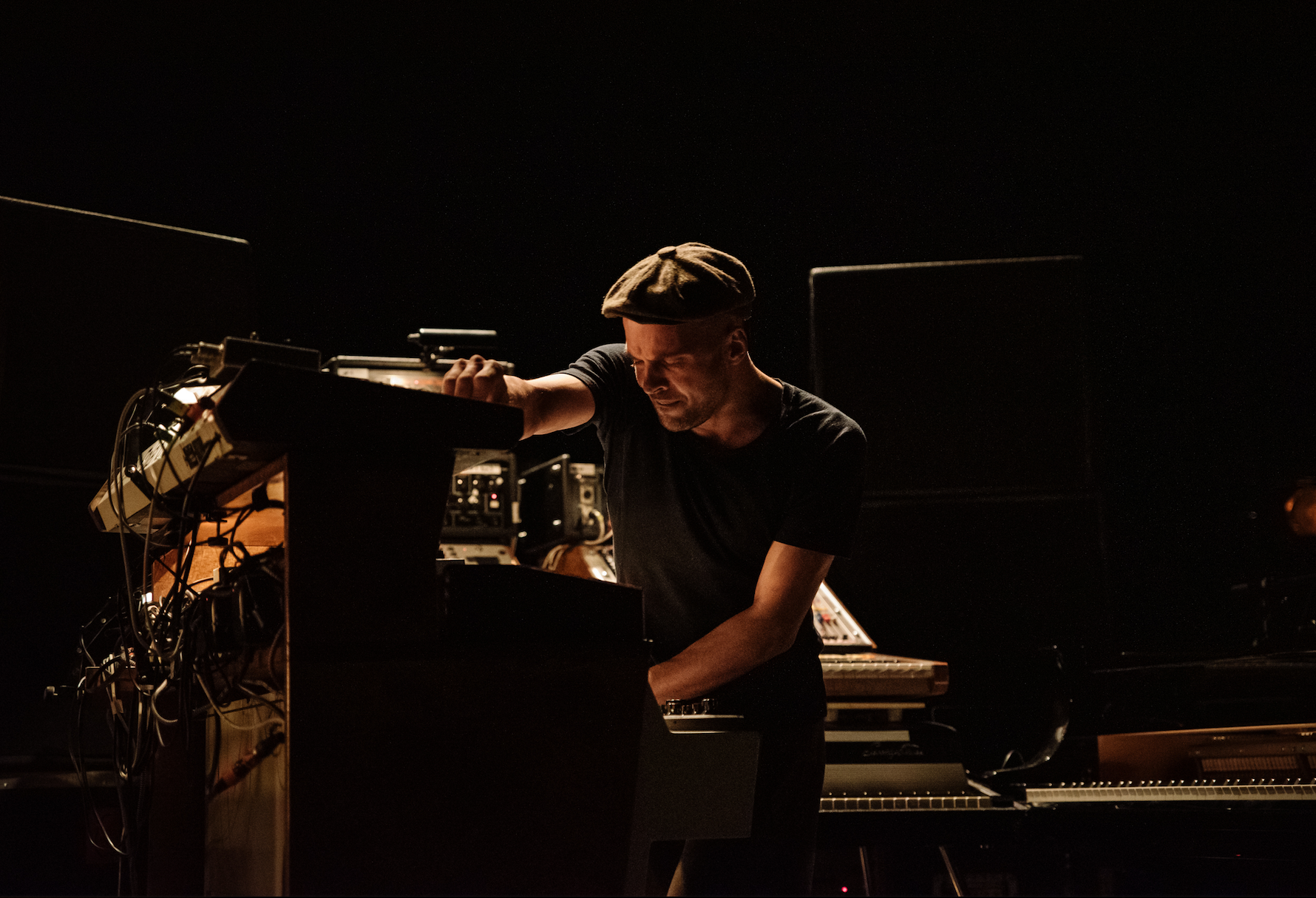 Behind the bar in the Hammersmith Apollo atrium there is a sign asking that staff be especially quiet during Nils Frahm's performances. Ever since the German composer began touring more than a decade ago, his concerts have been studies in hushed intensity, every cough from the crowd adding texture to his simple piano structures.
To see him live now, however, is to experience two shows in one. Yes, the haunting minimalism is still there, but these days you also get a polyrhythmic rave, with syncopated beats building and kick drums blaring amid a seesaw of melancholy and euphoria.
It's impressive – visually and technically. Scuttling between two banks of instruments – among them a piano, synthesiser, Fender Rhodes and harmonium – like an astronaut in a moon base, Frahm will play liquid arpeggios with his left hand while his right attacks the keys with a staccato rhythm. The arrangements are meticulous and hypnotic: think Brahms by way of Berghain. BBC radio presenter Mary Anne Hobbs called the 35-year-old "the single most important artist in the world right now".
That's perhaps taking it too far, but this wave of classically trained composers dabbling with electronic music – see Max Richter and Olafur Arnalds – is not to be sniffed at. Yet, for all the dial-twiddling virtuosity on percussive bangers such as "Sunson" and "#2", it's the quieter, more sparing moments that stand out. Take the jazzy "My Friend the Forest", from his seventh studio album, All Melody. Or the spellbinding "Our Own Roof", from the soundtrack to the 2015 film Victoria. In both, sadness spreads into every corner of the Apollo like a miasma.
It's not just his music that is so arresting, though. Funnier than most stand-ups, he intersperses his symphonies with dry, self-deprecating monologues about, say, the virtues of the pan flute. He also mocks the cliché of the encore, just as he did during his sold-out four-night residency at the Barbican in February, by returning to the stage five seconds after leaving it.
Albums of the year 2018
Show all 40
For his big finale, he turns to his grand piano, its innards exposed, and begins playing its strings with a pair of toilet brushes, before seguing into the galloping, intensely melodic "More". As a spectacle, it's eccentric and quite brilliant – much like the man himself.
Join our commenting forum
Join thought-provoking conversations, follow other Independent readers and see their replies