Paul Simon, In the Blue Light album review: Shining a light on some overlooked gems
There's no neat theme uniting the songs Simon has chosen: they are contemplative and melancholic one moment, silly and absurdist the next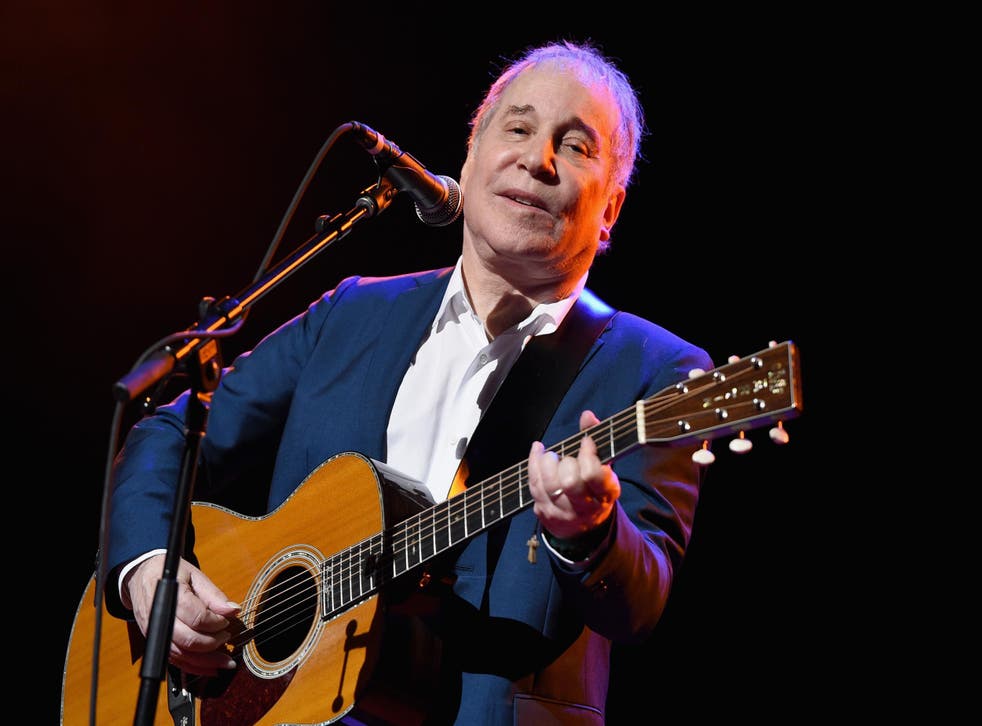 Paul Simon might still be crazy after all these years, but his voice – a gentle, pliant tenor that gives way to bouts of eccentric speak-singing – has made it through them remarkably unscathed. That much was evident during the 76-year-old's Homeward Bound tour this summer (his final one, in fact, after 50 years of performing) and it is equally apparent on his 14th studio album – both to its benefit and, oddly, its detriment.
In the Blue Light comprises reimagined deep cuts from Simon's back catalogue – songs, he says, "that I thought were almost right, or were odd enough to be overlooked the first time around". The tracks span nearly 40 years, from 1973's There Goes Rhymin' Simon all the way up to 2011's So Beautiful or So What. They were picked, it seems, without an ounce of commercialism: the much-loved Graceland doesn't make an appearance (probably because it was neither imperfect nor overlooked), while 2000's relatively obscure You're the One crops up three times.
There's no neat theme uniting the songs Simon's chosen either. They are contemplative and melancholic one moment – "One Man's Ceiling Is Another Man's Floor", for example, whose honky-tonk original is transformed into a slower, jazz-inflected number with a growling backup singer – silly and absurdist the next. "Sheep's dead/ Got a gash as big as a wolf's head/ Oh god," he sings in mock horror on "Pigs, Sheep and Wolves". The unifying thread, of course, is the strength of the tunes – these might not be the big hits, but Simon is incapable of creating anything but diamond-cut melodies.
What it lacks is the sense of reflection you might expect from an album like this. When Joni Mitchell revisited "Both Sides, Now" 30 years after first recording it – on her 2000 album of the same name – you could hear the decades that had passed (and the cigarettes she'd smoked) in the plaintive rasp of her voice. Simon, while no doubt grateful that he has escaped the fate of the now barely listenable Bob Dylan, might as well have taken these vocal cuts from 1973.
Where you can feel the evolution, though, is in the subtle but affecting rearrangements, for which Simon recruited the likes of The National's Bryce Dessner, trumpeter Wynton Marsalis, and instrumental ensemble yMusic. There are no dramatic overhauls – just thoughtful, delicate shifts. "Rene and Georgette Magritte with Their Dog After the War", from 1983's Hearts and Bones, is refurbished from a slowed-down doo-wop ballad to a swaying orchestral waltz; the brilliant "Can't Run But" allays the original's Samba percussion for violins and pottering woodwinds.
In the Blue Light is not the sound of a man reinventing himself, nor is it a final meditation on decades gone. But in shining a light on a handful of overlooked gems, Simon has succeeded brilliantly.
Register for free to continue reading
Registration is a free and easy way to support our truly independent journalism
By registering, you will also enjoy limited access to Premium articles, exclusive newsletters, commenting, and virtual events with our leading journalists
Already have an account? sign in
Register for free to continue reading
Registration is a free and easy way to support our truly independent journalism
By registering, you will also enjoy limited access to Premium articles, exclusive newsletters, commenting, and virtual events with our leading journalists
Already have an account? sign in
Join our new commenting forum
Join thought-provoking conversations, follow other Independent readers and see their replies