Paul Simon, Royal Albert Hall, London, review: I have never seen him perform America with such poignancy
The veteran singer performed hits including 'America', 'Diamonds on the Soles of Her Shoes' and 'You Can Call Me Al' to an ecstatic crowd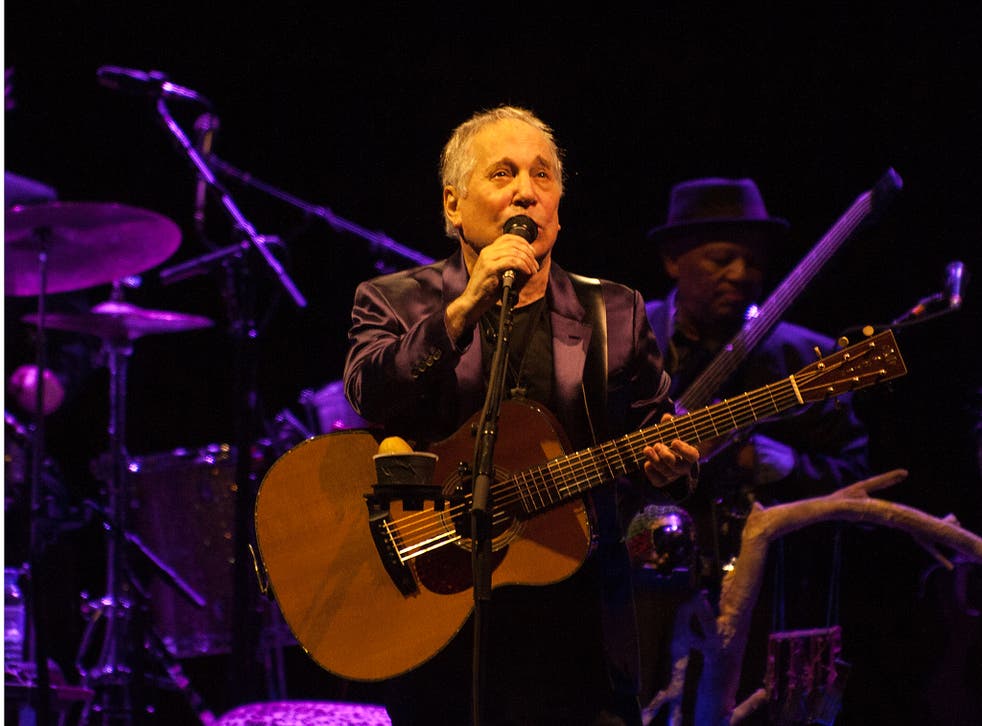 He's a grey-haired septuagenarian now, but his energy during this two-and-a-half-hour gig was relentless and his voice, in the main, still strikingly pure, as was his whistling on the 45-year-old "Me and Julio Down By The School Yard". Hell, tonight he even danced a few steps from time to time, mostly during the generous number of tracks he did from the Graceland album, such as the eternally fresh "Diamonds on the Soles of Her Shoes" and "You Can Call Me Al", which had the whole audience on their feet.
We were treated to numerous sections of a supreme back catalogue with his 25-year-old foray into Brazilian and songs like "The Obvious Child" and "The Cool, Cool River" introduced with stories of his trip down the Amazon that inspired them.
Simon was not one of the Sixties legends that appeared at the recent Desert Trip weekends in California. But one thing sets him apart from all of those who did: the strength of his recent work. His latest album Stranger to Stranger is a remarkable return to form, experimenting with musical styles while maintaining the beautiful tunes and heart-piercing lyrics that have characterised his whole career.
The singer's hugely talented multinational band served up often jazzy and always intricately orchestrated versions of his classics, and deservedly were given a couple of instrumentals, though one could sense a little disappointment in the hall when the opening, teasing strains by the wind instruments on "El Condor Pasa" from the Bridge Over Troubled Water album did not develop into Simon singing any of the words.
There were many highs in a joyous evening. But for me the high point was his mid-Sixties track "America". This tale of a Simon and girlfriend Kathy's journey on a Greyhound bus across America has become an anthem. In American arenas especially, it is punctuated by cheers as audience members hear their home towns name-checked. But that has always done a disservice to the song. It is a story of loneliness and longing, and last night the lights dimmed on the band, and only Simon was properly visible at the front of the stage as he delivered the song with a searing sadness. I have never seen him perform it with such poignancy.
On another early song of longing, "Homeward Bound' – written, bizarrely enough, on Widnes station – he also conveyed an emotion as raw as if he had written it yesterday. Towards the end of the gig, as the entire Royal Albert Hall seemed to join in the "lie la lie" chorus of "The Boxer", I looked around to see more than one generation paying adoring homage to a master.
"I'm really happy to be here," said Simon at one point. Then, hearing the whoops of delight, he added with wry New York humour: "Well, maybe not as happy as you are."
It was fair comment.
Register for free to continue reading
Registration is a free and easy way to support our truly independent journalism
By registering, you will also enjoy limited access to Premium articles, exclusive newsletters, commenting, and virtual events with our leading journalists
Already have an account? sign in
Register for free to continue reading
Registration is a free and easy way to support our truly independent journalism
By registering, you will also enjoy limited access to Premium articles, exclusive newsletters, commenting, and virtual events with our leading journalists
Already have an account? sign in
Join our new commenting forum
Join thought-provoking conversations, follow other Independent readers and see their replies