Pixies review, Roundhouse: Gore, religion and incestuous union on a culture-defining race through seminal early albums
30 years on since their seminal debut 'Surfer Rosa', Pixies have retained their bone-saw allure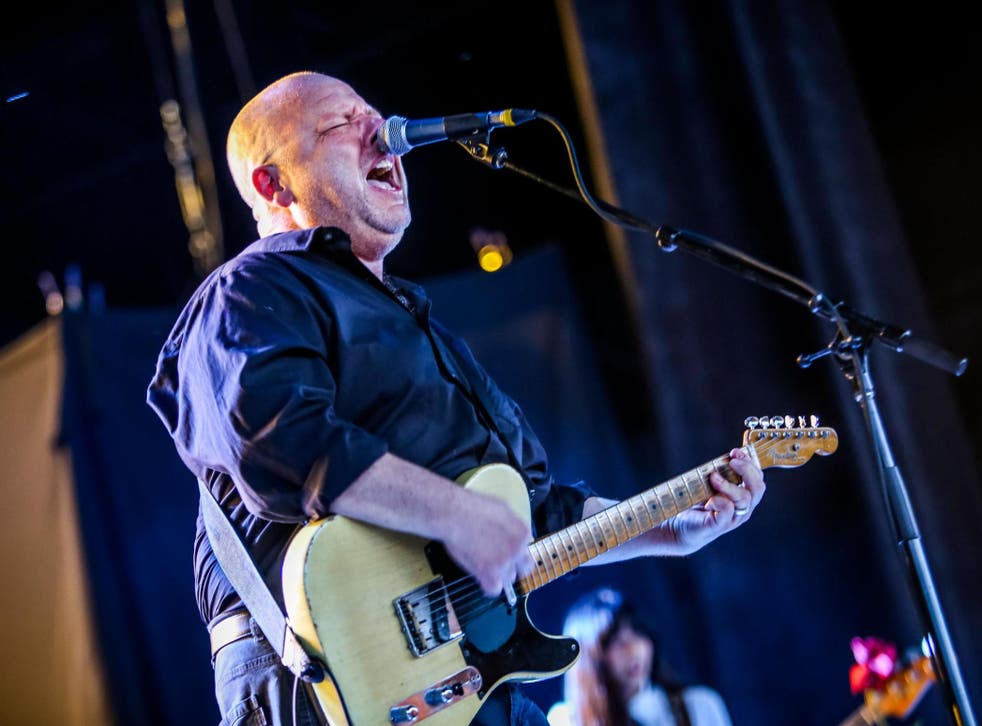 Rusty nails, glistening innards, ruined ancient instruments of torture. For an hour before stage time, seven screens across the Roundhouse stage rotate visuals of gruesome decay to a sinister, ambient Joey Santiago soundtrack. When stage time hits the visuals continue, now overdubbed with an audio interview with 4AD sleeve designer Vaughan Oliver, detailing how he came up with the memorably "debased" cover images for Pixies' first two albums – the ape-man of 1987's demo collection Come On Pilgrim, and the topless flamenco dancer of 1988's debut album proper, Surfer Rosa.
In keeping with their bone-saw allure, Pixies are drawing the Roundhouse into their soiled and sordid world in preparation for a night that feels like gazing into the volcanic spume of alternative rock. To mark Surfer Rosa's 30th anniversary, the Boston indie rock legends are here to play both albums in full over a five-night run: grisly, glorious records full of violence, sex, incest, mythology, perversion and death – plus, for much needed light relief, the odd superhero called Tony – which were the wellspring for grunge and the three decades of guitar rock beyond.
When Pixies finally take the stage to an orchestral refrain from "Where Is My Mind?", opener "Caribou" makes for a deceptively sedate introduction, despite Black Francis wolf-howling the title and barking "Repent!" like a lycanthropic Pentecostal preacher. Brutally business-like as ever, they're soon flying through Come On Pilgrim's eight songs in 20 minutes (one ill-timed bar break and you'll miss entire albums tonight), firing off scarified punk folk like "Ed Is Dead", "The Holiday Song" and "Nimrod's Son" at assault rifle pace, drenched in malicious melodies, bouts of doomy flamenco and Francis's demented yelps.
It's the savage momentum of these songs that helped ignite the late-Eighties wave of impassioned grunge rock – take the rabidly infectious "I've Been Tired", featuring the most inadvisable Tinder-date small talk ever: "'Why don't you tell me one of your biggest fears?'/I said 'losing my penis to a whore with disease…'" But the mythologies Pixies built or borrowed keep them timeless: biblical images of violence and incest, quasi-religious references to reincarnation and ascendance, murky characters like the "elevator lady" at the heart of scorched surf rocker "Levitate Me". It feels less like revisiting a bygone age of indie rock and more like getting re-baptised in battery acid.
A languorous, sea-squall cover of David Lynch's "In Heaven (Lady In The Radiator Song)" gives way to the meat of the evening – Surfer Rosa in full, thundering in on the broken axle of "Bone Machine", a totalled tanker of a song still doing 120 mph down the road to hell. The disjointed union of Dave Lovering's clattering beats, Santiago's guitar squeals and Kim Deal's chocolate basslines, carried by new bassist Paz Lenchantin on a flower-laden bass guitar, is a sort of dark magic that carries the album through its accelerating brutality. "Break My Body", "Something Against You" and "Broken Face" are breakneck portraits of mutilation, inbred deformity and incest (there's enough incest on Surfer Rosa to make Fleetwood Mac blush) that give way to the bright pop relief of "Gigantic", Deal's interracial love song dropped from the set when she left the band in 2013 but delivered adroitly by Paz tonight, albeit lacking Kim's iconic alt-rock charm.
Pixies revel in the lighter moments of Surfer Rosa. Francis dons shades for "Where Is My Mind?", fully aware that his cartoonish dream pop tale of being chased by a fish around the Caribbean is still the coolest song The Velvet Underground never wrote. They relish the comic book punk of "Tony's Theme" and the flamenco riot "Oh My Golly!". On the second outing of "Vamos" (the song features on both albums), Joey unplugs the lead from his guitar and plays the feedback from the jack in place of the earlier version's more traditional solo. There's a magical moment when Black Francis stoically lifts a sheet of paper to the microphone and recites the album's "you f***in' die!" studio banter segment. Their reverence to their seminal debut is both dutiful and playful.
An encore of random B-sides and later album tracks highlights how lop-sided and incomplete a Pixies set feels without classic stalwarts like "Debaser", "Monkey Gone To Heaven", "Velouria" and "Gouge Away". But few full-album gigs feel this relevant and rejuvenating, encompassing a genre, not just an era. Right up to Wolf Alice's Mercury Prize win, Rosa is still surfing the zeitgeist.
Support free-thinking journalism and attend Independent events
Join our new commenting forum
Join thought-provoking conversations, follow other Independent readers and see their replies